B2b … finally! (A Positive Sign of Racing Form)
In the introductory article on the topic of Form, we explained the challenges and potential rewards for mastering the art of evaluating a horse's current racing Form (aka Fitness, Condition, Sharpness, Readiness).  Click here for a review of that article.  Unlike Distance and Class, there is no singular column of data in the Racing Form or Program that identifies "Form."  But, possibly the most useful column is the Race Date column.
The Race Date column provides a chronological history of the sequence of races a horse has performed in.  Also, if you use the "Merged Workouts" feature on the Daily Racing Form's software Formulator, you can see the workouts mixed in with the race dates for a useful visual of what a horse has been doing in the morning and afternoons leading up to today's race.  Click here to read an article on Workouts.
Let's start with an example of a horse doing all the right things leading up to a race.  The horse is Rosalind, and she was entered in the 9th race at Keeneland on October 4, 2013.  Her past performances (PPs) appear below: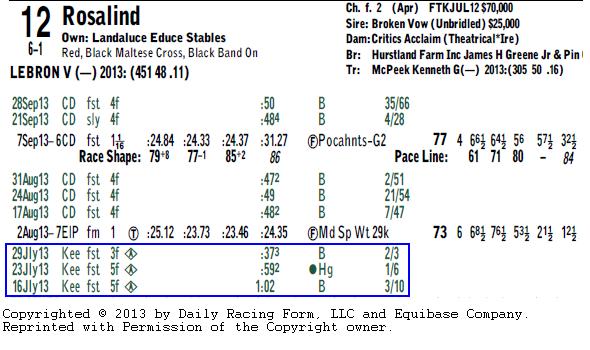 Working from the bottom up, let's review the chronology of her efforts. Starting in July, she had three workouts over the synthetic surface at Keeneland, including one very sharp workout from the gate on July 23. This is significant, because it proves she ran well over the surface for her current race. Also, her workouts were spaced an even 6-7 days apart.
Moving up the PPs, she won her debut at Ellis Park on August 2 in sharp fashion.  Following that, she got roughly two weeks off before returning to the workouts, this time over Churchill Downs.  She put together a series of three quality works spaced exactly 7 days apart.
This leads to her 2nd race, where she finished third in a Grade 2 Stakes race at Churchill Downs.  Again, two weeks off, followed by two more workouts exactly 7 days apart.  Leading up to today's race (October 4th) this young filly has been the model of consistency.  Exactly what you (and everyone else) likes to see in a race horse.
To complete this example, Rosalind finished 2nd in a Grade 1 Stakes race at Keeneland with another solid performance.  She has the look of a horse doing everything right, and positioned for continued success.
We choose this example to use as a contrast with a horse that doesn't start out their career so well, and leads to the main subject matter for this article (B2b … finally!).  "B2b" is my shorthand version for "Back to Back" and is what I write in my comments when handicapping.
Below are the PPs for O'Prado Ole, entered in an Allowance (NW1) at Keeneland on October 4, 2013.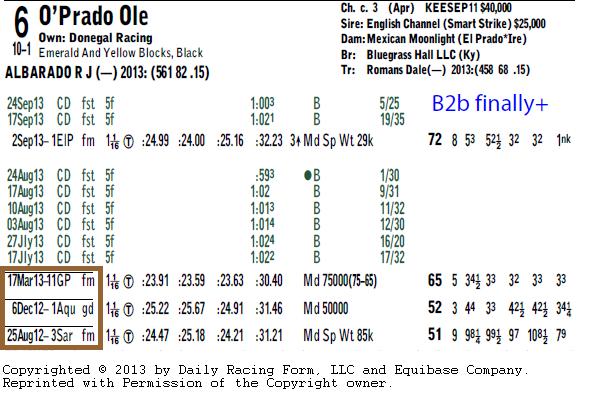 In stark contrast to Rosalind, I have marked in a brown box the sketchy beginning to the career of O'Prado Ole.  After debuting as a 2-year old at Saratoga in August of 2012, he did not return for more than 3 months.  He improved at Aqueduct, but then was off for another 3 months.  Not until July 17 (4 months later) does he show up in the mornings with some workouts again.  But, the good news is he strings together a series of nice workouts, including a bullet work on August 24, leading up to a winning effort on September 2 at Ellis Park.
Following the win, he gets off two weeks, and then has two good workouts 7 days apart at Churchill Downs.  This leads up to the race at Keeneland (Oct. 4) almost exactly 1 month after his win.  And although it will be a step up into Allowance company, the combination of good workouts and a winning effort suggest this horse might "finally" be on the right track.  Hence, the note written on my PPs "B2b finally+" before the race.  For the first time in his career, he is going to put together back-to-back races without a big gap in between.
To conclude this story, the class jump and lower Beyer Figures scared away the betting crowd and O'Prado Ole went off at 14-1 odds.  But, for students of Form … and the "B2b Finally!" angle, O'Prado Ole rewarded them with a thrilling neck victory and $30.60 payoff.
---