Conditional Claiming
In a prior article we introduced Claiming races. Click here for a review of that article. The type of races described in that article are open to any horse where the owner is willing to offer the horse for the claiming price of the race.  But, there are other types of Claiming races where a horse can be entered only if they meet certain "conditions."  It is these type of races that we will focus on in this article.  We'll start with the simple, and work our way up to the more complex.
Example #1
We'll begin by showing an example of the race conditions for a race run at Kentucky Downs on September 18, 2013.

The conditions of this race clearly state that ONLY horses who "Have Never Won Two Races" are allowed to enter.  The shorthand description of this "N2L" appears in the race condition.  This stands for "Non-winner of two races in their lifetime."  This along with the Claiming Price (Clm 12500 N2L) will appear in the future Past Performances (PPs) for all horses who ran in this race.  We will provide a sample of what PPs look like further down in this article.
Example #2
The next example shows the race conditions for a race run at Saratoga on July 20, 2013.

In addition to the "Have Never Won Two Races" for this race is the addition of "Or Three Year Olds."  In the prior example at Kentucky Downs, 3yr old horses were allowed to enter … BUT, only if they had never won two or more races.  In this race at Saratoga, 3yr old horses can enter regardless of how many races they have won.  For example, the horse listed below was entered in the race.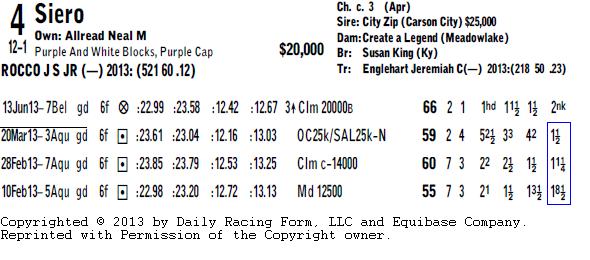 So, despite having won three races in his lifetime, this 3yr colt is allowed to enter the race due to the additional Age condition.
Example #3
Our last example example expands the conditions of a race even further, and was run at Saratoga on July 19, 2013.

Now in addition to the number of wins condition (Never Won Three Races) and the age condition (all 3yr olds allowed) … is a condition for horses that have not won a turf race since January 19, 2013.  This means that if a horse has NOT won a race on the turf since January 19, it does not matter how many races he has won in his lifetime.  You can imagine this opens the door to a lot more potential starters.
Why is that useful information?  Because, when you are looking back at races run previously by a horse, and trying to evaluate the class of a horse, knowing who he/she ran against is half the battle.  Competing in a field of horses that has conditions like the July 19 race is generally going to be more challenging than having run in a race with a simple N3L condition.
So, when looking back at the PPs for a horse, how do you know which type of claiming race they competed in?  Let's look at the PPs for a horse entered in the July 19 race at Saratoga.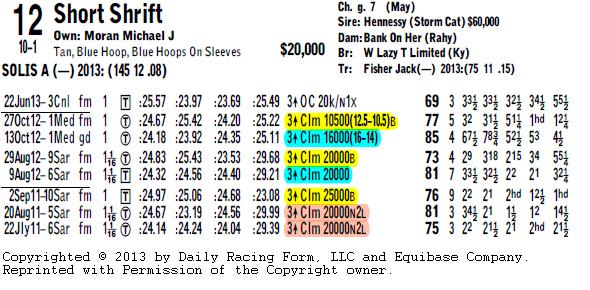 We've highlighted the different types of Claiming races in matching colors.  Conditional races with simple "Never Won Two Races conditions are in Pink.  Races with additional conditions like the ones shown earlier are in Yellow.  And, finally straight Claiming races without any conditions (other than claiming price) are in turquoise.
All things being equal (mainly claiming price) the straight Claiming races are better quality races than the Conditional Claiming races. Within the Conditional Claiming races, the more restrictive the race conditions, the lesser quality competitors it will attract.
To use an analogy with professional football. It would be like having a flexible schedule where, in the second half of the season, some teams were permitted to play "conditional" games against opponents that won two games or less in the first half of the season. Obviously this would make the quality of their competition much easier, and their chances for winning much greater.
---