Horseplayer Stories – Deep Sixed Pick Six
The following story was contributed by my horseplayer friend, Vince The Volcano.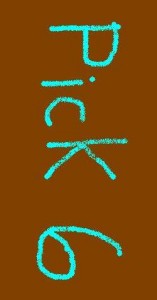 A regular horseplayer has many ups and downs in this game and each person's individual personality determines which of these swings you remember the most.  For me, it's the losing stories that I remember fondly.  Seriously, who wants to hear a person tell you they're winning all the time?  I love hearing the stories that we horseplayers can relate to.  It makes us feel better about ourselves because as you listen to another's tale you can't help but think, "I'm not the only one."
One of my favorite stories occurred in my early years of horse playing and I remember it like it was yesterday.  It was October of 1989 and I was fresh out of college. It was the days of no wives, kids or any responsibilities.  On this particular Saturday in October there was a group of eight of us hunkered down in someone's living room with cases of beer and multiple TV's setup to enjoy a day of college football (ah to be young again).  What the group didn't know was that I was about to sell them on the ride of a lifetime, by making a serious run at a Pick-6, the most elusive bet in horse racing.
The night before I bought the Daily Racing Form and doped out the races at Belmont Park.  In those days there were no Pick-3's, Pick-4's or Pick-5's.  The Pick-6 was the Holy Grail to horseplayers, where you pick the winners of 6 consecutive races.  With a $2 minimum, the cost can add up quickly.  If you select 2 horses in each race the bet is $128 (2x2x2x2x2x2 at $2 = $128).  If you jump up to 3 horses it escalates to $1,458 (3x3x3x3x3x3 at $2 = $1,458).  I could never afford this alone so my plan was to pry $50 out of each member of the group to build a bankroll of $400 to make a somewhat serious play.  Now $50 doesn't sound like much today, but back then it was a tough sell.  None of us had real jobs yet.  Only a couple of us followed horses at all, so for the non horse players in the group it was a tough sell.  But all these guys craved the action, so in the end it was like selling sno-cones to an Eskimo.
In those days there was no internet wagering.  We were fortunate enough to live in an area with a local Off Track Betting Teletheater.  The plan was for the three horseplayers in the group to go to the Teletheater and make the play around noon.  After that we'd go back to the house and watch the races play out on our local OTB TV channel. Honestly, I knew with only $400 to play in a Pick-6 – it probably wasn't enough.   But, if I could find a single horse in a late race and load up with multiple horses early in the sequence I could give the boys an entertaining afternoon.  If we could win the first 3 or 4 races and have a live ticket late, the action would be well worth the $50.
So we three headed down to the local OTB.  I had most of the ticket mapped out already as I had handicapped the night before.  Going down there I just had some minor tweaks to make with input from the other two guys.  As we setup shop at the Teletheater and crunched numbers one problem became glaringly obvious – $400 wasn't enough!  Every combo we mapped out with horses we liked always seemed to fall in the $500 to $600 area. The solution was obvious.  We HAD to bet the entire $400 on the first race at Belmont on a single horse to show.  If we could get a $3 show price, then we'd have $600 for a legit Pk6 bankroll.  This is the obvious solution….right?
Now I'm not sure which one of us first suggested this approach, but I do fondly remember the ensuing debate – the banter and the outright joy and laughter going on for about ten minutes on the pros and cons of this plan. What would the other guys think?  What if we lose?  How can we not be good enough to pick a horse to show?  It was settled, we're doing it.
The three of us got to work handicapping the 1st race.  It was a manageable field of 6 or 7 horses and we ended up on one of the favorites.  I remember the horse being around 5-2, but all we needed was a $3 show price.  The horse's name was Flo Bear – a consistent runner that was always in the money.  Just run a mop up 3rd place finish up the rail Flo Bear, that's all we needed.  It was a gut-wrenching decision and there was a lot of stress involved.  Up to that point, it was the most nervous I had been making a wager and watching a race.
As post time approached we were pacing around the Teletheater waiting for the race on the giant projection screen.  This was maddening, but the feeling really hooked me on this game for life.  What a thrill this was – an unexplainable feeling that keeps me coming back to this game 25 years later.
Well from the way I started this story you probably know what happened.  Good ole Flo Bear didn't deliver.  I remember it being an unimpressive 6th.  DRF always posts a 4 or 5 word description next to a horse's race in the PP's.  Our favorite was "failed to menace" and that's exactly what Flo Bear did.  We had no thrilling story to tell the guys – like we almost had it, and just got beat at the wire!  We were deep-sixed on the far turn.  I didn't even watch the finish of the race. By the time they hit the stretch I was out in the parking lot.
A lot of silence on the way back to the house.  I wish I had a picture of the look on our faces.  We blew it all on the first race!  On this day there would be no thrilling ride of enjoying a live Pick 6 ticket and watching the sequence play out.  No hi 5's, no yelling, no screaming, no nothing.
The news went as expected.  Initially some anger and resentment, followed by laughter and bewilderment. We were still riveted to the OTB channel that day – to make sure the mapped out Pick-6 play didn't hit.  We never rooted so hard AGAINST our horses.  Thankfully there were a couple upsets that day and we would have lost anyway.  What a relief.  Although if it had won, I guess the story would be even better.
As you grow older, you lose touch with many people. The days of youth are fond memories.  This group of guys – we were so close at the time.  It seemed like we got together every weekend.  Some guys I'm still close with today, but others I rarely see or hear from.  One of the guys, who went to the teletheater that day, I've seen only once in the last 10 years – at Saratoga Racetrack.  He walked by me, we made eye contact and smiled.  He said two words and kept walking.
"Flo Bear"
---
Click here to read another story by Vince recalling his "Saratoga Season Saver Ticket" on closing day at The Spa in 2011.
---