Follow A Firster – Amazing Anne (Winner 8/28/14)
The 2nd in our "Follow The Firster" series, is about a horse from an up and coming trainer by the name of Tom Morley (or as I like to call him, Sir Tom). When we first met Tom in August of 2013, he had twelve horses under his care. Less than twelve months later, he has 35 horses with "ten more babies on the way." Considering that the Morley Stable has less than 125 career starts, that's quite an impressive number; showing an amazing amount of confidence by owners in a young trainer. Click here to read about Tom in our original interview from last year.
Morley Stable had a very successful Spring meet at Belmont. From a total of 24 starts, he had six wins, six seconds, and five thirds. When looking closer, I found that in four of the six seconds, his horse lost by only a head.
Now, on to Tom's Firster we will be following. Amazing Anne is a 2-year old filly and is a full sibling to two horses Tom has trained in the past. They are Scribbling Sarah and Maggie's Lad. All three were bred by Tony Grey, who breeds exclusively New York bred horses. She arrived in Tom's barn around the 1st of June, a little later than the May arrival originally expected. In May she tweaked a muscle in her hind quarters while breezing for Becky Thomas.  Becky (of Sequel Bloodstock) works at the farm where Amazing Anne was broke.
With her arriving in good order in June, Morley Stable began their preparations with Amazing Anne. The chart below shows her progression of official workouts, from 3 furlongs on June 11 to her most recent workout of 5 furlongs out of the gate on July 20. I noticed the improved time in her series of three 4-furlong works. Tom explained, "When she told me she was ready, meaning four furlongs and then galloping out five furlongs very strongly, then we went five furlongs." He added, "I worked her in company as well, to give her a sense of what it will be like in a race. And, I want them to finish together, so they don't lose confidence in themselves." As we explained in a prior article, working in company means pairing a horse with another horse. Tom explained that he tries to have them work with horses that are similar in ability. This can be a bit of a "shuffling act" as their ability improves, meaning pairing them with different horses.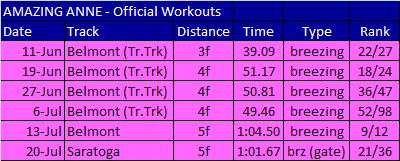 On a recent visit to see Amazing Anne on one of her light jogging days, I was impressed with her calm demeanor on the racetrack. I asked Tom if she has been an easy filly to train. He replied, "First, you need to know about the family. Scribbling Sarah was a tough filly to train – extremely difficult in the starting gate as well. Maggie's Lad was a more laid back horse, but he still would get very nervous and apprehensive about the starting gate. But this filly is very relaxed in her demeanor. She takes everything in. She's never really done anything wrong to be honest with you. She follows her instructions and does what she's asked to do."
Regarding her preparations in the gate, Tom explained, "She stands in the gate very relaxed. The key to the gate is having them relaxed and on all four legs, not moving around, because we don't want them to jump when the gate opens. So tomorrow, we'll go into the gate and back her out, and make sure she's ready. I do that with all of my horses between races, go to the gate, and back out."
Tom added, "The amount of gate work is different for all horses. For example, I had a horse (With Expression) that was bouncing up and down on his front legs in the gate, missed the break, spotted the field ten lengths, and finished 3rd. So we practiced with him in the gate eleven times before his next start. His next start, he went in the gate, stood still and was relaxed, and then went gate to wire for the win. It's something that Eddie Kenneally taught me. We (NYRA) have a professional gate crew over there, so take advantage of that."
In Amazing Anne's final workout on July 20, Tom had jockey Junior Alvarado ride her. Tom explained that when he's ready for a horse to start he likes to have the jockey who will ride the horse in the race on board for the final workout from the gate. This is for the benefit of everyone, jockey, horse, and trainer. For the horse, Tom wants the final workout "to be serious," emulating what it will be like on race day. For the jockey, it helps them to get to know the horse, and gives them a sense of confidence when they see the horse in the paddock a few days later. As Tom said, "I want my rider to know that he is on a horse that is fit, healthy, sound, and ready to run. And, they know they are on a horse that's live. So, it's a confidence factor for both the horse and jockey."
Lastly, for the trainer, the jockey provides valuable feedback regarding the workout. Tom explained, "If Junior Alvarado had come back after the gate work and said she needed more works, then I wouldn't be running her this week. But, he came back and said she's ready to go."
So, here we are, Amazing Anne is entered in the 2nd race on Monday, July 28. She drew the #7 post position. The race is a New York Bred, Maiden Special Weight, going 5 ½ furlongs on the turf. Having noticed that she had not worked on the turf, I asked Tom why he chose to have her make her debut on the turf. He explained that the combination of pedigree, conformation, and feedback from his riders all played a role in deciding to start her on turf.
Tom recalled how Amazing Anne's two siblings were very good on the grass. Also, her movement in workouts suggested to Tom that she'll be better suited to turf. He explained, "When you work horses (on the dirt) and they come off the bridle, they don't lose their action, but they don't finish as well as a dirt horse does. I could see that in the way she moved and her conformation says that to me as well." Regarding conformation, Tom added, "She looks like a grass horse, she's more angular along the pastern."
So, in the final analysis, I asked Tom what he expects when Amazing Anne makes her debut this weekend. He answered, "Well, she might be good enough to win first time. But, I suspect she'd probably like six or seven furlongs down at Belmont. But, we're going to give her a run because she's ready."
To further explain Tom's final comment, the option to run at six or seven furlongs on the turf doesn't exist at Saratoga racetrack, but does at Belmont. Click here to read a prior article that explains the layout of the Saratoga turf courses complete with track diagrams.
So, good luck to Sir Tom and Amazing Anne on Monday!
---
FOOTNOTE: Monday, July 28.
It is the morning of the race, and due to the amount of rain last night, the races have been taken off the turf today.  However, Tom Morley has decided to keep Amazing Anne in the race and offered the following explanation just a few minutes ago.
We're going to take our chances with her, mainly due to future targets and the fact that she handles the dirt relatively well.  Also, due to her drawing an outside post position.  I almost certainly would have scratched her if she was in post #1 or #2.  Hopefully she can take her position outside of horses and have a relatively good first time out experience.

This should position her for a 2-turn race on the grass later in the meet.  And, if she runs exceptionally well on the dirt today, there is a 6 1/2 furlong Stakes race for New York fillies in a month's time. So, it's a fact finding mission today, and we hope it goes accordingly.

– Tom Morley
---
FOOTNOTE: Thursday, August 28.
Amazing Anne made the second start of her career in a Maiden race on the turf at 11/16 mile. Prior to her race, we tweeted Tom Morley's thoughts going into the race.
Amazing Anne makes career start #2.  As with all my babies, expect a big move forward from her first start.
Precisely as her trainer Tom Morley had predicted, she improved significantly when switched to the grass and extended to a 2-turn race.  How significant?  She won!  Below are the comments from the result chart of her race:
AMAZING ANNE settled into the middle of the field after the start, joined up with the front runners to contest the pace as the widest of a trio traveling around the far turn, spun into the stretch still heavily engaged in battle with them, got carried out during a portion of the run through the furlong grounds, forged to the lead anyway, dug in to preserve it, kicked away late, crossing the finish line under a brisk hand ride.
Congratulations to Tom Morley and Amazing Anne!
---

Modeled after European style turf courses, come visit the only one of its kind in North America. The author had a truly enjoyable visit to this unique race course last year. Click here to read more about that adventure.
Saturday, September 13, 2014 will have four Stakes Races, including the Grade 3 Kentucky Turf Cup worth $600,000.
---