There's Gold In Them Thar Result Charts
In a prior article we described the standard information available to a handicapper through result charts.  And, how these once coveted pieces of paper are now available to everyone at the click of a mouse.  Well, almost everyone.  If you are using the printed copy of the Daily Racing Form, a racing program at the track, or any service that simply prints out the Past Performances (PPs) for each horse in an upcoming race, then you probably don't have access to the Result Charts.  Click here to read the prior article on the standard result charts available through DRF Formulator.  In this article (and another to follow) we will  describe the many great things above and beyond the standard result chart that are available though the Formulator software.
Let's start with an example from a race at Keeneland on October 4, 2013. I'll Call was entered in the 7th race. His abbreviated PPs appear below: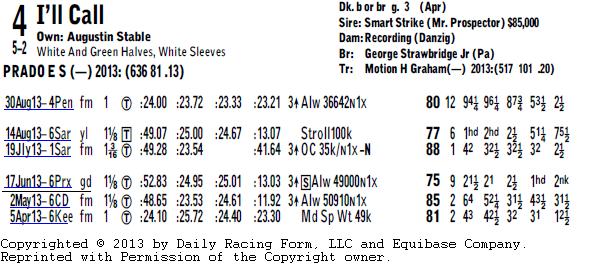 From the Formulator program each of the race dates that appear on the left is a link to the result charts for that particular race.  We are going to use the race on July 19 at Saratoga as our example.  I'll Call finished 2nd, beaten only by 1/2 length, but we're interested in more details about the field he ran against that day. The screen shot below is what you will see on Formulator immediately after clicking on the July 19 race link.  If the print below is too small to read, click on the image and a larger image will be shown for easier reading.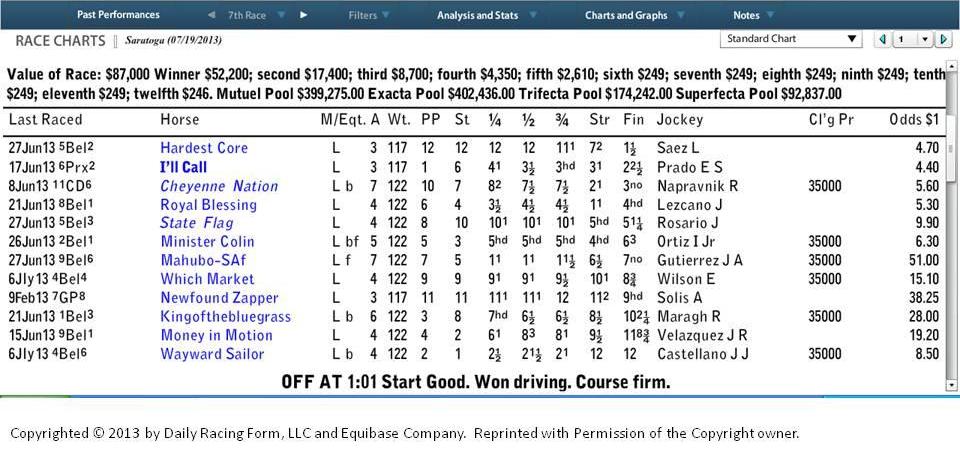 This is a Standard Result Chart, with a separate line for each horse in the race, starting from the winner on the top down to the last place finisher on the bottom. The horse being reviewed (I'll Call) is always presented in Boldface type.  Notable information is the complete Running Line, Age, Weight, Jockey, Claiming Price (if any), and Odds. Additional information appears below this chart, and is described in the article mentioned above. Click here to read more about that information. For today let's focus on the top half of the chart.
Notice that the 3rd place finisher, Cheyenne Nation, has his name in Italics. As we know from Company Lines, that means the horse won his next race. But, seeing that he's a 7-year old and was in this race for a Claiming Price of $35,000, you have to wonder what kind of race he won. If you were limited to the printed PPs, all you would know is that he won. You would not know the class, distance, or even date of the race. Formulator to the rescue.
In the upper right hand corner of the screen you see a drop down box that reads "Standard Chart."  If you drop that down and select "Next Race" you will see the following screen: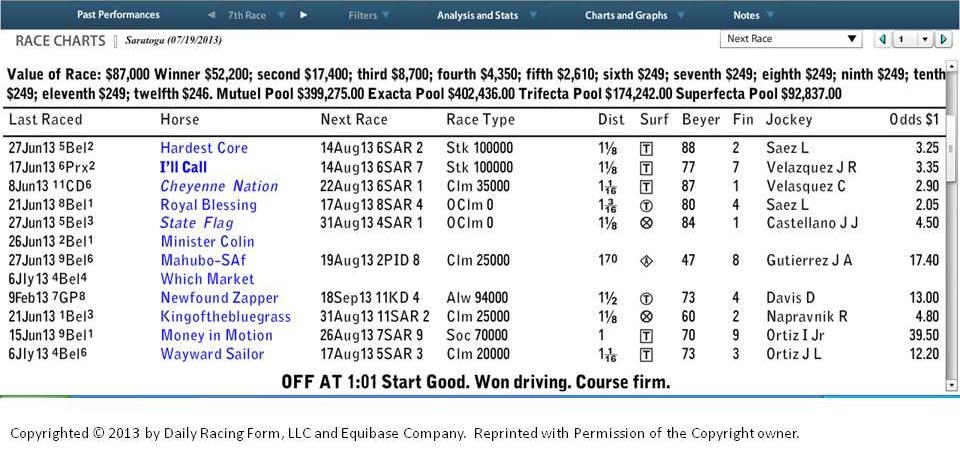 Looking down at Cheyenne Nation's next race we see that he won a $35,000 Claiming race.  His Beyer Figure was 87, so that's a good indication it was a competitive race, but it was still most likely a step down in class from the 7/19 race.
The next thing of interest is the winner, Hardest Core, came back to finish 2nd in a $100,000 Stakes race. This is very useful information, and is what I refer to as a "Hidden Company Line." Had Hardest Core won, his name would have been in Italics for all to see. But, since he finished 2nd his good effort is basically invisible to people looking at the printed copy of the past performances.
Another bonus, Formulator allows you to click on each horse's name from the 7/19 race and see their complete PPs. Doing this for Hardest Core, you would see that he lost that Stakes race on August 14 by only a neck. You would also see all other races he was in subsequent to the 8/14 race.
Having access to this information allows you to really size up the level of competition a horse has faced, and make an informed judgment on how he measures up to the horses in the current race you are handicapping.
In another article we'll continue with this example and show additional information that is available through the DRF Formulator software.
---
Announcement: Very soon we'll be introducing a new feature called "Get A Leg Up" where we will be providing pre-race handicapping observations for upcoming races … and following the race, a recap of results and lessons learned.  Follow us on Twitter, Facebook, or an E-mail subscription to make sure you don't miss any of the action.  All of these options are on the right panel.
---