Get A Leg Up↑ – Gulfstream Park, Feb. 20, 2015 (Race 11)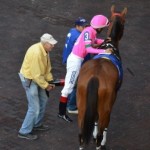 UPDATE: Post-Race Recap Added.
The 11th race at Gulfstream Park on Friday, February 20th is an interesting race to feature in our new "Get A Leg Up↑" series.  A restricted Claiming Race that is made up predominantly of horses dropping into the claiming ranks after multiple tries against Allowance company.
If you're unfamiliar with the meaning of "Claiming" or "Allowance" races, here are a couple of articles that will explain them.  Click on the links below to open the article in a new Tab.
If you missed our introductory articles on the "Get A Leg Up↑" series, click here to read the Introduction and Overview article.
Pace Projector and Handicapping Comments
The full Past Performances for this race are available on TimeformUS free of charge. Click on their Pace Projector to create an account or login to an existing account.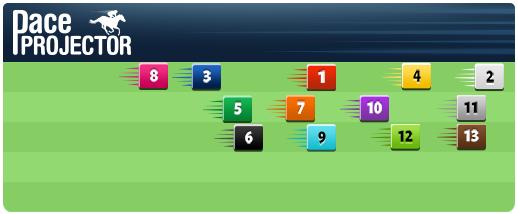 Click here to learn more about the terminology used in the Handicapping Comments that appear below.

Post-Race Recap
Click here to read the complete race chart on Equibase.
Neoclassic broke awkwardly, but moved up steadily, tucking in nicely before the first turn. On the backside, with a slow pace developing, Castellano moved him toward the lead, and he was in perfect position at the top of the stretch, from there he went on to win the race. The combination of good form, tactical speed, and a top rider made for a winning combination.
Mygalsal outran his 19-1 odds, finishing 2nd, and seemed to be the horse that benefitted the most from a drop in class from Allowance to Claiming company … and his second start after being reported as a gelding.
American Strong continued his good form, running a solid 3rd, beaten by only 1-length, and finished with "good late energy." Steel N Pack was in good position at the top of stretch, but tired in the lane, finishing 4th. This was a big improvement from his Dec. 20 race, and might help in his next race.
Breakeven Analysis went off as the 9-5 favorite, but was never a threat in the race, finishing 6th. There were no obvious excuses from a trip standpoint, he just did not perform up to his recent efforts.
Social Affair was never in contention, and questions on his form continue. His trainer remains winless when dropping a horse into a claiming race for the first time.
With very few positive signs, the remaining five horses finished predictably toward the rear of the pack.
Lessons Learned
The only horse claimed out of this race was the favorite, Breakeven Analysis. It's important to remember this was a claiming race, and every horse was for sale. Based on the results, you have to wonder if the intentions of the owner and trainer were mainly "to make a sale."
Also, with the improved effort by Mygalsal, maybe a dull effort like the Jan. 17 race should be excused when you consider it was his first race after being gelded. Maybe 2nd time after being gelded is something to give more thought to in the future.
Video Race Replay
---
If you don't want to miss any of the future articles in this series, we recommend that you subscribe to the Blog via e-mail and/or follow us on Facebook or Twitter.



For everyone that subscribes to the Getting Out Of The Gate Blog via the e-mail option, they will automatically be entered into a drawing to win a FREE FULL YEAR of PPs provided by TimeformUS. This a $699 value. Thanks TimeformUS! The winner will be drawn randomly on April 1, 2015. You can subscribe below.
*** Existing e-mail subscribers: You will be included in the drawing for the free year of PPs from TimeformUS.
---
[jetpack_subscription_form title="Subscribe To Our Blog Via E-Mail" subscribe_text="Enter your e-mail address to subscribe and receive notifications of new articles by e-mail. A confirmation message will be sent to you before your subscription becomes active." subscribe_button="Sign Me Up" show_subscribers_total="0″]
---