Get A Leg Up↑ – Gulfstream Park, Mar. 12, 2015 (Race 7)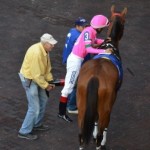 UPDATE: Post-Race Recap Added.
The 7th race at Gulfstream Park on Thursday, March 12th is an interesting race to feature in our new "Get A Leg Up↑" series.  A Starter Allowance and Optional Claiming Race with half the field eligible under the Starter Allowance condition of having started for $16,000 in a past claiming race and the other half entered for a Claiming Tag of $25,000.
One of the more interesting angles to this race is the presence of a horse trained by Todd Pletcher, who has a predictably low Morning Line (7-5 Odds) due to the very popular trainer and jockey combination. However, based purely on TFUS speed figures, he has no clear advantage over several of the competitors in the race.
If you're unfamiliar with the meaning of "Claiming" or "Starter Allowance" races, here are a couple of articles that will explain them. Click on the links below to open the article in a new Tab.
If you missed our introductory articles on the "Get A Leg Up↑" series, click here to read the Introduction and Overview article. In this article we explain the intention of our series is NOT to make selections, but rather to give horseplayers a head start or as we call it, a "Leg Up" on a race we think is interesting.
Pace Projector and Handicapping Comments
The full Past Performances for this race are available on TimeformUS free of charge. Click on their Pace Projector for this race to create an account or login to an existing account.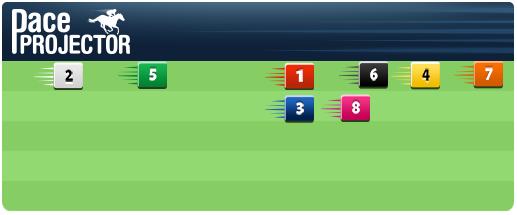 Click here to learn more about the terminology used in the Handicapping Comments that appear below.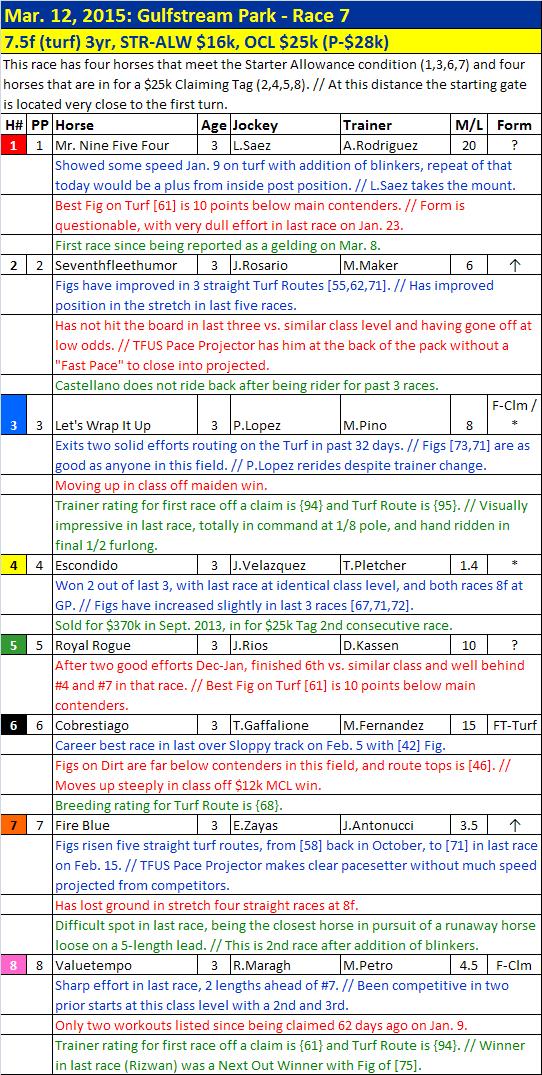 We encourage comments and questions from readers, especially if you notice something in the PPs that you think is important that we overlooked.  You can leave comments at the bottom of this page. Thank You.
Post-Race Recap
Click here to read the complete race chart on Equibase.
The TFUS Pace Projector had #7 on the lead, but did not predict that #1 would press him through what would be a relatively fast pace for this group. Aside from that, other pace projections were quite accurate.
Escondido benefited from the quick pace set by the top two horses, and was able to get good position stalking directly behind them. He tipped out near the top of the stretch, passed the tired pacesetters, and managed to hold off a fast charging Seventhfleethumor. Escondido went off at a predictably low price of 6-5, paid $4.40 to win, and was claimed for $25,000 by another trainer.
Seventhfleethumor was at the back of the pack through most of the race as TFUS projected. He made a strong move on the far turn, but was forced to go 4-wide on the final turn and from there finished strong down the lane, missing by a head at the finish. According to TRAKUS charts, he ran 21-feet farther than the winner. This amounts to a difference of 2-3 lengths. Click here to view Trakus charts for Gulfstream Park.
From a trip perspective, Let's Wrap It Up had the most eventful journey. Initially positioned on the inside behind the eventual winner, he moved up boldly on the rail at the midway point, only to be steadied just as he was gaining momentum. Watching the replay, forward to the (:55) mark, notice he was moving well and at the 1:07 mark, Paco Lopez was forced to pull up on him. He regained momentum, but was again behind horses at the top of the stretch, and then had to move inside the tiring Mr. Nine Five Four, actually bumping with that one in the lane. Let's Wrap It Up might be a horse to watch in his next start.
Fire Blue broke well and was forwardly placed as TFUS projected. However, with the presence of Mr. Nine Five Four to his inside, also showing good early speed, he was forced to "duel for the lead" and together they ran a very quick half mile in 45.67 seconds. The quick pace took its toll and he tired in the lane, finishing 4th. His inability to back off a quick moving pacesetter explains his tendency to lose ground in the stretch, as was pointed out in the comments.
Mr. Nine Five Four repeated the early speed effort he demonstrated two races back with the blinkers on. However, pressured like he was by Fire Blue he tired in a similar fashion to his prior effort on the turf.
Royal Rogue and Cobrestiago both had predictably dull efforts, and were never a threat in this race. Valuetempo ran last without any obvious excuse. His trainer's low rating off a claim [61] and our concerns over him showing only two workouts since being claimed proved to be legitimate.
Lessons Learned:
Many places to go here, but we'll focus on two. First, as we suggested in the original write-up, there was an opportunity for value in other horses since Escondido was bet down to 6-5 odds. Yes he won, but he had a nearly perfect trip, and won by a rapidly diminishing head … and the 2nd and 3rd place finishers clearly had obstacles to overcome. Lesson #1, despite all of the best ideas, sometimes the results don't reward the effort.
Lesson #2 focuses on the 2nd place horse. Seventhfleethumor was the horse showing the most progress in terms of speed figures [55,62,71] and despite the concerns we placed over him not hitting the board in his last three races, the results justified the speed figures. In a prior article we described this scenario exactly, where a horse ascends in speed figures, but does not hit the board. Generally the betting public shies away from horses that don't hit the board, creating value in terms of odds. Click here to read the article we titled "Finding Hidden Form Offers Nice Rewards." Seventhfleethumor went off at odds of 4-1, but it could be argued that without the presence of the popular owner/trainer combo of Maker/Ramsey, he likely would have been much higher odds.
Video Race Replay
---
If you don't want to miss any of the future articles in this series, we recommend that you subscribe to the Blog via e-mail and/or follow us on Facebook or Twitter.



For everyone that subscribes to the Getting Out Of The Gate Blog via the e-mail option, they will automatically be entered into a drawing to win a FREE FULL YEAR of PPs provided by TimeformUS. This a $699 value. Thanks TimeformUS! The winner will be drawn randomly on April 1, 2015. You can subscribe below.
*** Existing e-mail subscribers: You will be included in the drawing for the free year of PPs from TimeformUS.
---
[jetpack_subscription_form title="Subscribe To Our Blog Via E-Mail" subscribe_text="Enter your e-mail address to subscribe and receive notifications of new articles by e-mail. A confirmation message will be sent to you before your subscription becomes active." subscribe_button="Sign Me Up" show_subscribers_total="0″]
---