Introduction
These are articles that introduce new visitors to our website, and explain the intentions of our website.  Click on the title to read the complete article.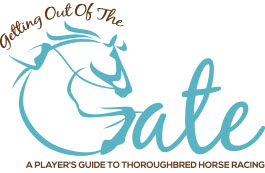 In our very first article, we demonstrate the importance of  "Getting Out Of The Gate" cleanly by using a video replay of a former Breeders' Cup champion.
And we list five reasons to follow our website and have a more enjoyable experience as a fan of thoroughbred horse racing.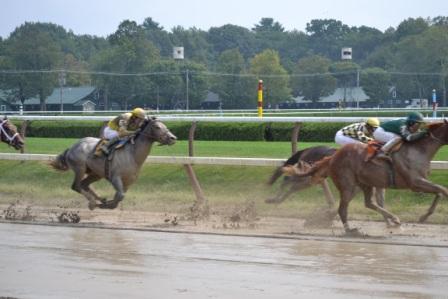 The founder of this website contrasts thoroughbred horse racing to other professional sports to explain "Why" he has become such an avid fan and an admirer of the participants in horse racing.
This essay was very popular when first published and continues to be one of our reader's favorite articles.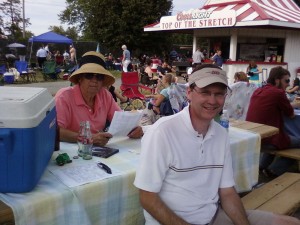 Betting on the grey horse can be fun for a day, but this article explains why that feeling generally lasts only for a day. We include an analogy with baseball to explain the significance of understanding what you're watching.
In this article we also explain another great thing about horse racing – there are countless ways to enjoy a day at the racetrack, as the sport is not limited by the rules and structure of other professional sports.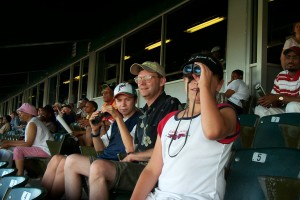 Borrowing the proverb about the difference between teaching someone to fish and giving them a fish, this article explains the attitude of the author about helping new fans to learn about horse racing.
Beginning with his approach in teaching his first student (the wife) and continuing with other family members, he shows how true fans are best created one at a time.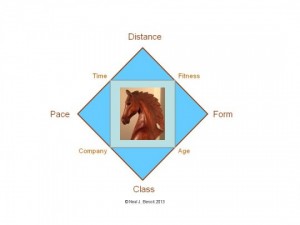 Learning to handicap can be a daunting challenge for a beginner.  Many people think there is a singular way to approach handicapping.  But this article explains that there is NO one way.
However, there are common building blocks that you can learn and utilize to create your own way.  And the chief goal of this website is to help everyone find their own way.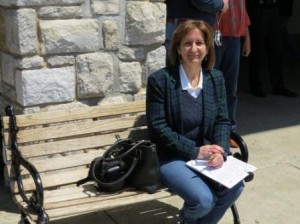 Building on the prior article, we explain some of the different styles of real life horseplayers (including the author's wife) and how each unique style works for them.
Horseplayers come in every shape and size imaginable; from detailed technical handicappers to students of conformation and interpretations of equine behavior.  We want to help you develop your own personal style.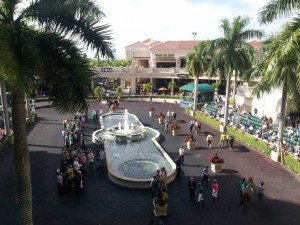 The author contrasts horseplaying to other hobbies, and explains his philosophy about dealing with the ubiquitous question from others, "Well, did you win?"
There is so much more to horse racing than gambling; fascinating people, majestic venues, and entertaining stories – just to name a few.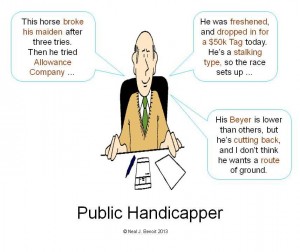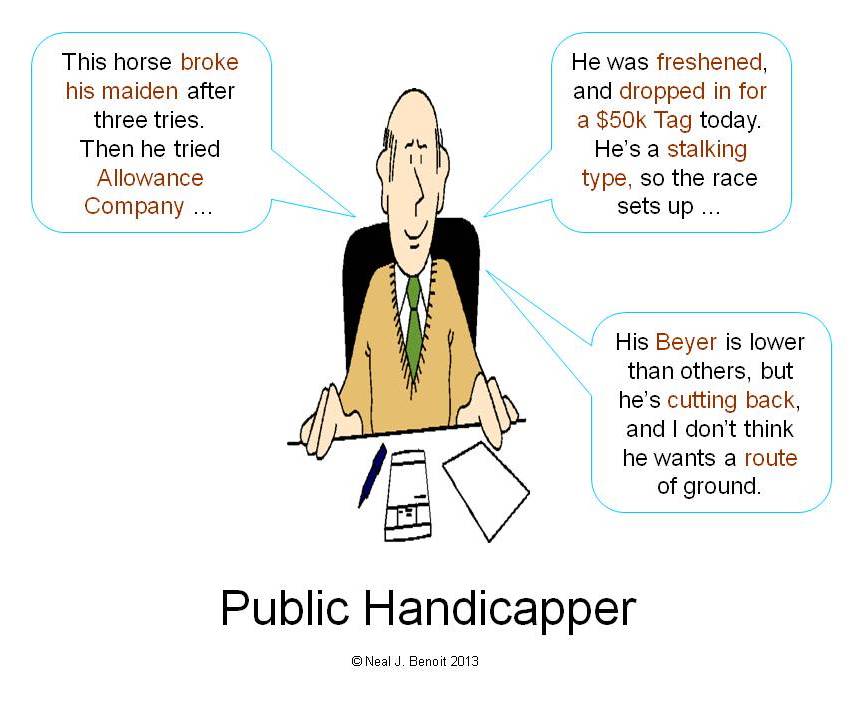 We explain the frustration experienced by a new fan when attending the races and trying to make sense out of the endless jargon used by public handicappers.
Using an amusing example of comments made by a typical public handicapper, we translate some of the jargon into ordinary language.   We also explain why it takes more than a Glossary to understand the concepts in horse racing.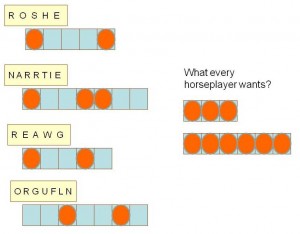 Most handicappers can be divided into two broad puzzle-solving categories; Crossword or Jumble players.  Neither is right or wrong, they are just different approaches.
We describe the differing styles, and suggest some adaptions you might consider to adjust for your own innate style.