Meet The People
Thoroughbred Horse Racing is full of interesting people of all shapes and sizes.  We are interested in meeting them and sharing their stories.  In doing so, we hope that fans will obtain a better understanding of what it takes to put on this amazing show at racetracks across the country.  Below is a list of the people we have met and interviewed exclusively for our website.  Click on the person's name to read their complete interview.  Due to their length, some of the interviews were split into multiple parts.  Links are provided to subsequent parts at the end of each article.
Racetrack Personnel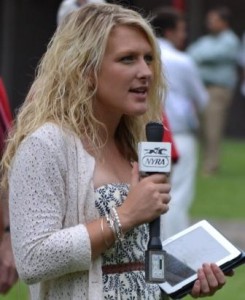 Maggie Wolfendale is the Paddock Analyst for NYRA (New York Racing Association) at Belmont, Aqueduct, and Saratoga racetracks. Her role is to check out the physical attributes of horses as they are saddled in the paddock and then report what she sees to the betting public.  Maggie not only works for NYRA, but is the Assistant Trainer and exercise rider for her boyfriend, Head Trainer Tom Morley.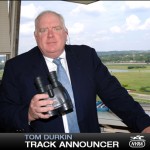 Tom Durkin is the legendary track announcer for NYRA, and is retiring at the end of August. In our interview, done a short time before his retirement, we learn about his "theatrical" approach to calling races.  Tom also shares with us his post-retirement plans, which begin with a beer after his last race call.  Included in the article are videos of a couple of favorite race calls by Tom Durkin.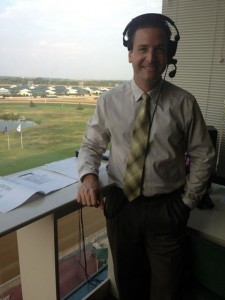 John is the track announcer for Lone Star Park and Kentucky Downs. We first heard John at Kentucky Downs, where we found his unique style to be both comforting and informative. He has a genuine interest in educating racing fans, and at Kentucky Downs he is able to do that with his pre-race comments and conversation with the paddock analyst. Our interview revealed that John considers himself more of a commentator than a chart caller.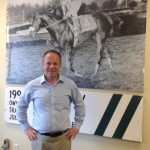 Larry is the track announcer for Gulfstream Park and Monmouth Park. He is also the voice of the Triple Crown and Breeders' Cup for NBC Sports. We spent a couple of hours in the booth with Larry at Gulfstream Park while he was calling races … observing his amazing ability to memorize horse's names race-by-race. Larry explained his preparation for race calls, things he looks for during a race, and some of his favorite race calls. Video replays are included in the story.
Trainers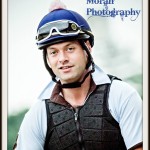 Tom Morley is a head trainer on the New York racing circuit.  A native of England, Tom comes from a family filled with horse people.  Prior to launching his own stable, Tom was an Assistant Trainer for Eddie Kenneally.  In a 3-part interview, Tom explains the challenges facing a new trainer, how he handles the emotions of the sport, his activities in the Claiming game, and the role his girlfriend Maggie Wolfendale plays in the business.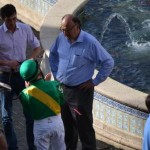 Christophe is a multiple graded stakes winning trainer, with more than twenty years of head training experience. He is presently 19th in all-time earnings in North America.   Christophe gave us a guided tour of Payson Park in Florida, where he stables his entire string of horses for the winter months.  In this interview Christophe shares his feelings on important topics like synthetic track surfaces, fan and owner experiences at the racetrack, and his incredibly consistent statistics with multiple surfaces, distances, and class of horses.  Since this interview, Mr. Clement won the Belmont Stakes with a horse named Tonalist!!!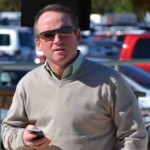 Head Trainer Brendan Walsh grew up in County Cork, Ireland.  Despite growing up on a farm, he had very little exposure to horses.  However, he did have a pony and he taught himself how to ride. This experience launched his love of horses and formed the basis for a desire first to be a jockey and later to become a trainer of horses. Brendan worked for Godolphin Stable, John Hammond, Mark Wallace, and Eddie Kenneally before going on his own.  In 2014 he topped the $1 million mark for purses earned. In this article, Brendan talks about the many ups and downs of being a horse trainer.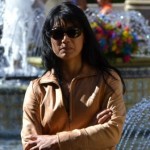 Head Trainer Michelle Nihei was an assistant trainer to Todd Pletcher for six years. During this interview, we discuss what she learned from Todd, the challenges facing a small stable like hers, and several other hot topics in the horse racing industry today. We also discuss her academic background, she has a PhD in Neuroscience and how that serves her in the horse racing business. Links are provided to Michelle's website and blog at the end of the article.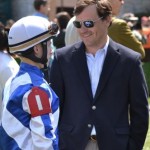 Ben Colebrook was an assistant trainer to Christophe Clement for 41/2 years before striking out on his own. In this interview we discuss what he learned working for Christophe, his background in horse racing, his experiences training on Synthetic surfaces, and his thoughts on attracting new fans to the sport. On the latter subject, his response was rather entertaining and has caused me to rethink some of my viewpoints on the subject.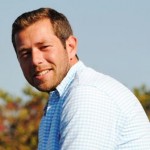 Thomas is a young man, working quietly out of the limelight of the racing world, tending to a string of Clement's horses 7 days a week.  Thomas describes what a workday is like for him and the horses, including a candid description of "good" days and "bad" days.  He also discusses Tonalist, and the specifics of his journey leading up to his Belmont Stakes victory.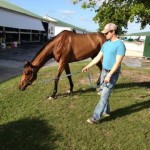 T.C. is the son of Hall-of-Fame rider Gary Stevens. But, unlike his dad, T.C. is trying to make his mark on racing as a head trainer. He launched his stable in March of 2013 with two horses and his wife by his side. Two days later one of his horses flipped over and broke T.C.'s leg. Five months later, T.C. won his first race as a head trainer with the same horse … at odds of 50-1. In this interview we visit with T.C., his wife (who is an integral part of the stable), and their four horses at Gulfstream Park.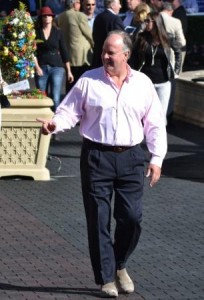 In 2013, Buzzy was a member of the team that won the Kentucky Derby with a horse named Orb. He tells us how he got started in the business with no prior horse experience, and succeeded by working hard and having a positive attitude. Buzzy might be the friendliest guy on the backside of any racetrack.
Jockeys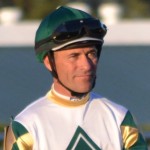 Gary Stevens shares a candid account of his relationship with his son, T.C. Stevens who is a head trainer. Also, Gary discusses topics such as jockey safety, pre-race preparations, and his Breeders' Cup 2013 lows and highs.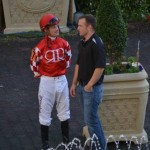 Julian Leparoux established records as an apprentice rider in the USA in 2006 in terms of wins and earnings.  Julian shares with us some insights about relationships with trainers, his favorite racetracks, how he manages a race went things don't go exactly as planned, some of the riding labels others have attached to him, and his excitement about a promising filly named Sparkling Review.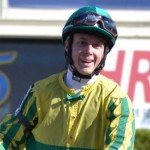 Dylan Davis is the son of Robbie Davis, a very successful jockey for more than two decades. At the time of our interview, Dylan was riding at the Gulfstream Park meet. Dylan explains how the apprentice system works, how he became interested in riding, and the challenges facing a young jockey in a very competitive sport.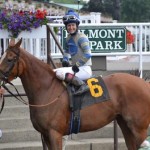 Taylor Rice comes from a family rich in horse racing history. Her Aunt is the well known trainer Linda Rice. Her dad and two brothers are also trainers. Taylor had an indirect path to becoming a jockey, in fact she attended college before even giving it a thought. In this interview she discusses how she decided to give riding a try, her strong family bonds, and the lessons she has learned along the way.