Horse Races Now

Starting on Monday, November 5, 2013 the popular iPhone and iPad App Horse Races Now began featuring material from the educational website Getting Out of the Gate under the Channels section of their App.
Horse Races Now is an App "dedicated to fan participation and viewer proliferation of horse racing worldwide." Getting Out of The Gate is a website "dedicated to educating and entertaining fans in the sport of horse racing." The synergistic result of these two enterprises working together will be to bring fans closer to the sport of horse racing AND help them to understand it once they are there.
Features of the Horse Races Now App include the following:
Overnight entries for upcoming races.
Streaming live video and audio from participating North American racetracks.
Results and payoffs delivered quickly.
Immediate race replays, going back two years in time.
Follow your favorite racetracks, horses, trainers, and jockeys.
Race day changes (scratches, weather, etc.)
Alerts (push notifications) for entries, call to post, at the gate, results, replay and chart, and workouts.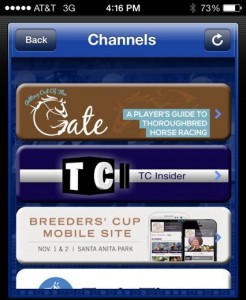 Horse Races Now has decided to team up with our website in order to provide educational material to fans wanting to learn more about the sport.  From the Channels tab on the App, visitors can view materials from the Getting Out Of The Gate website in a format that is mobile friendly.  This will include direct access to the "Get Started" feature on the website, with articles organized in  Racing 101, 201, etc. order.
Visitors can also go directly to Blog portion of the website, where the most recent articles are presented first.  Finally, visitors can drill down to Categories of articles by subject matter (e.g. Handicapping > Class) as well.
For more information on the Horse Races Now App, including how to download it to your iPhone or iPad, visit their website www.horseracesnow.com.
Here, at Getting Out Of The Gate, we are committed to helping new and existing fans understand (and enjoy) this sport more fully by providing quality education.  We are excited to have been selected by the Horse Races Now team as a contributor to their Application.  And, we look forward to working with the HRN team to make the horse racing experience more enjoyable for the fans.
Click here to learn more about accessing our website in a mobile friendly way through the Horse Races NOW App. Screen shots are included for further explanation.
---