Horse Racing Has An Image Problem – What Can I Do To Help?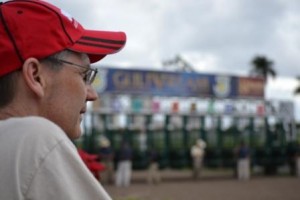 As I begin my second year with Getting Out Of The Gate, I decided to answer the question most often posed to me, "Why exactly are you doing this website?"  When I began this adventure, my answer was "to give something back to a sport that has given me so much."  But, recently I've come to realize that it runs much deeper than that.  Now, my response is: Because Thoroughbred Horse Racing has an image problem.  And, I believe that I can do something to help.
This leads to the question, "Why does horse racing have an image problem?"  There are many people and organizations that will offer a long diatribe of issues.  Unfortunately, as an individual, some of these problems I simply can't fix.  However, I will list three issues included in a recent Jockey Club Consumer Research report that I believe I can do something about.
The complexity of the sport is seen as a major issue, even among existing fans.
There are insufficient efforts to reach out to new fans.
There is a perceived lack of integrity of the people involved in the sport.
Related to these problems, I recently asked an acquaintance why he only attends the races once a year, despite living less than thirty minutes from Saratoga racetrack.  He replied, "It's too damn hard, and it's filled with crooks."

It's Too Damn Hard
There has never been an effective industry wide effort to educate potential new horse racing fans.  On the contrary, there is a prevailing denial of the degree of difficulty in horse racing.  Maybe the racing industry believes; we can't say it's complicated, that will scare new fans away.  If that's the case, I don't agree.
Listen, if fans buy into a sport, they can learn anything.  Ask a veteran Red Sox fan to explain a Passed Ball, Balk, Sacrifice Fly, or a Suicide Squeeze play.  Ask a diehard Steelers fan to describe the difference between a Safety, Punt, Field Goal, or an Onside Kick.  Fans wouldn't sit through 81 home Yankee games, subscribe to NFL Sunday Ticket, or wear Cheese-heads in Green Bay at -10 degrees if they didn't fully understand what's going on down on the field.
Yet, the racing industry somehow thinks you can create dedicated fans that don't realize a maiden race involves horses that have never won a race, that horses are "for sale" in a claiming race, that six furlongs is less than a mile, or that some horses prefer a turf surface over a dirt one.
Horse racing chronically emphasizes gambling – e.g. get rich dreams of winning a Rainbow Pick6 for umpteen million dollars.  Other major sports emphasize the athletes, coaches, tactics of the game, and nuances of the rules.  Of course they know there is a gambling component involved in their sport. They are fully aware of point spreads, football pools, fantasy leagues, and tournament brackets.  But they don't feature them in their coverage.  For example, an NFL pre-game show is dominated by discussion of players, coaches, play-calling, strengths, weaknesses, and strategies.  And during the broadcast of a game, they provide explanations of what happened on the field, penalties committed, choices and decisions made by players and coaches.  The NFL gets it … an educated fan is a dedicated fan.
Contrast that to a typical "pre-game" show in horse racing, where one or two public handicappers run through the races, talk about things that only experienced fans understand, and offer up their gambling selections.  Generally, the same act is repeated in between races.  Then the track announcer calls the actual race, with little or no commentary before or after the race.  Payouts are announced.  Turn the page and 30 minutes later they repeat the exact same thing all over again.
Now please, don't misunderstand me, I'm not criticizing track announcers and public handicappers. They have their job assignment, and most of them do it extremely well.  But, who is there to help the new fan?  Where are the Howie Longs, Terry Bradshaws, Chris Collinsworths, Joe Bucks, and Tim McCarvers of horse racing?  I wish I had a $1 for every time I've heard "I love the whole experience at the racetrack, but I have no idea what is going on!"  No one, and I mean no one, is helping the beginning-learning fan.
What if one day a week, or one race a day, tracks offered a program  focused on education, rather than touting picks?  What if there was a supplement to racing programs explaining topics like class, distance, and surface?  What if there was a "game-day" audio feed (available to anyone with a smartphone) that allowed fans to listen to color commentary that included NFL style education and explanations?
It's Filled With Crooks
There is a gigantic chasm between the front and backside of the racetrack, leaving patrons to wonder – "What goes on back there?"  This leads to skepticism and distrust.  Unlike other sports, in horse racing the fans have very little connection with the athletes (jockeys and horses), coaches (trainers), and owners.  Ask a New England Patriots fan to describe the personnel involved in that organization.  You WILL get an answer.  Ask a fan the same question about a horse, and see what you get.  Who trained Zenyatta, Orb, or Mucho Macho Man?  Now try, Golden Ticket, Oxbow, or Alpha.  Who are Tom Morley, Buzzy Tenney, Michelle Nihei, and T.C. Stevens?  Even experienced fans won't know much about these people (unless they've been following this website).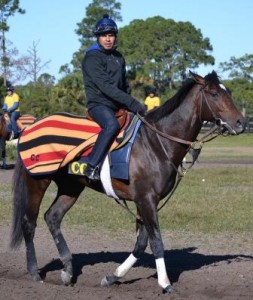 This lack of a connection is the principal reason I started the "Meet the People" series on this website.  To humanize the participants and to help fans learn about what they do, how they do it, and why they do it.  There are thousands of amazing people on the backside of tracks across this country.  Collectively, day in and day out, they put on one of the greatest shows on earth – often with great sacrifice and very little recognition.
Does that mean that everyone on the backside is eligible for sainthood?  Of course not.  Unscrupulous people can be found in every walk of life.  It just means that horse racing is susceptible to the same vagaries of personal conduct that you find in business, politics, or other sports.
Unfortunately, with the emphasis on gambling, fans can lose sight of the nobler aspects of this sport.  And what can be nobler than the horse itself?  Surely, even the most skeptical of the skeptics cannot question the heart and soul of the horse.  I can't possibly say it any better than trainer Michelle Nihei said it to me:
"Racing is about horses, and the stories behind the faces of the horses are really cool.  I really think that ultimately the interest is about the fascination that we have from a much, much deeper level about what it is that drives a horse.  Because really … truly great trainers and great jockeys aside … if you've got a great horse, that great horse will overcome everything that you do wrong.  Every wrong ride, bad groom, mistake a trainer makes … great horses make great trainers.  And that's the end of the story."
So, all of this comes back to what can I do to help improve horse racing's image problem?  In preparing future materials for this website and related activities, I promise to place special emphasis on the following.
To reach out and respond to potential fans through this website, in print, and in person.
To promote the heart and soul of horses; and the dedication, caring, and humility of the people who ride and care for these majestic animals.
To demystify the sport by providing quality education in new and creative ways.
Because, I firmly believe that an educated fan will become a dedicated fan.
Finally, if you are a participant (owner, trainer, breeder, jockey, exercise rider, etc.) in this sport … don't get discouraged, throw up your arms and lament over what can possibly be done to fix everything that is wrong.  If you do, you will become impotent and do nothing.  Instead, ask yourself this simple question.  "What can I do to help?"  To that there is an answer.
---