Horses for Courses
Hang around the race track enough and you'll hear someone refer to a horse as one of those "Horses for Courses."  In fact I was sitting in the carousel (at Saratoga) on Monday when I heard a handicapper behind me say those exact words regarding a horse in the feature race.  This is not unique to Saratoga, but it sure seems be a regular occurrence here.  Some speculate that it's the atmosphere, weather, or mineral water that does the trick.  I'm not sure how many horses get to drink the mineral water, but maybe there's something to that.
In four days of racing, I can identify three winners that can be classified as "Horses for Courses."  And, something they all had in common … they were double-digit odds.  Here's a recap of each horse, including their PPs for review.
Example #1, July 19, Race 2.  A 1 1/16 mile (8.5f) race on the turf.  Claiming $20,000.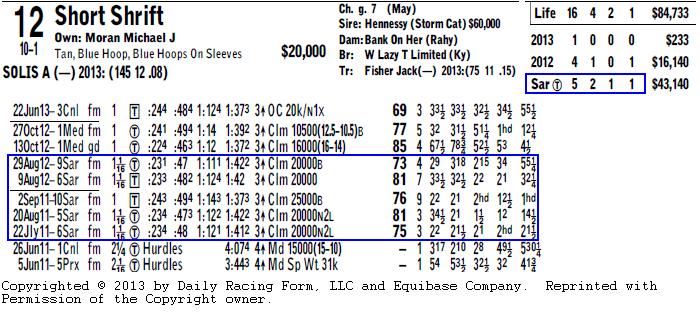 On the top of the PPs (far right) you can see that Short Shrift has had Five races on the Saratoga Turf course.  Of those races, he won twice, was 2nd once, and 3rd once.  In the running lines you can see that he put together three solid races in 2011, followed by another good effort in 2012.  His only subpar effort at Saratoga was on August 29, 2012.
One big difference between his 2011 and 2012 performances is that in 2011 he came to Spa off a couple of races in June.  In 2012 he was off for nearly 11 months before arriving at the Spa.  Notice that this year he had a race in June prior to arriving at Saratoga; similar to his 2011 set-up.  That combined with the fresh air might have been the key … as he went Gate to Wire winning at odds of 14-1.  He paid $30.40 to win.
Example #2, July 21, Race 8. A 5 1/2 furlongs race on the turf. $100,000 Stakes Race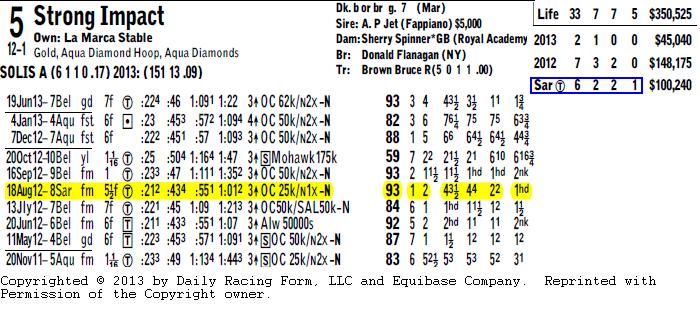 Again, on the top of the PPs you see that Strong Impact has had Six races on the Saratoga Turf course. He won twice, finished 2nd twice, and 3rd once. Of these six races you can only see one in the body of the PPs, but it's at the same distance (5.5f) as today's race … and he won.  You can also see that prior to that win he finished first in a 7 furlong race at Belmont Park.  Fast forward to this year, his last race was a 7 furlong win at Belmont Park on June 19.  Same set-up, same results, as Strong Impact won at 11-1 odds.  He paid $24.40 to win.
Example #3, July 22, Race 9. A 1 1/8 miles (9f) race on the main track. $100,000 Stakes Race for NY Breds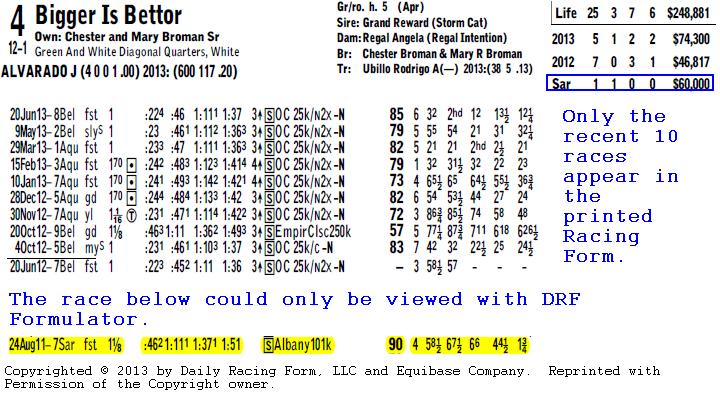 What's interesting about this example is that while you could see Bigger Is Bettor won a race at Saratoga by looking at the same information in the upper right as the other two examples, you could not see the actual race in the printed copy of the Daily Racing Form.  Why?
Because only the most recent 10 races appear in the printed copy.  However, with the Formulator software you could go back further and find that not only did he win at Saratoga, it was a $100,000 Stakes race and his Beyer Figure (90) was his career best effort.  Maybe he did get a sip of the mineral waters, because he battled to victory again at 11-1 odds and paid $25.20 to win.
It was a thrilling race with four horses battling down to the wire. Check out the video race replay.

One common element in these three examples is that each horse had shown a tendency to run his best race at Saratoga, and done so under similar conditions. Keep that in mind when considering possible Horses for Courses in your handicapping.
---