Lexington, Kentucky – As Beautiful A Place As There Is!
I recently returned from a short visit to Lexington, Kentucky and for the final three days of the Keeneland Spring Meet.  Deb and I have been to Lexington several times, but somehow we always seem to find something new. This time it was WinStar Farm; a 1,700 acre farm in the heart of horse country USA.
Some of the most successful sires in the breeding business reside at WinStar Farm, and we were able to get a personal viewing of many of them, thanks to our friend Chance Timm, a bloodstock agent at the farm.  The parade of stars included: Artie Schiller, Bellamy Road, Bodemeister, Distorted Humor, Super Saver, and several more … including my personal favorite Tiznow.
Tiznow is an amazing horse, and visually stunning. According to Chance, he weighs 1,500 pounds. The picture at the right does not do justice to what this horse looks like in person. Truly huge; and extremely fit. Chance said that all the stallions are exercised, but he explained Tiznow does have a reputation of having "a mind of his own" and tends to prefer a slow trot to galloping.
Tiznow had a tremendous racing career, winning over $6 million and the Breeders Cup Classic twice; the only horse to ever accomplish that feat. More recently he has been in the top 15 sire list the past five years in a row. His offspring have won Grade 1 Stakes races from New York to California, and the Dubai World Cup. So if you have a nice mare, and $75,000 tucked away to pay for that special courtship, Tiznow is available. Though Chance cautioned that "Tiznow doesn't bring any candy or flowers" to the date.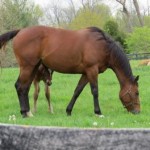 After visiting WinStar Farm, we drove around the countryside in search of Mama horses and their babies.  It didn't take long to find some of them.  Many were camera shy, and headed in the opposite direction when I pulled out the camera.  But, I did find one cooperative group, and got several good shots, including the Shy Foal to the left peaking at me from underneath his mama.
It took some coaxing, and patience, but eventually he came out from behind his mama and posed for his own picture. One of the funniest things we saw while watching these foals in the fields is how they attempted to get up after lying down on the fresh grass.  They would rock back and forth, until their momentum was enough to allow them to spring up onto their feet.  Once on their feet they were fine, but that initial "rocking" was hilarious to watch.  And, mama does nothing to help junior, gotta learn this stuff on their own I guess.
As we were pulling out of WinStar Farm I snapped the picture on the left, and it reminded me of just how incredible a place Lexington, Kentucky is for horse lovers. Horses are so much a part of their culture; for example, at the Lexington Airport there is a floor tile mosaic in the main entry displaying the lineage of more than 800 horses and sire lines dating back to the mid 1800s.
This passion for horses explains the comment made by owner and Kentucky native Ken Ramsey on the closing day at Keeneland.  He said, "If there aren't any horses in heaven, then I don't don't want to go there."
Me neither Ken.
---