Meet Ben Colebrook – A Young Trainer With Some Fresh Ideas
On a recent trip to Kentucky, I had a chance to sit down with Ben Colebrook, a young head trainer in the Lexington, Kentucky area.  Ben was formerly an Assistant Trainer to Christophe Clement.  I was curious to learn what Ben took away from his experience with Christophe which spanned about 41/2 years.
Also, being a young guy, I was interested in his views about how to attract young people to follow the sport of horse racing.  His response to that question was entertaining, and made me rethink some of my viewpoints on the same subject.  So, without further adieu, meet Ben Colebrook.
Where are you from and how did you get started in horse racing?
I'm from central Kentucky. My dad was a farm manager and he trained horses. I came up breaking babies and working on the farm for my dad. Through college I galloped horses and worked the sales for some consignors and went to work for Bill Harrigan at Miacomet Farm breaking yearlings. From there I went to work for Fred Seitz, who was training horses; he owned a farm in Kentucky called Brookdale, but later on he decided to train, so I went to work for him for 3 ½ years. From there I went to work for Christophe Clement, starting in February of 2008, and I was with him until August of 2012, when I went out on my own.
In the first year I worked for Cristophe, he wanted me to learn his program so I went to Payson Park (in Florida). Then I went to Keeneland for the meet, and after that to Belmont Park. I stayed there until the fall when it was time to come back to Keeneland. In the 2nd year and onward, I stayed at Keeneland and after the meet we'd bring in a lot of 2-year olds and I'd focus on getting them ready. I also had older horses coming off layoffs, but mostly just the 2-year olds.
Are you planning to remain in the Kentucky area?
Yea, my friends are here, my family is here, and I've got a house five minutes away. My parents are not far away in northern Kentucky. I just got married in February, and my wife is from around here too.
Is your wife a horse-person as well?
No, she's not at all. A lot of the trainers work with their wives, like Phil and Vicki Oliver, and they make it work. But for me, I just like to go home at night and not have to talk about horses, or bring the barn home with me. She doesn't have any idea about horses and I don't want to teach her about it. And, I'm happy with that.
What was it like working for Christophe Clement, and what did you learn?
It was a great experience for me and I learned a lot. He is a very focused and intense guy, concentrates on his horses, and spends a lot of time at the barn, looking at each and every horse. He is very hands on, and very consistent in his approach. I mean not every horse is trained the same, but everything he does in the care of each horse is consistent. He keeps the same groom with the horse, the same rider … you know, horses are creatures of habit and if you're doing the same thing all of the time your results are probably going to be consistent. Also, the work ethic that it takes to be a successful trainer I saw from him firsthand. I mean I knew beforehand how much work it takes, but he takes it to the next level. I wouldn't say everything I do is exactly the same as Christophe, but a lot of what I do training wise is picked up from stuff I watched him do with horses.
Your record with first timers is pretty good. Eleven firsters, three winners, two place, and two show, with an ROI around $6. Do you have a secret?
No, people have been sending me the right horses though. One of them was a Distorted Humor filly who probably just classed it out and won on guts. She was ready to run, but probably wasn't super tight. The horse that won the other day, World Is Watching, he's always done everything right, trained very well, and I knew two turns would be no problem for him. But, I don't do anything different to try to win first time out. I just get them ready and some are more apt to win first time out because of the type of horse they are or how the race sets up. It's great to win a race first time out, especially at Keeneland, but I'm not gunning to win those races like some guys might be.
What are your thoughts on the decision to remove the Synthetic surface at Keeneland this summer?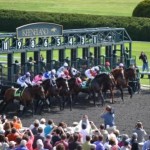 I like the synthetic. I have a good feel for it, because I've spent so many years here on it. You have to be careful with it. If you're not diligent watching your horses train and checking legs every day, you might miss some stuff, like soft tissue injuries. That's the knock on it, and sometimes people talk about horses stiffening up in their hind end. That can be muscles, where they don't slide behind and it can jar them up a bit. But, I've found if you pay attention and do things like turn them out in the round pens (I got that from Christophe) … that helps with their hind ends. Also, I use some acupuncture and chiropractic work. In the beginning I had some problems, but then we changed some of the stuff we were doing and gave the horses more time to adapt.
The great thing about Poly is from a planning perspective. If you have a race in a months' time, you can pretty much get your breezes mapped out and there is no change in it. If you're training on a dirt track, and the track comes up sloppy, you're not going to work your horse that day and then you have to adjust.
Maybe Poly didn't live up to everything they said when they put it in – it's going to be this panacea and horses aren't going to get hurt, and it requires no maintenance. But I do think it was good and horses stayed sound on it. Overall I had good experiences with it. But, I just train horses and I don't get to make the decisions. If the new surface turns out to be a nice dirt surface, then I have no problems with it.
How do you mentally prepare to deal with the ups and downs of this business?
My personality is more tailored to it, because I don't get too many highs and lows. I'm a pretty even keel guy. And, maybe that's because I've come up in this business so I'm used to stuff like that. The highs are good, but you just can't get too high. I've always said, if you could bottle the feeling of winning a horse race and sell it, you'd be a rich man. But, you can't get too swept up when things are good and when things are bad you can't dwell on them too much, because right around the corner might be the next big thing … a horse runs good, and you're on top of the world again. But, every morning when you come into the barn you've got to be prepared for anything – a horse is not doing good, or sick, or lame … what's the problem now? So, you have to deal with those problems, think about them a bit, and then move on. In this game it's going to be more bad than good. If you only lose 80% of the time, you're probably going to end up in the Hall of Fame.
What are some of the challenges facing a young trainer?
Just meeting payroll when you're starting out is a task. And, finding horses to train. As a young guy, you've got to carve out your niche as to what people perceive you're good at. Why should somebody send you a horse? Building relationships and trust with people, letting them know that you're ok and what your plan is. When you're starting out the biggest problem is getting on people's radars.
Would you say that for every guy like Christophe Clement, Todd Pletcher, or Bill Mott there are twenty struggling back here?
More like hundreds for each one of those guys. There are only about ten guys that are like those guys. Plenty of us in the trenches every morning just trying to eke out a living. But, those guys have been in my shoes, and weathered the storm and gotten through it. That's why they are where they are. They were good at what they did, and made the right choices and did all the right things. So, hats off to guys like that. That's what everyone emulates to be. That's why we keep getting up every day and trying to get a good horse in the barn. It's a lot of fun when you can get a good one.
Any suggestions for the industry on how to get new fans interested in the sport?
First thing, more family type stuff. Like at Arlington you see a lot of families there. Monmouth, Saratoga, Keeneland … lots of families there. You get the kids there and catch them while they're young. I mean kids always love horses.
As they get older, have more young adult stuff at the track. I think Keeneland does a good job of it; they have the college days, and it's fashionable to go there. I think it's easy at Keeneland because they have such a good facility to showcase. As where other racetracks … A) You might not want to bring your family there, and B) You don't want to get dressed up and go there.
They need to attract the young girls. I mean where do the young guys want to go? Anywhere the young girls are! Keeneland does a great job with that and if other tracks could emulate that … guys are going to follow the girls. I mean that's what nightclubs, bars, and casinos do. For example, opening day at Delmar is like a fashion show. Everybody wears their best clothes and is there to be seen. I know that's not really what it's all about, but at the same time … that's what it used to be, especially out on the west coast where you had the Hollywood celebrities at the track. I think if you could get the pageantry of horse racing back a bit, it'd be a good thing.
The first step is getting excited and turned onto the sport and then later you take an interest in actually learning something. Not everybody is going to take the 2nd step, but if you can get enough people out, then enough will take the 2nd step. The biggest problem now is … look, like Belmont Park … you've got all those people around and nobody goes to the races. I think NYRA has a disconnect with the fans at Belmont. I know everybody goes to Saratoga, because it's Saratoga.   But then they raise the admission rate at Belmont when nobody goes anyway. You should give the people a free program and free parking. That's what struck me about New York, you go to the track and nobody is there. You've got all the best jockeys, the best horses, and the facility is … maybe it's a bit past its prime, but it's still a beautiful place.
Look at what Gulfstream does, where you've got the whole entertainment complex and shopping within the racetrack. I know it's not feasible everywhere, but you've got stuff for the family, where dad can bring the kids to the track, and the spouse can go shopping, and they meet back up for dinner.
---
How about in the area of fan education?
Keeneland does a good job with the Betologists. They don't really bug people, but if you approach them they'll give you a tutorial on how to read the racing form or program. Most of the time people are a little overwhelmed when they come to the track with all these numbers and abbreviations. Only seasoned veterans know what any of it means. For me, betting on horses is the best form of gambling because you're betting against the general public. If you're pulling the handle on a slot machine you're going to win whenever the computer says. We should promote horse racing as a better form of gambling. If you can get a little bit of an education and see things that others are missing then you've got a better chance to make some money. But, if people go to the races and make a few bets and they don't know what happened when their horse ran up the track, they leave thinking "What's the point of this?"
A fellow trainer told me, "Training is a lifestyle choice." What do you think about that?
I would totally agree with that. When you tell somebody what you do, that you train racehorses, they initially say "Oh, that's an awesome job." But, they don't really get what goes into it though. You start to tell them, and they're like "You don't get a day off, ever." Nope, it's seven days a week.
You know there are days I'm out on a horse and galloping around the racetrack and it feels like you're not even working. But, there are definitely days when it DOES feel like you're working. You go to bed tired every night, and that's a good feeling. I don't know too many horse trainers that say they can't sleep! At least you go to bed tired doing what you want to do. And, you're outside. I could never see myself working in an office or sitting in a cubicle all day. I'd go crazy.
---
Prior to meeting Ben, I had focused the majority of my attention on attracting new fans on the education front. Ben made me take a step back and look at things from another perspective. During a recent trip to Keeneland I observed the number of young women and men, dressed to the nines, having a good time. It was clearly the "place to be" for these young people. Like Ben said, first get them interested, and then hopefully enough will take that 2nd step to learn more about the game.  When they do, we will be here for them!