Meet Dylan Davis – Loving Life
Dylan Davis is the son of Robbie Davis, a very successful jockey on the New York and California racing circuits for nearly two decades.  Dylan is currently an apprentice rider, riding full-time at Gulfstream Park.  During a recent visit to Gulfstream Park, I sat down with Dylan in the grandstand on a dark day of racing.  He explained how he initiated his own interest in riding, the mechanics of the apprentice system, and his special connection with the Wesley Ward stable.
During the discussion, several times Dylan became quite animated and demonstrated that special quality of youthful exuberance.  This young man is clearly excited about what he's doing, and intent on working as hard as possible to keep the odds in his favor.
Where are you from originally?
I grew up in Saratoga Springs and went to Saratoga High School.  When I was younger I was traveling with my dad though; at Saratoga in the summer, Spring and Fall at Belmont and Aqueduct, and in the winter here at Gulfstream.  And once he retired, we resided in Saratoga.
How deep in your bloodlines does horse racing go?

My dad started it all.  He got started with the quarter horses near Idaho.  He was just looking for money on the side; at first hot walking and cleaning out the stalls, but then he started to ride.
How many siblings do you have?
Two brothers and three sisters, and I'm the youngest.  I have a sister Jackie riding, and another sister Catherine who just started riding at Aqueduct.  So, now there are three in the family.  My dad wasn't 100% with Jackie, being the first one, because he knew how dangerous it was.  But, after she started getting into it more, then he started helping her out.  Then I was the 2nd one, and it was a little easier for the rest of the family, because Jackie broke him in.
At what point in your life did you decide to become a jockey?
When I was 16 and a junior in high school.  I was racing motocross and I had to get a bigger bike and my dad didn't want me to get it, because it was a little dangerous – I couldn't touch the ground.  And with the bigger bike – bigger jumps, and everything is faster and it's just more dangerous.  Since he wouldn't buy me another bike, I'm thinking what else can I do?  I've always been with the horses, so I started getting on horses on the weekends and I just decided to try and do this.  My dad said ok.  But it was my idea, and I'm glad he didn't push it on me.  I didn't want the pressure from my father to make me a jockey and then maybe not liking it.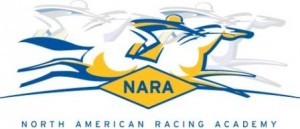 Then I went to Chris McCarron's jockey school, called the North American Racing Academy in the training center next to Keeneland (in Kentucky).  It's a 2-year program, but I went for just the first year.  The 2nd year is an internship with a trainer, where you can gallop and work for the trainer.  Jackie went there for the first year, and then had an internship with Allen Jerkens when she was starting out.  I didn't want to do an internship, so I cut out early and went back home to Saratoga and started freelancing.  I started out galloping seven or eight a day, breaking, and all this stuff.   I got my dad to bring me around the barns in Saratoga and I met people that way.
Are there any jockeys that have influenced your riding style?
I got a lot of good advice from Wesley (Ward).  He won the eclipse award for best apprentice.  Being a top quality trainer (now), I was a little nervous riding for him at first, but I don't feel as much pressure now.  He gives me advice on what to do with the different surfaces and distances, what to watch, and what not to watch.  I like Joe Rocco's form … he looks very good on a horse.  He can get really low and just move his arms, and he can out-finish just about anyone here.  I take bits and pieces from each rider in different spots.
What's it like in the jockey's room?
People have their moments, but all jocks do things in a different way.  They might keep it to themselves … or say something, but no one's really yelling in the jocks room.  They might get upset about something in a race, and say something … but after that it's over with, and you move on to the next race.  You can't get into battles with each other, because you've got to see each other every day.  It's not like every other sport where you're separated by teams.
What's your attitude on jockey safety out there?  Has it changed since you fell last month?
You try to protect yourself, but you try to protect the other riders too.  You want to win, but make sure everyone comes back safe.  The most important thing is protecting each other.
Last month; I side-clipped a horse, and went straight down.  I rolled and opened my eyes … then I see a horse jump over the top of me, another horse falls down on the rail, and I see the underside of a horse.  I just close my eyes and I don't move, because my dad taught me – when you fall to stay small, tighten up and don't move … because the horses don't want to step on you.  They are very agile and will do anything to avoid you … shorten their stride, jump over, or move over.  I've seen jocks in accidents where they hit the ground, but they stand straight up and they'll get hit right in the head.  Or, if you get up and move left or right, the horse doesn't know which way you're going.
I mean I was hurting, I just told them to take me to the hospital and check my legs out, because I couldn't move my legs and I didn't know if I'd broke it or not.  I guess my legs were just sort of in shock from the fall.  My whole leg on the side was bruised, like black and yellow.  I fell in Ellis Park in the summertime too, and when you fall you start to realize how dangerous it is.  So, it made me think even more about protecting the other riders.  Get around there, make sure you ride good … you know you want to win, but make sure everyone is ok.
This is an emotional game.  How do you manage the emotions?
It's definitely tough; you can go from trainers being happy to trainers yelling at you.  But, I try to keep it to myself.  I've had some trainers that will tell me exactly what to do in the paddock, what they want in the race … and I'll do exactly what they say, and if I don't win the race, they'll still yell at you.  It's like, why did you do what I said to do, instead of what you should have done?  So, it's hard to make everyone happy.  But, the jockey has to manage the physical, mental, and emotional aspects.  Mentally, you've got to take it well.  And the emotions are not the same every day; they are up and down.  You can have a really good day, and the next day is a total mess.  Like on the very first mount the trainer yells at you, and it screws up your whole day.
In the last race yesterday you took a horse from gate to wire.  Can you tell us about that ride?
I was going with the mindset if someone wanted the lead they can take it, but if not, then I'll take it.  My horse took the lead on his own; no one else seemed to want it.  We get to the first turn and I've got no pressure.  I can hear a horse about a length and half off me, but I knew my horse couldn't do fractions of :12 and :24 all the way around, so I slowed it down to the point that I'd get just a little bit of pressure off the outside lane (2nd) and I got away with :25 4/5 and then :52, and 1:14. So we get into the turn and I asked at the 5/16 pole (a little early, I usually ask at the 1/4 pole), so my horse sprinted and I was trying to make them catch me.
You rode a horse for Todd Pletcher recently, was that your first ride for him?
Yea, that was my first mount for Todd ever.  I didn't know what to expect, he always seems so serious and straight forward in the interviews … you know, just get the job done kind of guy.  So I go to the paddock, and thank him for riding me, and tell him I'll really try hard for you and right off we get to laughing and he was very easy to get along with.
In the whole warm-up my heart was pounding like it was my very first race at Saratoga.  I hadn't got that nervous in a long time – just because it was Todd Pletcher, the top trainer in the country.  I kept telling myself, "Just ride a good race, don't check, don't get in any trouble, just ride a good race."  I kept saying that to myself and my heart was pounding the whole time.  But once the gates opened I was ok.  I rode a good race and the horse started closing at the end.  So, I told him after the race, he might need just a little more ground.  And he said he thought the same thing, and they were trying to get him in a 7-furlong race, but the race didn't go, so they just needed him to run.
My agent told me he'd never rode a bug before that.  In the paddock, he said "How light can you do?"  I said, "I can do 109.  But, if you need lighter, I'll do it just for you Mr. Pletcher, sir."  And he started laughing after that.  I was trying to promote myself just a little bit!
Can you explain the apprenticeship process to new fans?
As an apprentice, when you ride your first race they give you a 10 pound allowance.  So, if the weight for the regular rider is 120, then you're in for 110.  That's a big deal for the weight off the horse.  The idea is to even things out between the experienced and less experienced riders.  After you get to your 5th winner, your bug will start and you'll turn into a 7 pound allowance.  Once you get to your 40th winner, you turn into a 5 pound allowance.  And you get one year from the point of your 5th winner to keep your bug.  After that you become a journeyman.  If you get hurt within your apprenticeship, you can hold it for as long as you're hurt, and put in for a bug extension.  That will push back the 1-year date.  I'm going to lose my bug the last week of April (2014).  Then I'll be riding at even weights with everyone else.
It can get tough when you lose your bug, because you're on the same level as Javier Castellano and Johnny Velasquez, Joel Rosario … all those guys are doing the same weight.  So you have to use your year as an apprentice to learn as much as you can, and do the best that you can, so you can build up a lot of clientele.  You've got to show that you can be as good as those guys.
Are you nervous about losing your bug?
Right now I'm thinking about it.  You know, I had a choice for the winter meet to go to Aqueduct or come down here, and the main reason I came down here was because of Wesley Ward.  I talked to him last month and he got a lot of babies from the Keeneland sales, and I asked him would you ride me after I lose my bug?  He said for sure, he's going to help me out, and then keep me going.  That made it a hundred times better to think I'd be ok even after losing my bug.  It's kind of like I was in the right place at the right time with him.  I do whatever he wants me to do, and I work hard for him every day. He's helped me out so much.  He's my main outfit right now.  When I first got here, I got like 8 to 10 winners with him.  He knew I needed exposure to the track, because I'd never ridden here before, so he put me on a lot of horses that had a good shot to win.
I do a lot of breaking out of the gate at Palm Meadows for him getting ready for Keeneland, three days a week.  But then it's kind of locked down, and he can tell the owners that I've been working their horses in the morning.  When you start your bug, you've got to find that one trainer or outfit that will ride you.  Kind of some advice for future bug riders you know.  And once you find them, just stop by every day and whatever they need, you do it for them.  Show them that you want to work, and will do anything for them.  Wesley knows I like to work.
Tell us about your pre-race routine.  How do you get yourself ready?
Before I get into the jock's room, I'll go over all my races and try to plan out the race.  But, it doesn't always turn out the way you thought.  The best thing to do is have two plans going into the race, and it can be as simple as your horse breaks good, or your horse breaks bad.  Or, if this guy goes then you're going to do this, or if this guy doesn't then you're going to do this.  You think about the other jockeys, and how they're going to ride.
But things change, you can have a horse that's usually eight lengths back at the break, and the trainer told the jockey, "Let's just send him to lead and see what he can do!"  Of course you don't know that, and you might wonder why is he sending that horse, and thinking I'm not going to go with that horse because he's just going to come back, and you don't want to get in a speed duel with him, so just let him go.  It all changes in every part of a race, where riders want to go, and that's what can separate the good riders from the bad riders … you have to make split second decisions, and you can't hesitate or 2nd guess yourself.  Like, should I be in this spot, or should I be in that spot?  By that time someone else has taken that spot and you're looking back at the race and saying I should have done this or that.
If my horse doesn't break good, I might pick out two or three horses to follow that I think are going to finish good.  So, I've got a plan, but then maybe I go into the paddock and the trainer says something completely different and I've got to scratch out everything I thought about the race.  That's part of being a bug rider – since I don't have as much experience, they'll give me more of their own plan.  I listen to them because they're riding me and have given me an opportunity.
Don't you think you'll eventually get that freedom to make your own plan?
Wesley does that to me now.  He won't say anything to me, and maybe I'll throw out an idea for what we should do, but most of the time he won't tell me anything about the race.  If he needs to tell me something, it's just specific to his horse.  He wants me to be comfortable and ride my own race, and learn from me.
Any ideas on how the sport can make things fun for the younger crowd?
Something like college days at Keeneland are really fun.  They bring a lot of the younger crowd into the track.  They've got to try to show that it's not just gambling, that there's joy in just watching horses run, and the crowd coming to life.  Like at Keeneland, it's exciting you know, you have everyone screaming and yelling and the whole grandstand shaking and it makes it exciting for the jockeys too … you're heading for home and you hear the big crowd screaming and it makes you want to try even harder!
The biggest race I've won was a $97,000 allowance race at Kentucky Downs.  It was a tough race, but I came up on the rail.  The biggest race I was ever in was a $150,000 race at Indiana Downs.  I went to twirl my stick up, and the wind just blew it out of my hand, so I just kept riding hard and I got 2nd.  I haven't won a Stakes race yet, but I've gotten a lot of 2nds.
Any final thoughts?
There are no days off.  My dad says, your days off are when you get hurt.  That's the only vacation you get.  You work horses in the morning and go right through until around 5:00.  You either love it or you don't love it – and if you don't, then you're not going to do well at all.  The more work you put into it, the better the outcome.
Thank you Dylan for taking the time to sit down and share with us your unique perspective as a young guy trying to make your mark in a highly competitive business. I have to say, as I was walking away after our meeting, I had an extra bounce in my step. Your enthusiasm and energy level were contagious I do believe.  Good luck to you … ride good, and be safe!
---
Modeled after European style turf courses, come visit the only one of its kind in North America. The author had a truly enjoyable visit to this unique race course in 2013. Click here to read more about that adventure.
2014 Racing Dates are September 6, 10, 13, 17, and 24.
Saturday, September 13 will have four Stakes Races, including the Grade 3 Kentucky Turf Cup worth $600,000.
---