Meet Larry Collmus – Track Announcer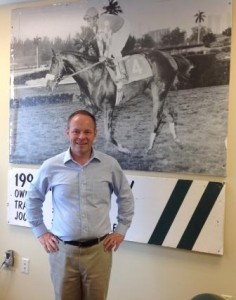 On Thursday, January 9th, I had a chance to spend several races in the announcing booth with Larry Collmus, the track announcer at Gulfstream Park. In addition to announcing at Gulfstream Park, he is also the track announcer for Monmouth Park in New Jersey and the voice of the Triple Crown and Breeders' Cup races for NBC Sports.  Update: Larry is now the track announcer for Churchill Downs.  He will no longer be at Monmouth Park.
Larry was very comfortable with having me in the booth with him, and that allowed me to fire away with questions, while taking periodic breaks for his race-to-race preparations and actual race calls.  Here is a replay of our conversation.

What's your preparation for an individual race?
It varies quite a bit.  On an average day (like today) I won't do a lot of pre-preparation because it's not that hectic during the day.  On the weekend I will do a little more, like going over the names of the horses the day before to make sure I can pronounce their names.  A day like this (Thursday) I'll take it race to race.  The major part of the preparation comes when they come onto the track.  That's when I memorize all of the horse's names by the color the jockeys wear (their silks).
There are exceptions.  Like when I call the Triple Crown races for NBC.  I start preparations for the Kentucky Derby in February.  I watch all of the top 3-year old races around the country to get a feel for the different horses.  A couple of weeks before the Derby I start studying the silks, because I'm going to have to call twenty horses.  You need to prepare because anything can happen in a race like that.  And, at the Kentucky Derby this year we had a muddy racetrack.  Wet tracks can be a bit of challenge, because all of the silks turn brown.  I tell people, when they turned for home and Orb made his winning move and I gave him the big call, I was 80% sure it was him.  There were four horses with red and white and through a process of elimination I figured that's probably him.
---
After telling this story, the horses for the next race started to come onto the track.  Larry proceeded to memorize the names by saying them out loud and repeating their names multiple times.  Then he says, "I like to look at them when they're right in front of me so I can get a good view of them, but I also want to look at them when they are out of order.  Because ok, so you know who they are … but do you really know who they are?  You know 1 through 7, but do you know 1,4,2,6, etc.?"
---
Do you use the numbers on the saddlecloths at all?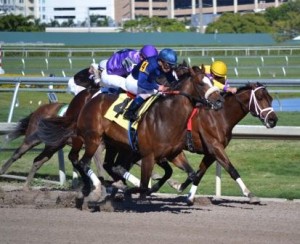 No, because you can't always see the numbers.  For example, if there are three horses across the track together, you can't see the numbers.  Also, as long as that horse is owned by the same guy, the silks are going to be the same every time he runs.  So, I become familiar with that horse having seen the colors before and I associate those colors with that horse.
The most preparation I've ever had to do was for the Breeders' Cup this past year.  For that I was making flash cards with the cutout of the silks (with the actual colors) on one side and the horse's name and information on the other.  For days I was going through and memorizing them.
---
A moment later, Larry put the headset back on, and proceeded to call the race.  His transition from speaking to me to being the track announcer was seamless.

It was impressive to listen to Larry call the race in person, especially knowing that he learned all the horse's names and silks in a span of about ten minutes … while talking with me.  At the conclusion of the race he read the payouts, information about a claim made in the race, and some details about the upcoming races.  He turned off the microphone, and we continued.  Talk about multi-tasking!
---
Is there anything unusual about Gulfstream Park, when compared to other tracks?
This place has some quirks.  The one mile races start on the other side of those new barns they've built, and I can't see the start of those races.  So I have to look at the TV like everybody else for the first 1/8 of a mile.  And they're coming straight at you on the video.  I'd prefer to look through my binoculars.  And anytime they run a mile and sixteenth on the main track, they end the race there (he points to a different finish line further up the track).  So I have to call the end of that race off that TV because there's no way to tell who's in front from this angle (in the booth).
How did you get interested in this line of work?
I grew up in Maryland and my father put in the sound system at Timonium Race Track.  He operated the sound for the track and the Maryland State Fair.  He would leave me at the racetrack in the summer and if anything went wrong I'd get hold of him.  I ended up hanging out in the press box where the announcer was, and I thought the horse racing end of things was really cool.  I was going to high school at the time, and I was watching highlight shows of the top races around the country.  I'd listen to all of these different race callers, with their own styles.  I thought this is kind of neat, something I'd like to try to do.
So, I'd be in the press box and I'd mimic the calls I heard from these different announcers and people suggested I think about becoming a race caller.  They found a room for me, and on the weekends I'd practice calling races.  I got a pair of binoculars and a tape recorder, and I'd practice.  One day I was at Pimlico and the general manager heard me, and he asked me if I want to be the backup when they go over to Bowie in the summer and call one race a day over the microphone.  That's how I first did it.  I was only 18 when I called my first race there.  I called one race a day for their summer meet.
Do you ever look at the Daily Racing Form Past Performances (PPs)?
Yes, in fact let me bring them up for the next race.
What if you notice in the PPs that a horse is usually on the lead, but today is languishing at the back of the pack, do you mention that in your call?
Yea, that's news.  It's a story – especially if it's an obviously different thing, like a pronounced frontrunner who breaks poorly.  I remember calling the Breeders' Cup Classic two years ago, and saying "Game On Dude who we thought would be in front, is not, he's sixth right now."  That's part of the story.
Also, when I'm doing the NBC races, I'm only calling for TV and that's a subtle difference.  You're calling for a different audience and you're also part of a television broadcast in which they show all of these features and story lines.  You should incorporate those story lines into your race call.  For example in the Kentucky Derby, you might mention Kevin Krigger because they did a story about him earlier in the show.  Or Rosie Napravnik has so-and-so in fifth, and where's Calvin Borel … he's won the Kentucky Derby all these years.  I watch every one of those features they show.  I'm in all of the production meetings and watching the features and all of this stuff gets in your head, so let's get that into the race call somehow.  You're still calling a race, but you're also reporting on the storylines within the call.  I think it's fun, I love it.  I always enjoy doing TV calls.
Where are you located when doing these TV calls?
It varies.  In the Preakness I was out on the roof in the elements, and it rained and was cold has heck last year.  When the weather is good it's great, when it's bad it's terrible.
Do you ever use replays in your preparation?
Yes.  I like to use that if I can't come up with a horse's pronunciation.  First I try Google, to see what a word means, or if it's a foreign word.  But, sometimes I still can't come up with it.  So if the horse has run before I'll listen to what the announcer called it in a previous race.  But, if they've never run and I'm completely baffled I'll try to track down the trainer. Sometimes they'll say, "I don't know."
Last year we had a very nice turf horse, Rydilluc that won a stakes race.  First time he ran I pronounced it "Ri-dill-ick" and it turns out it's named after the owner's three kids, Ryan, Dylan, and Luke and is supposed to be pronounced "Rye-Dill-Luke".  There's also a website "Forvo" that helps with pronunciation of foreign words if it's an actual foreign word.  It will say it back to you, how to pronounce it.
Do you have any catch phrases?
The only thing I consistently do is "and they're into the stretch" when they turn for home.  Also, when a horse is running away I sometimes say they are "running up the score."
How about playing off a horse's name?
I had that one race at Monmouth with the wives.  I try and have fun with it if they come up.
[Below is the video replay.  It's a worth a listen.]

In part 2 of our interview, we will be discussing some of the particular things he looks for when calling a race, some of his favorite horses, his hiring by NBC Sports, and one of his favorite all time race calls by another track announcer. Click here to read Part 2 on Larry Collmus.
---