Meet T.C. Stevens – Famous Name, Different Tack
Tory (T.C.) Stevens is the son of Hall-of-Fame rider Gary Stevens.  But, unlike his dad, T.C. is trying to make his mark on the sport of Thoroughbred Horse Racing through different means … as a head trainer.
He launched his racing stable on March 28, 2013 and two days later his leg was broken while riding one of his two horses in training.  That might deter some new trainers, but as I learned from my visit with T.C. at Gulfstream Park, this young man does not discourage easily – a necessary quality for surviving in a very challenging profession.
During my visit at Gulfstream Park, T.C. introduced me to his horses, and then he offered me the lone chair in his office while he pulled up a pail.  We had the following conversation.

Your dad is a Grade 1 sire, but not for training. How did you end up getting into training?
As far as my pedigree, my grandpa was a trainer. And that's how my dad became a jockey, he was around the barn. Actually there is more racing on my mom's side of the family.  My mom is from the Baze family up in the Pacific Northwest (Longacres, Seattle).  So I'm related to the jockeys Russell and Tyler and my Grandpa (Carl Baze) was a trainer in Washington for years.  So I had trainers on both sides of my family, and my mom's brothers were jockeys at one point.  I've got cousins that were and are jockeys.  And I've got 2nd and 3rd cousins working in the business.  There are people on the starting gate over there that have known me since I was knee high.
When I got old enough, my dad put me to work.  My first job was walking hots for John Sadler.  Then the next summer I worked for Neil Drysdale.  Then after I finished school I worked for Jenine Sahadi for awhile, and later with Bob Hess as a utility guy.
Later I moved out to Kentucky and worked for Ashford Stud for three years, doing the whole breeding farm and learning about younger horses and older horses … where they go after they run.  Then I worked a year down in Ocala at Glen Hill Farm for Tom Proctor's brother, Hap.  He taught me how to gallop while I was there, so I was 25 before I learned how to gallop race horses.  That made me more of a horseman, and helped me piece together things I was missing – as far as knowing what's going on with horses, how to train them, and how they felt.  So after that I'm thinking; I can ride my own horses and train them – that saves a lot of the cost of starting up a stable being able to do my own thing.
So, I had an opportunity to get a hold of some horses, and I decided if I'm going to do it, then I'm going to do it now, otherwise I might end up working for someone else for the rest of my life and never getting a shot.  Plus, I really enjoy the atmosphere and action of the race track.  Hap said, "Well you've got about 20,000 wins in your catalog page, so you should do alright."
As far as trainers, who were your mentors?
I learned a lot from Tom Proctor, who is right next door.  I also worked for Wayne Catalano and learned a lot from him.  I was only there for 4 or 5 months, but every day I learned something new about getting a horse ready for the big day.  Another guy I worked for in Kentucky is Gary Simms.  He's a little underrated, he doesn't have as many horses as some, and he doesn't venture out of Kentucky much.  But a really sharp guy and I learned a lot from him too.
When you're in a pinch, who do you talk to?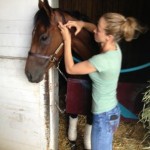 Usually my wife (Jaime) first. She's the one I go to when there's a problem, or to calm me down when I come in and it's not a good day at the barn. You can come in one day and have the best day, then the next day you're wondering what happened?  I've got a good team around me, with my blacksmith, vets, and chiropractors.  So, with me getting on the horses, I can usually pick out where a problem is coming from, and then together we can work it out to where it's going to be alright.  Most of the time I think about horses we've had with other people, and how we've handled certain situations.  So, around here, the team is the most important thing.
So, where does Jaime's experience come from?
I met her when I worked at Ashford (in Kentucky).  She was working at a farm in Paris (KY) where she was foaling mares.  Before we met, she went to Australia for 5 years to foal mares.  And down there it's a bit different than in Kentucky where the horses are kept in the barns.  She's foaling 200 to 300 mares every season, and they are all outside. So, in the middle of the night, she's hiking through fields to check mares with flashlights … never mind snakes and kangaroos … she's got to drag oxygen tanks through fields to get to the mares.
She's from Canada, where she got all of her experience at Windfields Farm, probably the most famous farm in Canadian history.  They had Northern Dancer there.  So, she'd go back and forth from Australia to Canada, but then she ended up doing a season down at Coolmore and that's where I met her.
She'd never worked the sales, where I'd done it for four or five years showing horses.  So, we got her doing that, and before you know it she's up working the 2-year old sales.  And everyone calls her to work, because she's great at what she does and she's a friendly person, and people love her.  And, she's a great horsewoman.  So, we got her into training.  She was working for Gary Simms when I was working for him, learning the ropes.
When the training thing came up with me, well … she's like my right-hand woman, assistant, or whatever it is.  Even if she doesn't know a hundred percent about the racing stuff, when a horse is sick or having a problem, she's the first one with an answer about what we're going to do to take care of it.  And when it comes to nutrition and supplements, or worming horses, I don't have to worry because she's on top of all of that.  I mean I know how to do it, but she takes care of all of it for me.  She does all the billing and paper work.  All I do is get on the horses, and make sure the horses are happy.
So, would you have gone into the training business without her by your side?
To be honest, I really wouldn't have.  Starting a business is really difficult.  So, having her helping me was very important.  Without her, I wouldn't last a month on my own.  We're together 24 hours a day.  Sometimes it will get a little tight, but we've been together for seven years, and she knows how to deal with me, and let things roll off her back.  And I know how to leave her alone when she needs that … and that's what makes it work.
Let's talk about your first winner, Sultry Warrior who won on September 28, 2013 at odds of 50-1.  How did that feel?
I broke her myself, and bought her myself.  She was a 2-year old late in the year.  Hadn't been ridden ever, and I started getting on her.  I tried to get everyone I knew in Kentucky to buy her, and she wasn't expensive ($10,000).  I said if you buy her, then I want to train her. I'd call my dad, and say this horse is ok; we got to find somebody to buy her.  And, he'd let it roll by.  So, finally I got the money together and we bought her.  We take her off the farm, and on the 2nd day I've got her at a training center in Lexington, she flipped over on me and broke my leg.  It was a freak accident, I was going the wrong (which is actually the "right" way) way on the outside rail and somebody went way out wide, and she froze up when she saw him.  I tried to get her to move, and she went the other way and the ground broke out from under her.  That was in March. It was frustrating getting everything going with the training, but you know, that's horse racing.  I grew up with it my whole life and it couldn't be more fitting than for something like that to happen early on.  I never blamed her; it was just a freak thing.
It took her awhile to figure out what she was doing, and finally we got her to the races at Ellis Park.  First time she ran green, broke real slow, was last and came through the pack and ran 6th.  So I was like ok, we got something here, she ran good.  And when she came back you could tell; it was like the light went on.
So the next race we ran her, she made the lead at the top of the stretch and she just got a little tired and they passed her late.  I said, ok great, we'll win next time.  So, we try her on the dirt at Churchill because she's a Majestic Warrior, figuring worst thing that can happen is we'll put her back on the turf. She didn't pick up her feet on the dirt.
So, we ran her back toward the end of the meet on grass.  She was doing super going into the race.  When we walked over I couldn't believe she was 50-1 on the board.  She was 20-1 on the morning line, which I thought was a little bit lazy of the odds-maker because her grass races were good.  It was the one dirt race that wasn't.  I called everyone I knew and said, "50-1 is a real good price.  Even if she doesn't win, I really think she's going to hit the board."
Jaime and I were standing inside (during the race), and there were probably about twenty people around, and everybody was looking at us because we were going bonkers.  First off I was like, she's going to get 2nd, this is awesome, and then here she comes, and she's grinding down the horse on the lead and I'm like, holy cow she might win … and then she won!  And I lost it.  It meant so much to me, her being my first winner after everything I'd been through with her.  I was balling my eyes out, and Jinx Fires had to lead me down to the winner's circle.  It was pretty cool.  I'll remember that forever.
How does it feel when you walk your horses over, and they're starting at such high odds?
I go over there, and if I'm like 8-1 or 9-1 … I look at my wife, and I go shit they like me in this race.  I'm single digit odds … they think I've got a chance here!  I've learned when you're training horses, the odds board doesn't mean much to you, because you know what you've got.  If I was taking them over just to participate, I might be more worried about the odds … saying, oh maybe I shouldn't have run him in here, but I think I put my horses in the right spots.
So, your dad is THE Gary Stevens.  How does that play?
It's like other sons of famous people say; it's both a gift and a curse. People know who you are, and you might get some advantages.  But, sometimes people are watching you extra close and they're scrutinizing you a little bit more.  A lot of times people are looking for you to fail, because let's face it when you're on top and doing well, people like to see you go down and that's the nature of the beast.  It's helped me out; I mean I've gotten chances to work with a lot of people and my dad had a lot to do with that.  At the same time, I'm sitting here now and I've got four of my own horses, and I don't have owners knocking at my door trying to give me a bunch of horses.  I've got to prove myself and show people that I can train horses because my name isn't going to get the horses trained or make them fast.  I know the way to get horses in your barn is to win races and show people that you can run with the best of them.
I'm very gifted to be my dad's son, and I've been places, and got to be around good horses, and even sitting and listening to his stories.  I've never told him, but how much I've learned just listening to him talk to people about horses and things like that.
My dad told me a story once about (Wayne) Lukas calling him in the tack room before the Derby, and Lukas had him totally convinced he was going to win on Thunder Gulch.  Then after the race he was thinking, man Lukas had three horses in the Derby that year … I wonder if he had Bailey and Nakatani in there giving them the same exact speech … and we all thought we couldn't get beat!
So knowing how jockeys think and how to handle jockeys when I'm around them, and getting ready to leg 'em up on horses.  It's a big advantage.  But, nobody is going to come and give me twenty blue-blood horses, and say "Here, take a crack at it."  I've got low to mid level horses right now, and we'll try to get better, and do the best we can with what we got.  I know it will come.  Bobby Frankel started out with cheap claimers in NY, ones that he could afford to buy himself.  Rick Dutrow started with three horses.  Todd Pletcher had five when he started.  I don't consider myself any different than those guys when they started off.
In Part 2 of my visit, T.C. discusses his approach to attracting new owners, how he deals with the ups and downs of the sport, some suggestions for the horse industry, and his "horse whisperer" abilities.  Click here to read more on this very interesting young man, T.C. Stevens.
---