More on Larry Collmus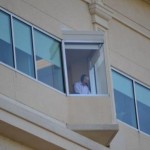 In Part 1 of our interview with Larry, we discussed his preparation for races, how he got interested in the job of track announcer, and how calling races for television differs from the job of being a track announcer. Click here to read Part 1 on Larry Collmus.
In Part 2, we discuss some of the particular things he looks for when calling a race, his favorite horses, his hiring by NBC Sports, and one of his all-time favorite race calls by someone other than himself.
When calling a race, what actions do you look for from horses or jockeys?
You tend to watch their hands.  Some of the guys ride differently than others.  Paco Lopez will have a horse in hand (Larry shows his hands held down low, as if on a horse's neck) when they turn for home even when there are horses around him, saving him to take off for home.  Some riders are more conservative and others make their move later.  Another thing I look at is a horse's ears; when they are up (pricked) they're usually not full out.  When they get pinned back, they are all in.  Zenyatta would let her ears flop around, but then when she made the front she'd turn them around.
Do you have any favorite horses?
Holy Bull was a favorite. He won the Haskell my first year at Monmouth.  Cigar, I called him when I was at Suffolk.  Animal Kingdom won the first Kentucky Derby that I called.  He was one of the best Derby winners in recent years.  Zenyatta and Rachel Alexandra were also personal favorites.
There used to be a horse that ran at Suffolk and Monmouth, named Hogan's Goat.  He actually ran in the Mass Handicap against Cigar when he was going for his 15th straight win.  That was a high, intense moment for me.  I was a lot younger and it was a big deal to call Cigar.  I was very nervous when they were going into the gate and Hogan's Goat was in there.  You know how they say horsemen use goats (around the stables) to keep horses calm, well he was my goat when he walked into the gate.  I thought it's ok; it can't be that big of a deal, Hogan's Goat is here.  He calmed me down a little bit.  The next year he won five in a row at Monmouth, and I'd always give him the big call, and everybody knew I was a big Hogan's Goat fan.
And Formal Gold was another favorite.  He broke his maiden in spectacular fashion, with something like a 110 figure.  He might be the best I ever called on sheer talent.  Bill Perry was his trainer and the same guy who trained Hogan's Goat.  I was in the backstretch at Monmouth one time and his assistant said to me, "You're just in time – we're changing the Goat's shoes."  I said, "I want those."  Bill Perry was there and he said, "I've got a couple of Formal Gold's shoes too.  Do you want them?"  And, I joked, "What the heck would I want them for?"  He laughed, and said "You're sick."
So, you're at Monmouth and Gulfstream, and you're announcing the Triple Crown and the Breeders' Cup.  It seems that you're living a dream here.
It's great just to be at those two tracks, but when that phone rang from NBC, I couldn't believe it.  I thought they were playing a joke on me.  No one knew Tom Durkin was stepping down.  NBC called and said they wanted to talk to me about calling the Kentucky Derby.  And I thought; who is messing with me?  I said that I thought Tom Durkin was doing it.  They said, we can't get into the details, but he's not doing it anymore and we want to talk with you about calling the race.  I still couldn't believe it.
So they bring me up to 30 Rock in Manhattan.  I was in the Producer's office.  I already had my interview with all these people.  They're making arrangements to get me back to Florida, when Dick Ebersol (head of NBC Sports) walks in.  They start talking about the upcoming schedule for football games, and he's saying this game is going to be great, and this game, etc.  The producer says, "Oh, this is Larry and we're talking to him about replacing Durkin for the Triple Crown."  Ebersol, says "Oh, nice to meet you."  And he goes back to talking about football for a minute.  Then he starts to walk out, and turns around and says "Hey Larry, do you believe us now?"  The whole thing was a set up when he came in there.  He actually came in to see me.
It all came out of nowhere.  You know you go for some of these jobs … I'd been turned down twice for being the announcer at Churchill Downs.  Then, all of a sudden this falls into my lap.  I just never saw it coming.
When are you the most nervous doing your job?
When they're going into the gate at the Kentucky Derby you better be nervous.  The whole week is a lead up to nervous.  Tom (Durkin) would say that he'd start getting nervous in January.  But, it's a fun nervous.  We kid about it, Mark Johnson (announcer at Churchill Downs) and I do.  The Woodford Reserve is the race that precedes the Derby, and then its 90 minutes before the Derby.  Mark and I refer to it as the longest 90 minutes in sports.
You know when I was a kid and they'd play My Old Kentucky Home, you'd get these chills you know.  I always get so keyed up when I hear that song.  And I thought, Oh My God, I've got to call the Derby this year.  I can't listen to it.  2010 was the last time I heard My Old Kentucky Home.  I'll take my headset off so I don't hear it.  I'll work on going over the names one last time, and wait for the roar to come up from the crowd.  Then I know the song is over, and I put my headset back on.  There is just something about that song.  I don't know what it is.  I can do Maryland my Maryland or New York … New York, but not My Old Kentucky Home.
How do you deal with things when something bad happens on the track?
Once you're in the heat of the moment it sort of takes care of itself.  It does takes away from the excitement of the call if something bad has happened, and it should.  Like with Tom Durkin, you can hear his tone will soften for the rest of the race when something has happened.  I agree that's the way to do it.  You give the winner his due, but that's it.  It's kind of a natural reaction, you don't think about it.
In the first Breeders' Cup race this year, Secret Compass broke down.  And then we had this exciting finish and then a disqualification.  You're calling it, but if you're listening to it, it's still toned down compared to the other ones.  You have this jockey and horse down.  It's something you always hate to see, but you have to handle it professionally.
Lastly, what is one of your favorite race calls by another track announcer?
One of the great all time calls was in the Travers Stakes when Holy Bull won, and Tom Durkin said "there's cause for Concern."  That was really a good (play on names).  And, then at the end he said "Holy Bull wins … what a hero."  I was already a big fan of Holy Bull, so that became one of my favorite calls.
---
Check it out; it really is a Tom-terrific call!
I'd like to thank Larry for a very enjoyable time.  As I've said before, one fringe benefit to doing this website is the opportunity to meet so many good and gracious people.  Now I can add Larry to this list.
---