Panning for Gold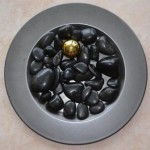 Panning for real gold can be a tedious task.  But, on the occasion that a precious nugget is left behind in the pan … oh what joy that can bring.  Sometimes when I'm handicapping, I think of myself as panning for gold.  A lot of sandy material gets washed over the side of the pan as I look through a horse's Past Performances (PPs).  I think of sandy material as information that everyone else can plainly see.  For example, seeing that a horse has won lots of races, has the highest Beyer Speed figure of anyone in the field, or consistently runs well at the distance of today's race.  Good information, but it will be used by everyone in deciding on which horse to bet on.  In other words it will be directly reflected in the odds of the horse.  No gold to be had there, only sand.
In a prior article, we introduced you to the information shown in the "Company Line" section of the Daily Racing Form Past Performances (PPs).  Click here for a review of that article.  To summarize the article, Company Lines (that are available to everyone viewing a horse's printed PPs) show the top three finishers in prior races, the lengths separating them at the finish line, and the weight they carried.  Also, if an individual horse won his very next race, his name will be presented in Italics.  All of this information is useful to help determine the type of competition a horse has faced in recent races.
But, what if you don't recognize their names?  What if the horses he faced didn't win their next race, but still ran well? Maybe they finished 2nd or 3rd. Maybe their Beyer Figures improved markedly over the last race. That kind of information is "Gold." But, how do you get to what I call the Hidden Company Lines?
The answer is the DRF Formulator "Next Race" Result Charts.  Click here to read a prior article explaining how to access these result charts, and to see an actual example.
Below is a good example from Gulfstream Park on December 15, 2013 in the 5th race, a 1-mile (8 Furlong) Maiden Claiming $25,000 Race on the turf.  Here are the PPs for the winner of the race, Love That Kelly.

If the print is to hard to read, click on the PPs for a larger view.  So, what was the sand in reviewing these PPs?  Love That Kelly had Beyer Figures as good as anyone else in the field, making her a logical fit.  She had run well at this class level, finishing 3rd in her prior two races.  And, she had run well at a route (over 1 mile) distance multiple times.  All good information, but anyone with handicapping ability can see that too.
Looking at the company lines for the race two back (October 12), you can see that the 2nd place finisher (Goldiebuxx) won her next race.  But, in the last race (October 23) there is nothing apparently special about the company lines.
So, where is the gold?  It's hidden in the result chart of that race on October 23.  Here is what I found when looking at the next race for the top five finishers.
| Horse | Next Race | Finish | Beyer# | Comment |
| --- | --- | --- | --- | --- |
| Nickerdoodle | Claiming $30k, 8.5f (Turf) | 2nd | 74 | 2nd by a neck at 12-1 odds. |
| Elissa Town | Mdn Clm $40k, 8.5f (Turf) | 2nd | 63 | Nearly went gate-to-wire at a higher class at 11-1 odds. |
| Love That Kelly | | | | |
| Coralita | Mdn Clm $35k, 8.5f (Dirt) | 6th | 13 | Off-Turf race on a Sloppy Track. |
| Bargain Table | Mdn Clm $20k, 8.5f (Turf) | 1st | 74 | Solid win at a slightly lower class level. |
So, let's recap what we found.  Four of the top five horses in that race had run back.  The top two finished 2nd, but since they did not win (remember the Italics) that information is hidden. The 5th place horse (Bargain Table) won her next race, but since she didn't finish in the top three of the race on October 23, that information is hidden to anyone just looking at the PPs. The only horse to not run well (Coralita) was stuck racing on a Sloppy track.  We can forgive that bad effort.
The other little nugget in here is the fact that two of the horses ran back with Beyer Figures (74) much higher than the October 23rd race.   Love That Kelly is exiting a race with some horses that have some real ability.  More gold.
Well, as I've already given away, Love That Kelly won her race on December 15.  She only paid $8.20, but if used wisely, she was involved in some well-paying exotic wagers (Superfecta and Pick-3) that day.
---