Public Handicapper's Jargon – Ahhhh! What Did He Say?
You walk into the racetrack.
Buy yourself a program and a box of popcorn … sit down, and crack open a nice cold beer.
You scan through the races, looking for something familiar. A favorite jockey, number, or name. But this time, you decide no more … from now on I'm going to figure this game out. I mean how hard can it be? My Uncle Neal does it and he's a few races short of a program.
So you buy yourself a copy of The Daily Racing Form.  You've got a plan.  Listen closely to the track's public handicapper, follow along in the racing form, jot down what he says, hoping this will all make sense.  So, you wait. Then ten minutes before post time he comes on, and in the span of two minutes, he says …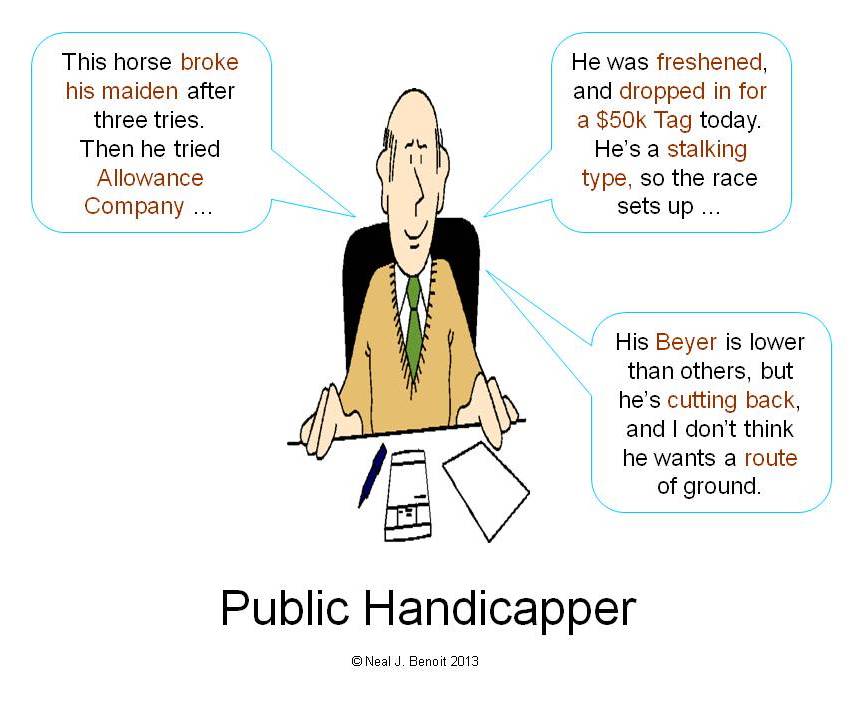 Ahhhhhh!!!
What did he just say?
This horse broke down, but got better when he was allowed some company.  Then he got fresh and was caught stalking another horse.

His "Beyer" hangs a little low, so it was cut right off … and now he doesn't want to run over the ground.  Well, no wonder!
So you throw the racing form in the trash can, and decide it's much easier to play your birthday, bet on the grey horse, drink your beer and people watch.
---
But, what did Mr. Public Handicapper really say?
| Handicapper | Translation |
| --- | --- |
| Broke his maiden | He won his first race. Yea! |
| Allowance Company | A "Class" of Race for horses that have already won a race. |
| Freshened | Just what you're thinking. They gave the horse some time off. |
| Dropped in for a $50k Tag | A "Class" of Race (Claiming) where the horses are for sale. And in this case the Price "Tag" is $50,000. "Dropped" as in quality, meaning generally easier competition than in an Allowance race. |
| Stalking Type | A "running style" where the horse remains close to the front, but not on the lead. Nothing nefarious going on here. |
| Beyer | A numerical "Speed Figure" that represents a relative measure of how fast a horse ran. The higher the number, the better. |
| Cutting Back | A change in "Distance" for a horse, from a longer race to a shorter race. |
| Route | A long race, measuring 1-mile or longer. |
| Of Ground. | Of Ground. |
So you see, it's not that bad. And your Uncle Neal isn't some kind of savant. Unfortunately, some people believe if you just provide prospective horseplayers with a Glossary, that's good enough.
Not me.
We need to put these terms into their proper context and understand how they relate to each other. Are they clues to a riddle? Maybe the riddle of which horse has the best chance of winning the race.
---