Racing Surface Summary (Updated December 2014)
In prior articles we've touched on the variety of surfaces that Thoroughbred horses run on at race tracks in North America.  The following table describes the articles in case you want to review them again, or missed them the first time around. You can click on the Article Title within each row to read it in it's entirety.
This article will attempt to pull it all together on the subject of surfaces and also provide some examples on how surface information is presented in the Past Performances (PPs) in The Daily Racing Form.

Below is an example of a horse that has run on all three possible surfaces in his past seven races.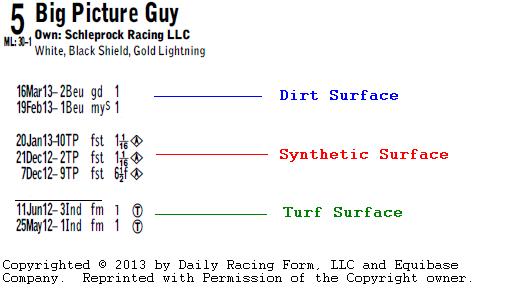 The absence of a symbol (e.g. Mar. 16 and Feb. 19 races) indicates the race was run over a Dirt surface.  The diamond shaped symbol (e.g. Jan. 20, Dec. 21, Dec. 7) represents a Synthetic surface.  And lastly, the circle with a -T- in the middle signifies the race was run over a Turf surface. 
This represents the three possible surfaces, but there is one other variation that needs to be covered in the following example.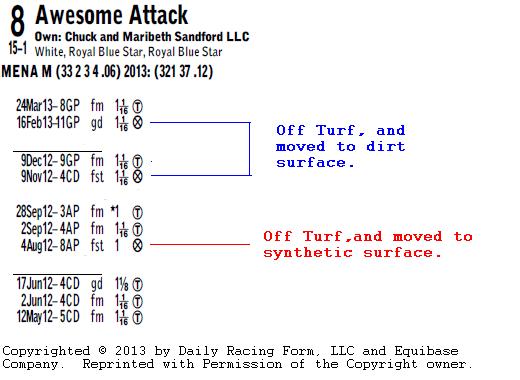 When a race was originally scheduled for the turf, but due to inclement weather taken off the turf, a special symbol (circle with -X- in middle) is shown.  This is important information to the handicapper.
But something you must be aware of, is that this "Off-Turf" symbol supersedes the Synthetic surface symbol.
So in the example of Awesome Attack, the races at GP (Gulfstream Park) on Feb. 16 and CD (Churchill Downs) on Nov. 9 were moved to their main track, which happens to be dirt.  However, the race on Aug. 4 at AP (Arlington Park) was moved to a Synthetic surface, because that is Arlington's main track.
You would not know this by looking only at the off-turf symbol.  This is extremely important information, especially if this horse shows a preference for running on one surface more than another.  So for your convenience I have included the following list of Major Tracks in North America that currently have a Synthetic Main Track. I say currently, because changes do occur. In 2007 Santa Anita installed a Synthetic surface, but then tore it up in 2010 and replaced it with a Dirt surface.
Race Tracks with a Synthetic Main Track Surface
Arlington Park
Betfair Hollywood Park
Turfway Park
Golden Gate Fields
Woodbine
Presque Isle Downs
Update December 2014:
Removed from the list above were Hollywood Park, Del Mar, and Keeneland.  Hollywood closed operations at the conclusion of the 2013 racing season.  Keeneland replaced their synthetic surface with dirt over the summer of 2014.  Del Mar just concluded it's final meeting on a synthetic surface in November of 2014.  They will be replacing it with dirt before the 2015 summer meet begins.
---
So now we've defined the three main racing surfaces and how they are presented in the PPs of the Daily Racing Form. We have yet to review the variations these surfaces undergo on actual race days and how that information is conveyed in the PPs. That will be discussed in a future post called "Track Conditions."
Also, we have not discussed the variations in track surfaces even under normal dry conditions.  For example, all surfaces are not created equal.  There are variations on the materials, drainage,  and depth of layers that affect the Speed of the surface regardless of the weather conditions.  What you consider to be a "fast" time at one track, is not always equivalent to that of another track.
For now, suffice it to say that surface and track condition are important factors to be considered when evaluating a horse's past performances and assessing their chances in upcoming races.
---