Royal Delta
On February 17, 2013 I was standing at the rail at Gulfstream Park when Royal Delta blew away the competition in the Sabin Stakes.  As she strode by me in the stretch I was most impressed by two things.  First, how incredibly beautiful she is to see in person.  And second, how Mike Smith never moved a muscle on her, just sitting, hands completely still.
I've seen a lot of horses in person, some of the very best in fact.  But, every now and then one just grabs at you, tugs your heart and reminds you why horse racing has been and always will be your main passion.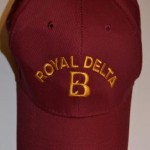 A souvenir from that day was a Royal Delta cap, pictured to the right.  One that I wear frequently at the race track.  I was thankful to get the hat, but disappointed that my only photograph of the event was a dull image taken with my iPad during her stretch run.  I was determined that if I ever got another chance, I was going to get a nice photograph of Royal Delta.
Fast forward to August 25, 2013.  Equipped with my brand new Nikon camera, I was positioned on the rail, near the top of the stretch at Saratoga for the Personal Ensign Stakes.  Now, I'm no professional photographer, and I only knew enough to set the automatic focus and put it in "sport" shot mode.  But, I took the following sequence of photographs, that I feel aren't bad for an amateur.
Royal Delta has won two Breeders Cup Championship races and has career earnings of $4.6 million.  Normally she is positioned near the front end, and challenges her competition to catch her after setting blistering fractions.  But, the race I'm most impressed by is her 2011 Breeders Cup win, where she waits patiently until asked for run by Jose Lezcano in the stretch.  The video of this race is included below for your viewing pleasure. She is horse #6, in the green cap and silks.
In my lifetime I've been smitten by two fillies, Ruffian and Go For Wand. Unfortunately, both had tragic endings to their careers.  And now, this grand mare Royal Delta has grabbed my heart as well.  Each time she steps onto the track I just watch in wonder, and in the back of my mind pray that she returns happy and healthy.
---