Sanity Bets Can Save A Horseplayer's Mind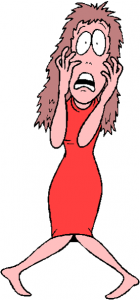 Sanity bets are completely different than Saver Bets.  While Saver Bets can save your day, Sanity bets can save your mind.
Picture this scenario.  You're studying the races one morning, and land upon a horse that you label your "Best Bet of the day."  Everything is right; experience at the distance, loves the surface, been very competitive at today's class, 2nd start off a layoff (an angle you like).  To top it off, the Morning Line favorite is 2-1, and you think he's quite vulnerable. The morning line for your Best Bet is a juicy 8-1, and now you're thinking, this is going to be a good day!
Fast forward to the afternoon at the racetrack.  The race preceding your "Best Bet" completes, is marked official, and the early odds for your feature race displays on the Tote Board.  The 2-1 morning line favorite opens up at 5-1.  And your Best Bet opens up at 9-5.  Ahhhh!
How can this be?  You grind your teeth, frustrated at the price … hoping that it's an anomaly.  Hoping that the price will rise as you get closer to post time.  And it does … up to 2-1.  Ahhhh!

In the paddock, Maggie Wolfendale notices your "Best Bet" is "very sharp" and "tucked up" and she announces it to everyone.  You are not going to get anywhere near 8-1 odds on your horse.  You shop around, but you really don't like anyone else in the race.  You start looking at doubles, but the next race is a total mystery to you.  What do you do?
Well, in past years … if I really thought this horse should be higher than 2-1 odds, I would simply take a pass on the race.  Then I'd watch in total frustration as he gallops to a 3-length win.  But, in recent years (maybe because my sanity is more of a concern) I would place a bet on the horse anyway.  Just not as much as I might have wagered had he been 8-1 or even 5-1.  At least that way, I'm getting some reward for my good opinion.  And, I keep my sanity.
That's just one variety of a sanity bet.  There are many more.  The following is one of my recent sanity bets, made on the last race of the day, August 7th at Saratoga.  It was a Maiden Claiming race for $25k, near bottom of the barrel in class for races at the Spa.  I was down to three horses; Moravitz, Solo Approach, and Professor Chaos.
After a trip to the paddock, I ruled out Moravitz, who was a total wacko in the paddock.  I was giving Solo Approach a close look, because he had shown some early speed in his last race for the first time in his career.  And, this was his 2nd start off a layoff (an angle I do like).  My biggest concern was he was  stuck in a very difficult outside post position, #11.
Finally, there was Professor Chaos.  A New York bred horse dropping from Maiden Special Weight in NY races to open company Maiden Claiming races.  A move that most of the time I would consider lateral at best.  But, on the plus side, his Beyer Figures fit perfectly with this bunch and Maggie Wolfendale commented on the air that he was "the best looking horse in the paddock."
So, here's the main thing, Professor Chaos  was 0 for 20 in his career.  On turf he was 15-002 (no wins, no place, two show).  Although his morning line price was 12-1, he was bet down to 4-1.  How do I place a bet on a horse that is 0 for 20 in his career, at odds of only 4-1?
Here's how … to keep my sanity.  His figures fit, his physical appearance was "fit," and by process of elimination, he was the only horse left on my list of contenders.  So, despite being only 4-1, I walked up to the window and placed a $10 win wager.  Maggie was right, he stormed past the field and won by a widening 11/2 lengths in the end.  No windfall profit here, as he paid $10.40.  But, to be honest the money didn't matter to me.  I walked out of the track with my sanity intact.
Just to be clear, I'm not suggesting that you bet on a horse just for the sake of betting on them.  But, if you have some kind of angle, or run out of choices, or there's just something about that horse winning that will drive you crazy after the race … consider making a sanity bet … for your own mental welfare.
---