Horse Ownership – The Sovereign Stable Way (Pt. 2)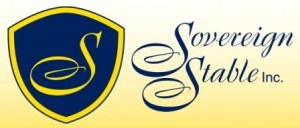 Our conversation about horse ownership continues with Rich Cristiano, discussing several topics related to owners involved in the Sovereign Stable partnerships.  Click here to read Part 1 of this article.
What happens if a horse doesn't work out, and you either sell it, or enter it into a claiming race?
That's part of the topic I call "exit strategy." It costs $50,000 to keep a horse in training in New York. Say a horse breaks maiden, but then can't make any headway in Allowance company. I think we're one of the best in identifying that a horse is not going further … whether it's physical issues, mental issues, not fast enough issues, this horse is not going to cover that nut. So, what are the exit strategies?
This is one of the few times the partners are allowed to vote. If we decide we want to put him in a claiming race, we put together a proposal, explaining why we think that, and then the owners get to vote – only for the first time.  After that, if we drop him further, we're not asking anymore. And we put a strong recommendation on the proposal, but the owners get to vote, and the majority rules.
The other time we ask a partner to vote is the opposite, and it's a good thing. Give you an example, we had an Empire Maker colt, Make History was his name. We paid $210,000 for him a couple of years ago. First time out, ran him 5 ½ furlongs at Aqueduct, comes from way out of it, and just misses by a nose. We get an offer the next day for $750,000. So, Matt does his homework, calls a couple of bloodstock agents to determine the fair market value of the horse. That way he can put a recommendation to the partners whether or not he thinks selling is a good idea. Then we take a vote and the majority rules.
What about any breeding opportunities for a horse you're planning to retire from racing?
Negligee as an example. We paid around $275,000 for her. In her first start she wins a Grade 1 race at Keeneland, then we run her in the Breeders' Cup and she finishes 5th. Brought her back as a three year old and she had some physical issues.
We put her in the sales at Keeneland, with a reserve so that people are comfortable with that. Matt does his homework to establish the reserve price. She brought about $625,000 in the sale and had earned $300-$400,000 for us on the racetrack, so it was a fun partnership for everybody. The partners got their share of the sale (plus her race earnings) and it's one of the happy things that happen.
With colts, at the end of their career, you give them away as a riding horse. We take the hit on the equity side, but rather than keep running them and losing money when you're writing $50,000 a year in maintenance checks, it doesn't make any sense.
As hard as it is to accept that you paid $150,000 for a horse, it's time to take the hit on the equity side now and move on. We do as good a job as anybody about getting them off the books at the right time. In the six years I've been here, I can't think of one horse that got moved up (improved) off a claim from John. John explores every option, whether it's going turf, dirt, long, short … we'll try everything, equipment changes, before we give up. When we reach this point, it's the same thing on the voting to make that decision.
What happens if a partner wants out of the partnership, for fear of never ending maintenance bills, or possibly getting hit with additional bills due to serious health issues?
Because we have good exit strategies, it's not a bottomless pit, I can assure you that. You can do your homework, and ask other partners we've had for their experience. You won't have to keep writing a check for a horse that isn't performing.
People have a misconception about the supplemental bills you speak of. Most surgeries cost a few thousand dollars, and people think they're going to get a supplemental bill. But, after a horse has a surgery, they're on the farm and it costs half what it costs here (in training) per day to keep the horse, so it all kind of balances out. I've been in this business for many years, and I think I've only had two situations where we've had to do a supplemental bill for medical reasons. And these were major problems, like kidney failure, where we had to get all of these special drugs. And she did come through, and she ended up winning for us. The point is – it's very rare.
Now the other supplemental bills are the good ones … Oh, "we're going to the Breeders' Cup," so we're going to need a big entry fee. Everybody's writing that check out! By definition, you've already made purse money, so you're not worried about those bills.
How is Sovereign Stables compensated?
Great question, and that's something an owner has to ask. How does the partnership get paid? We buy a horse for $150,000 and then we mark up the horse between $25,000 and $40,000. That's our profit for the life of that partnership. So, we're done, we don't charge monthly management fees, like a lot of partnerships do. We don't take a piece of the purse. Some partnerships, a horse wins and they'll take 5% of the purse and there can be different schedules. Some, if the horse makes over $1 million, they'll take 15%. We don't take any purse money, ever.
The only other way we make money, is like with Negligee, we sold on the back end, meaning we managed the horse well for you, and sold for a profit, so we take 10% of that.
We had a horse, Rein King, who we managed and was on our books for five years. We eventually gave him away as a riding horse. Fun horse, who covered the $50,000 a year expenses for five years.
So, we managed Rein King for the initial markup of $40,000 for five years. Going to races, writing about races … now the owners are paying the training bills, but we didn't get any other compensation for five years. That's pretty fair when you think about it.
So at Sovereign, you're buying a ready-made team, and we have the best fee schedule out there in my opinion. This type of ownership is the future of this game. There's always going to be the Mike Repoles, and God bless him, who has the wherewithal and doesn't need any partners, and that's fine. But, how many people are there in the stands who might not realize they can afford to be in the paddock?
From your experience, what is the hardest thing for new owners to get used to?
90% of new owners have no clue how labor intensive it is back here. They didn't realize what goes into taking care of these horses. They train every day … bandages off, bandages on, warm them up, cool them down. They say, "Holy mackerel, I had no idea."
But, the hardest thing is learning how fragile horses are and the frustration of having a talented race horse that is just oozing talent, but they never get a chance to show it. You know, they're going 40 miles an hour and even a slight injury … they're not going to be able to extend, they're going to protect themselves and they're not going to be able to run well. That's probably the biggest frustration – the injuries, on the sidelines again, not being able to run.
Something not as serious, but equally as frustrating. Go back to when I was working a full time job, and ok, my horse is running at Saratoga on Wednesday, "Boss I'm taking the day off next Wednesday." So, we drive up here, get a hotel, and find out, the race oversubscribed so they brought it back for Thursday, now I've got to take off Thursday. Think about that, I've got a real job, and I'm juggling appointments. I'm not exaggerating here. Now, multiply that by people that have to fly to get here, or wherever.
Ok, so now we're entered next day, I'm driving up from NYC, and I get a phone call, "Oh, we got a fever this morning, so we're going to have to scratch." So, the not knowing, even when everything is perfect, you might not get in, or it's on the turf, and then it rains. As an owner, you have to be flexible, and light on your toes.
---
In the final part of our story, we spoke with Matt about the process of finding and purchasing horses. Matt explained that he uses a team approach with a good network of people, including vets, trainers, and bloodstock agents throughout the world, composed mainly of "people that I've dealt with over the years." At one time Sovereign only purchased unraced yearlings and 2-year olds, but now they will buy what Matt calls a "ready-made" horse. This is a horse that won first or second time out or maybe just performed well. They recently purchased a French filly, Ancient Goddess, who won her first two starts in Europe and is now training in Saratoga. They are planning to run her in a 2-year old Stakes race later in the meet.
Matt also said they are always on the lookout for good New York bred horses, since they run mainly on the New York circuit. He explained, "It's important to have them on the roster. It's easier to get into Stakes races … it's not easy, but it's easier."
Matt explained that buying horses is a complicated process, and that "Quite frankly, when we are buying horses, we can't have everything. Because if we have everything; pedigree, perfect conformation, perfect vet report, perfect this, perfect that … it's a million dollars, and I don't have enough clients to be able to support million dollar horses. But the one thing we can't give up is athlete. They've got to have the ability."
Understanding we were talking only about the physical attributes of a horse, I asked Matt to explain how they assess the mental aptitude of a horse. He provided this insightful response:

The class factor is sometimes the best way to evaluate the mental aspect. So how do you find that out? Well, the parents are important. Take baseball agents who are trying to find the next Derek Jeter. The one advantage they have over us, is they can go out and meet the parents, sit down and talk to them, see if their heads are screwed on properly. We can't do that.
There are such different personalities in these horses. And that's one thing we're trying to find. How do they handle the sales process? Do they handle it with class or are they all wound up? We will talk to the consigners about them. But, they are selling the horse, so you have to take what they say with a grain of salt. But, you know some of them are pretty honest, and they might say, "He's got a lot of ability, but …" And, then you have to weigh that. Also, they are 2-year olds and yearlings we're talking about. They're no different than a little kid. Some of them grow up, you know, they're not going to be a knucklehead their whole life. But, some are, so that's the challenge. Class is a really important factor.
But, at the end of the day, it's their will to win. It's no different in horse racing. Listen, I used to be an old football coach, and I love athletics. I go back to Ryan Leaf and Doug Flutie comparison. Ryan Leaf has a canon on his arm, 2nd pick in the draft, and he's a nut job. He's in jail, and he can't make good decisions. He had all the makings of a great one but didn't have the will to be great and use all those tools he was blessed with.  Ryan Leaf is six foot something, and then there's Doug Flutie, five foot – nothing, less than average arm. How does he even make it in the NFL? It's the will to win … they find a way. Same in horse racing, it's easy to find these horses that have all the ability, all the pedigree, but they have no will. It's no different than people.
Last, but not least, Matt and I discussed their recent entry into the Claiming game of horse racing. He explained that the science of developing a young horse vs. claiming horses is quite different. He added, "In the Claiming game, form is the key." Matt will look over the PPs for some horses, give John a list of potential horses to claim, and then they handicap it together. John will watch them walk by and then he will make the final decision whether or not to make the claim.
I asked Matt what motivated Sovereign to get into the claiming game?
The action, clients like that. Also, there is a purse imbalance here in New York right now, where the purses (unlike many racetracks) are higher than the claiming price. So, you can claim a horse, wait the 30 days, and even if they claim him back from you … if you hit the board, then you make money. In fact making money in this game is highly unusual. So, if that's the case, how do you not at least take a look at that? And with the action part, to come up here, and have fun … that's the driving force.
How has claiming horses worked out so far for Sovereign?
It's been great. We got off to a terrific start. I think the first two we ran, won right back. We've done OK since. But, it's just a hard game in general. Our hesitation was, you're going to be claiming more problems than claiming horses that win stakes. Yea, if you play it enough, like some trainers, you're going to get lucky now and then. But, when you're playing it sparingly like we are, it's tougher. So, for us, it's about the action, the whole racing experience, and maybe we can make some money off the purse imbalance. It's something that can be fun.
---
If I had to sum up the Sovereign way of doing business, I believe it's about honesty and having fun. It was clear to me that Matt and Rich pride themselves on being honest with their clients … about the risks, the challenges, the expectations, and the rewards. And one of those rewards is having happy owners who gain access to the whole racing experience, in a controlled way that is manageable for the owner, trainer, horse, and Sovereign Stable. And all of this is done at a very reasonable cost. Click here for more information about Sovereign Stable on their website. (Caution: Their website does not work on an iPad.)
---
---