The Late Maturing Horse – How To Identify One
In a prior article we explained the various Age restrictions that occur in every thoroughbred horse race. They include 2-year old only, 3-year old only, 3 years old and upward, and 4 years old and upward. We also provided examples on how this information is presented in the Daily Racing Form. Click here to review that article.
In this article we are going to consider a strategy you can employ when factoring Age into your handicapping process. It might seem like common sense, but Age is one of those little details that sometimes gets lost in the handicapping process. For example, there have been many times when looking back at a race, I've noticed "Hey, the winner was the only 4-year old in the race."
It will help to know that most horses peak in their ability during their 4-year old season.  But, as with people, they are all unique individuals.  Some are precocious, having their best performances as a 2-year or 3-year old.  Maybe they are ahead of others physically and/or mentally, but as they get older other horses begin to catch up to them.
Some horses can't seem to get it going until they've matured well beyond their 3-year old season.  The champion horse Cigar sets the standard for a late maturing horse. He didn't race as a 2-year old.  As a 3-year old he raced nine times, managing to win only twice.  The next year (at 4-years old) he was sent to a new trainer, Bill Mott, who did not race him for the first six months.
Then, very late in his 4-year old campaign, on October 28, 1994, Cigar won a 1-mile allowance race at Aqueduct by eight lengths.  He went on to win his next 16 consecutive races.  Included in that streak were several major stakes races, including the Woodward Stakes, Jockey Club Gold Cup, and Breeders' Cup Classic.  The latter race holds a special place in my heart, as I was at Belmont Park that day to witness the event, and heard Tom Durkin make the now famous call "the unconquerable, invincible, unbeatable Cigar!"
So, the questions arise, was it the new trainer Bill Mott that made the difference?  Bill Mott is a highly regarded Hall of Fame trainer.  Was it the switch from turf to dirt in his 4-year old season?  Possible, but Cigar had raced on the dirt multiple times as a 3-year old.  Or … did he just grow up? The chart below shows his record and earnings by Age.  In my opinion, it speaks for itself.
| Age | Starts | Wins | 2nds | 3rds | Earnings |
| --- | --- | --- | --- | --- | --- |
| 2-Year | 0 | 0 | 0 | 0 | $0 |
| 3-Year | 9 | 2 | 2 | 2 | $89,175 |
| 4-Year | 6 | 2 | 0 | 2 | $180,840 |
| 5-Year | 10 | 10 | 0 | 0 | $4,819,800 |
| 6-Year | 8 | 5 | 2 | 1 | $4,910,000 |
---
Since horses are unique individuals, you have to look for clues.  Are they making progress?  Such as, speed figures on the rise, a series of brisk workouts, a determined finish, an alert break, or a sustained bid during a race.  Any of these clues indicate that a horse is maturing and "moving forward" in ability.  Multiple occurrences of these clues might indicate a serious effort is forthcoming.
On October 27, 2013 a horse named Bio Pro was entered in a $70,000 Stakes race at Santa Anita Park, going 1-mile (8f) on the turf.  His Past Performances (PPs) appear below, with my markings from that day.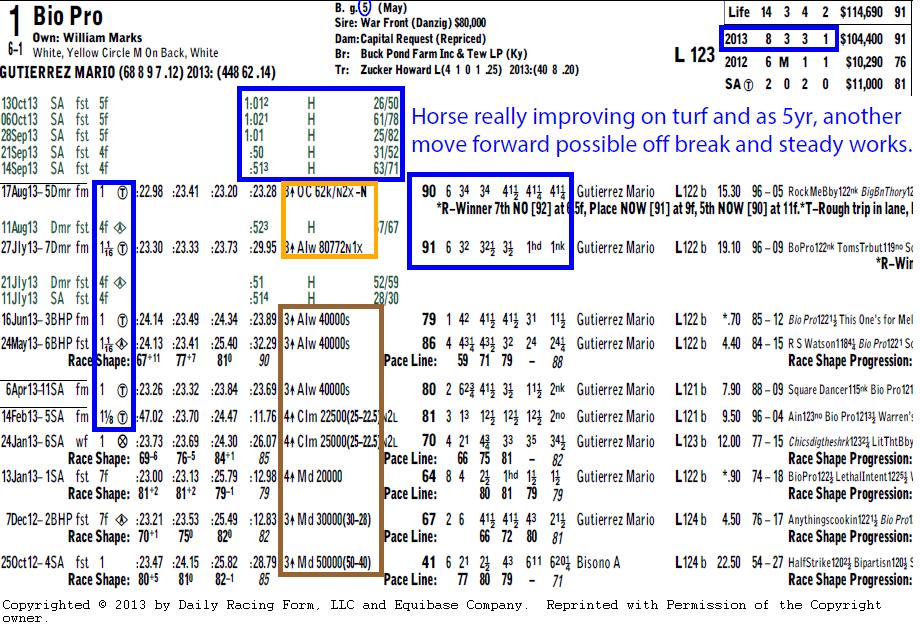 There was clearly some room for doubt, as he was facing multiple horses dropping down from Graded Stakes races.  The orange box highlights that Bio Pro had faced only Allowance company thus far.  The brown box, shows that he had been racing in Claiming and Starter Allowance races previously in his career, a class of horses well below the ones he faced today.  But, as the blue markings point out, there were multiple "clues" pointing to continued improvement.
His past two races he had posted the highest Beyer Figures of his career, 91 and 90.
His overall 2013 record was far superior to what he had done in 2012.
He had put together a string of solid 4f and 5f workouts leading up to this race.
He had proven himself on turf and at today's distance (1 mile) multiple times.
Still, despite these positive signs, the betting public made him the sixth choice at odds of nearly 9-1. But, for those who paid attention to the clues of a late maturing horse, who was getting better with each passing year, he rewarded them with a 3-length win, paying $19.60.  Bio Pro has continued his late maturing ways, having earned $175,000 as a 6-year old through September of 2014.
The flip side of the prior example is a horse showing little signs of progress.  Speed figures are flat, workouts sub-par, slow to break, no serious threat in recent races.  For example, take a 4-year old (with 8 or 9 starts) running in a Maiden Special Weight race that fits this mold.  Despite having a perceived age advantage, this horse is likely inferior to 3-year old horses in the race.  So, you ask, "Why not enter him in a claiming race?"
Well, planted in the mind of many owners is the notion that all horses have potential to mature late.  Maybe it's a well-bred horse, with a lot of money invested and the owners don't want to take a chance losing the horse in a claiming race.  Maybe they want to keep him or her for breeding purposes. Or, maybe the owner's wife loves the diamond mark on his head, and just refuses to part with the "beautiful" horse.  But, from a horseplayer's standpoint, this is a horse you probably want to avoid backing.
It is useful (and profitable) to develop an ability to differentiate between the late maturing horse and the never-gonna-mature horse.
---
Footnote: Cigar passed away on October 7, 2014. Below is a video replay of his Breeders' Cup Classic win.

---