Tom Morley – Dealing With The Challenges and Emotions
In a prior article we introduced you to a young trainer on the New York circuit.  Click here for a review of the first article on Tom Morley.  In this article we're going to get into the challenges facing a new trainer in a very competitive sport.  And, discuss some of the emotions involved in participating in a sport that is very much like being on a roller coaster ride … every day.
The horse on the left, Treblemaker, was his first winner, on April 13, 2013 at Aqueduct in only his second start as a head trainer.  He won his first race at Saratoga on August 2nd, 2013 with Scribbling Sarah.  But more about that in the interview.
As a new trainer, what are some of the things you have to worry about that an established trainer doesn't have to worry about?
Attracting clients and horses, winning races, and having owners who pay their bills.  So far I've been very lucky on all three.  Tony Grey gave me my first horse, and my 2nd horse.  He gave me my first winner (Treblemaker) at Aqueduct.  And, I had my first winner at Saratoga for him.  He's a big owner and breeder, and to get people like that in your barn in the first year is very important.
How do you attract new owners?
Shake hands, give out business cards, let them know that you're training winners and doing well.  Make hay while the sun shines; do interviews, do newspaper articles, whatever you can.  The next step is I've got to get a website.  Somebody came to me the other day and said it has taken 10 days to track you down.  I want to have a horse with you.  That's appalling.  He should be able to go on Google, get the website contact details, ring me up and say I want to have a horse with you. [Footnote: Tom does have a website now, and the link is provided at the end of this article.]
How about owners … what I mean is how much do they know?  Can they handicap a race?
They're a massively mixed bunch.  I train for guys that are unbelievably involved in (Ragozin) sheet numbers and then I'm sure there are owners out there who just enjoy racing horses.  I don't have any of them in my barn at the moment.  My owners handicap a race better than I can.  "My horse will sit 2nd or 3rd today, and the 7 horse has a ton of speed, but he's gonna fold at the 3/8s pole.  The 2 will probably take it up, and we'll sit outside of them and then we can have a run at them down the lane."  I'm sitting there wondering why I bother going in the paddock, let them tell the jockeys what to do.  I'll tell him about the horse, and you tell him what you want him to do in the race.  But (really) it's nice.  I love training horses for people who are involved on a day-to-day basis.  That's half the fun of it.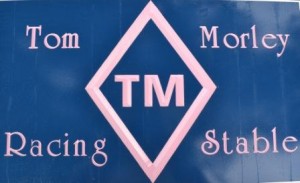 How do you find good people to put on your staff?
Trial and error.  I'm extremely lucky.  The two grooms I have up here at the moment, Herminio and Victor.  Victor is a young guy, 23 years old.  He works his socks off.  He'd come here any time of the day or night if I asked him.  Herminio is an elder statesman amongst the grooms.  He has groomed 16 individual Grade One winners in his life.  He worked for Chris Clement for a very long time, looked after a lot of his.  I have no idea what he's doing working for me.  He must be completely mad. (Smiles)
I'm always amazed at how humble most people are in this business.
It's a very, very humbling game!  These animals will um, uh … I don't mind admitting it at all; I shed a tear when I won my first race at Saratoga.  You know, that's what it means.  To put all the work in, get up in the middle of the night and come in.  It can make you feel a million feet tall and at the same time it can make you feel tiny.  They're very humbling animals to be around.  There are the difficult ones, who drive you absolutely insane; who won't try.  And there are probably more of those than the ones that will give you absolutely everything.  Oh, but when you get one that tries its heart out for you.  Yet, I see it as a privilege to do what I do.  To be entrusted with these animals who, for me they are beautiful … a joy to work with.  An absolute joy to work with.
How do you mentally prepare for the ups and downs of this business?
You can't.  You gotta be … you can't.  There are days where you want to go home and curl up and cry.  There are days where you just don't want the day to end.  When a horse gets hurt it's the hardest thing on earth to deal with, when it's your horse.  And, if it's anyone else's horse I feel awful for them.  When it's your own it's … it's shattering, absolutely shattering.  Yet, when you win a race, at Saratoga it's (hand gesture way above his head).
You've got to enjoy your highs.  Because there are more lows than highs in this game.
Every time I take a horse over there I expect them to win.  I don't take a horse over there if I don't expect them to win.
I heard Gary Stevens talk about Wayne Lukas, and how you can walk out of the jock's room and think, oh I'm 14-1 here.  But, when Lukas throws you on the back of the horse you think you're riding Secretariat by the time he's finished talking to you.  I want my jocks to have confidence in the job we've done in the morning here to get the horse there, and that it's ready to win.  Seconds are not a good place for me.
I just play it back over in my mind again and again (when we finish 2nd).  But, you know, so long as they come back happy and sound, and in one piece, and have tried … you should always be happy with them.
What happens when things go bad at the track, and they don't come back happy and sound?
It's very hard to describe.  It's like losing a member of your family.  They are your family.  And you know, you do get attached to them.  You've got to be very careful.  Because you'll lose horses in the claim box, and you'll lose horses in tragic accidents occasionally.  And horses will get taken away from you by owners, so you've got to be careful to keep things at arm's length.  But …
I'll never forget a day up here last year, a horse that we had One Note Samba, a horse we had with Eddie, and he was my favorite.  And he broke his hind leg on the turf here, and I went home that evening and I sat on my bed … and I cried and cried.  And it hurt like hell for weeks.  It was opening week at Saratoga, and we had a great Saratoga, but it was just one black mark on it.  It's very difficult to describe the feeling.  It's a massive loss.  Just a massive loss.
I hope that the public realizes the pain that we go through when an accident happens.  We do this because we love these animals.  We are trying to race them.  We are trying to get them to become elite athletes.  And, when you push anything that hard, unfortunately things do happen.  But, I hope they realize there is somebody on the backside with floods of tears when something happens.  I really do, I hope the public understands that it's mortifying for us when it happens.  We're not cruel people, any of us back here.  We do it because we love them.  And, losing one is terrible.
What keeps you motivated, getting up at 4:00 every morning?
Winning races.  Every morning I wake up thinking that something exciting is going to happen that morning.  We got a horse and we've been wondering whether or not he's got any ability.  He tries, and suddenly the light switch goes on.  Everyday there's a chance of that happening.  We worked a filly this morning and she worked brilliantly.  That's what gets you out of bed in the morning.
And the fact that I enjoy animal husbandry and I want to get in here and make sure that my horses are being trained and looked after in the right way.  And that gives us as good a chance as possible of winning a race in the afternoon.  Yea, and the end goal is winning races.  Strangely enough there's nothing more satisfying than winning a bad race with a bad horse.  That's almost more satisfying than winning a good race with a good horse, because good horses love to run, want to run, can do it, and like to do it.
Click here to read Part 3 of our interview with Tom Morley.  He talks about preparing horses for different types of races and his involvement in claiming horses.
---
For more information about Tom and his racing stable; including Bios, a Photo Gallery, and a Blog, visit his website at www.tommorleyracing.com.
---