The Art of Trip Handicapping and Making Trip Notes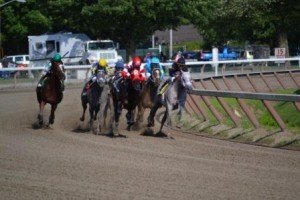 Trip handicapping is the art of watching video race replays and making notes when a horse was aided or harmed by extraordinary racing conditions.  This is especially valuable when your observations are not fully reflected in the race comments captured in the program or racing form.  Keep in mind that the majority of horseplayers are limited to these comments, so to know something other players do not know is to have an advantage over them.
With that said, the interpretation of good and bad trips is highly subjective.  Don't let your observation be tainted by prejudices, such as focusing only on a horse you wagered on. Also, try to determine if the problems a horse encountered really made a difference in the outcome.  If a horse was blocked by another – was it just as he was about to make a move? Or, was it in the latter stages after he had already shown signs of weakening.
Another consideration is whether or not trouble encountered is typical for this horse.  For example, a horse who chronically has the same bad trips (e.g. wide or poor starts) suggests there is something about the horse and not the circumstances that is at fault.  On the flip side, for example, if a horse never had problems breaking from the gate, but stumbled at the start in his last race, it's likely he will not have that problem again in his next race.
The treasure in trip handicapping is finding some nugget of information that is not reflected in the comments of a horse's past performances (PPs).  Keep in mind that comments are limited by space restrictions.  A trip that involves a lengthy "story" cannot be accurately summarized in a few short words.
With that in mind, a good place to start is understanding exactly what type of information is generally recorded in the comments.  Below are the broad categories of the type of details included in comments.
Things relating to the start. For example, "Stumbled Start," "Broke In Air," or "Poor Start."
Turn related details.  Such as, "3-wide 1st turn," "5-wide into lane," etc.
Traffic troubles.  "Steadied early," "Checked 1/8 pole," "Bumped late."
Things describing the finish of a race.  Like, "All Out," "Easily," "Driving."
Words describing behavior issues.  Such as "Lugged In," "Rank Early," "Resisted Restraint."
Click here to review a previous article that describes in greater detail the meaning of these comments.
Now for an example. Below are the PPs for a horse that I've followed closely since her first race. Highlighted in Yellow are the comments from the Daily Racing Form. Highlighted in Blue are my own Trip Notes added in the DRF Formulator program.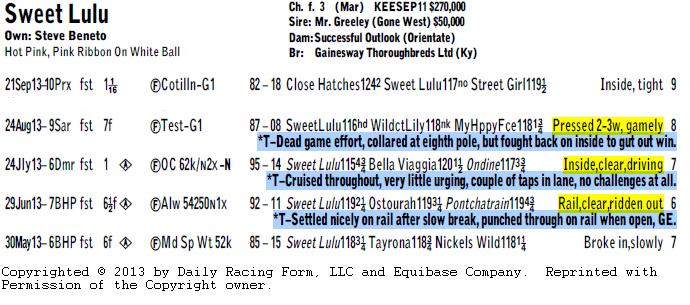 You can see that I've added considerably more detail in my trip notes.  But, as I said, trip notes are subjective.  So, let's take a look at the Test Stakes on August 24, 2013 in Saratoga.  And, after viewing, do you agree with my assessment of Sweet Lulu's performance? By the way, she is #5 in the Pink Silks.
This is only the beginning of Trip Handicapping. In another article we introduce what we call "Visual" Handicapping; where we identify things to look for when watching a race that are frequently not emphasized in the comments portion of the PPs.  And that information can be used to your advantage.
Click here to learn more about Visual Handicapping.
---