When It Comes Together
In a prior post we defined what we consider to be the Basic elements of handicapping: Distance, Form, Class, and Pace.  Since that post we've provided an explanation of what each means, and how they are presented in the Daily Racing Form.  In the first race of the first day of racing at Saratoga 2013, the winning horse Hardest Core provided a clear example of how a winning selection can be made using these Basic elements.  Below is the Past Performances (PPs) for Hardest Core, complete with my markings.  You can click on the PPs image for a larger view if you're having trouble reading it.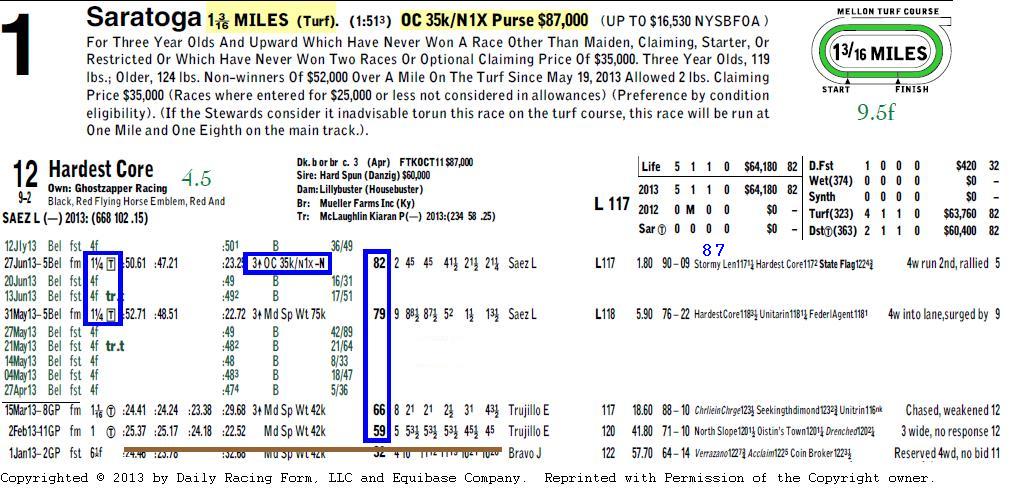 The race conditions on the top explain this is an Optional Claiming Race at 1 3/16 miles (9.5f) on the Turf course. The Allowance restrictions are NW1 and the Optional Claiming Price is $35,000.  Click here for a review of a post on Optional Claiming Races.
Just an FYI,  my markings are color coded.  Blue is Good.  Red is Bad. And Brown is used for "Throwout" races.  Now let's take each category separately and point out the meaning behind the markings.
But first let's start with the "Throwout" race on Jan 1, 2013.  The first race of his career was a 6.5 furlong Dirt-Sprint at Gulfstream Park.  He went off at 57-1 odds, and was basically a no-show.  After that he was immediately switched to Turf-Routes where he has steadily improved.  It's apparent that he was never intended to be a dirt sprinter.  For that reason I put a line through his race.
Distance
The race today is relatively long (9.5 furlongs).  However, this horse has raced effectively at 1 1/4 miles (10 furlongs) in his last two consecutive races.  In fact his first try was back in May at about the same time that other horses are making their first try going 10 furlongs in a rather famous race … the Kentucky Derby.  Cutting back 1/2 furlong should be no problem for this horse today.
Class
While it did take him three tries to break his maiden on the turf, he came right back with a solid 2nd place finish in his first try against Allowance company (NW1 on June 27).  Also, after studying the Result Chart for that race, I found that the horse that beat him (Stormy Len) finished only a head behind in a Grade 3 Stakes race following the race on June 27.  His Beyer Figure for that race was an 87 (which I have noted above his name).  Hardest Core was beaten by this horse by only 1 1/4 length.  This suggests that Hardest Core is fully ready to compete at the NW1 class level.
Form
His last two races (1st and 2nd) obviously suggest that he is in tip-top condition presently.  However, another very positive sign is the steady rise of his Beyer Figures [59, 66, 79, 82]. The most notable jump (13 points) happening after his break from March 15 to May 31, and following a string of five steady 4-furlong workouts.
All of this fits the profile of a maturing and improving young horse.  Hardest Core is a 3-year old who has made only 5 starts and is getting better with each start.  In the post on Optional Claiming races we explain how sometimes you have to decide whether to back the up-and-coming youngster or the older veteran.  All of the positive signs we've found, suggest he's a good youngster to back.
Pace
On the topic of pace, what is particularly impressive about this horse is his versatility.  He has shown the ability to be near the lead (e.g. March 15) or closing from off the pace (e.g. May 31) or somewhere in between in his other two races. This type of versatility is useful anytime, but especially useful when breaking from and outside post position in a large field.
On the surface, his outside post position (#12) might be thought of as a major obstacle, but if you notice the track diagram included in the race conditions above, you will see that the start of the race is at the top of the stretch.  This provides horses in the outside post positions ample time to get into position before they hit the first turn.
Hardest Core came from off the pace to win the first race and return $11.40 for a win ticket.  Distance, Form, Class, and Pace … the building blocks to solid handicapping.
---