Heading to Saratoga – Must See and Do's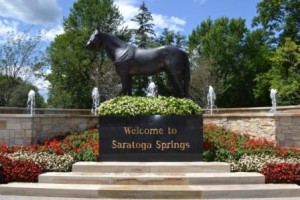 By Guest Author: Nancy Meyers
Part 1 of this series gave some tips on things to think about when selecting a location to stay in Saratoga. Click here to read that article.
So now you have a place to stay and know that you are going to be spending most days at the track.  That leaves a little time to sample a lot of what makes Saratoga special especially if you complete your handicapping the night before or wait until arriving on track.
Excluding the dining and bar scene, (which will be covered in a later post), here are the various things that can make your stay extra special:
Morning workouts:
Yes, this technically is at the track, but not a part of the daily race program.
1.a.  Attend morning works at the main track while having breakfast in the lower concourse of the clubhouse.  During breakfast you will probably see racing personalities.  In the past we have seen Rich Migliore, Jerry Bailey, Al Stall, Jr., Dallas Stewart and many others.  The breakfast is a bit overpriced for a buffet, but there is something to be said for white linen table cloths, fresh orange juice and coffeewhile enjoying early morning sunshine as horses' hooves pound down the historic Saratoga stretch.
1.b. Grab a coffee and donut at the Dunkin' Donuts shop on track and enjoy standing at the paddock/track opening as horses prepare for workouts on the Saratoga main track.  You have a feeling as if you are getting a behind the scenes glimpse into the horse and rider world as the various exercise riders, male and female and of various nationalities come onto the track.
Take binoculars to pick up the saddleclothes of the various stables and play a game of guessing the correct trainer initials, numbers and symbols. While T.A.P. maybe easy, who's saddlecloth has a 007 monogram?
There is a free guide to the saddlecloths available at various locations in Saratoga, so you can see if you guessed correctly.  If you are still unsure  of who is on the track, listen carefully for Mary Ryan's unique and graceful commentary on the various horses and individuals as they appear near the finish line as she broadcasts from the 2nd floor of the clubhouse.
Also, if the morning mist still hangs on the track, the image of two Thoroughbreds emerging out of the haze at the top of the stretch is a sight to behold.
1.c.  Walk across Union Avenue and view both dirt, grass and  steeplechasers working over the Oklahoma track and infield from the grand Whitney Viewing Stand.  It's a wonderful gift to all race fans. Be sure to look up toward the clocker's booth where you may see Nick Zito, Dale Romans or any number of other trainers plying their trade. If you enter from East Avenue you may also be treated to seeing horses schooling in the gate. At all times honor the ropes cordoning off areas from photographers, cars , bicycles etc., for the safety of the horses and riders and yourself!
Racing Hall of Fame:
Although not filled with as many interactive exhibits as the baseball, basketball or football hall of fame museums, there is something for everyone.  If you are a racing history junkie, allow several hours to look at all the galleries of paintings, programs, hall of fame plaques and description of the game's evolution.
If you have children with you, plan on making a beeline to the Equicizer and feel the  movement of riding a race horse while getting a view of a simulated race track.   You and your kids will have fun and a lot of laughs comparing riding styles.  Walking into and through the regulation starting gate is a neat experience as well.
Finally, if they are offering a docent tour of the stables with admission to the museum, pay the few extra dollars and do it.  You get a guided walking tour of the stables near the Oklahoma training track during the morning hours. Enjoy comparing your home maintenance and lawn care to the famed Phipps Stable and walking ring!  After the walking tour, enjoy a visit through the museum.
Yaddo: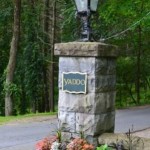 No writer, aspiring writer, flower enthusiast or landscape architecture fan should pass up walking through the public areas of Yaddo, the writers' retreat.  Located just off Union Avenue at the far end of the race track property as you leave town, its easily accessible by car and has adequate public parking.
Dog lovers, be sure to take your four-legged friends for a walk in a safe environment.  Obviously all dogs must be kept on a leash, but there are various paths through trees, gardens and around statuary and fountains to provide different stimuli for you and your pet.
Congress Park: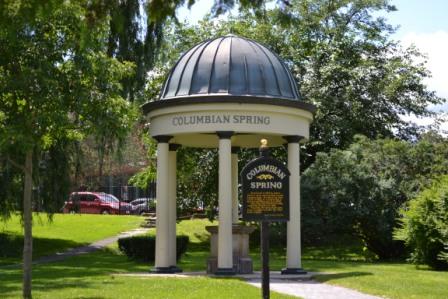 Located between Broadway and Circular Streets.
If you come from a town with a great public park system, perhaps Congress Park won't have much of an impact on your psyche.  If not, take the time to stroll through the park, as there are fountains, springs and monuments in almost every area of the park.  There are well maintained paths safe for young and old. There are also benches and places to take cover next to the various springs if the sun is too hot or rain interrupts your stroll.  Check with the Saratoga Chamber of Commerce as to the free concert schedule.  There are series of concerts offered by the local symphony or community bands. Pack a picnic basket, blanket, Frisbee or soccer ball and enjoy an evening experiencing one of the best public spaces we've ever found.  During the day, there are also occasional arts and craft fairs in the park.
If you like to get in a serious walk, jog or run, the paths of the park in early morning or dusk provide a good option.
The public information stand near the Broadway entrance to the park provides a guide to the springs in the park.  Don't be shocked to see individuals filling plastic jugs with water from several of the springs.  Before taking a gulp, a taste on your fingertips maybe wise, as some have very distinct flavors based on the levels of minerals found in each spring.
The carousel provides great enjoyment to families with small children. What better way to introduce a small child to the wonderment of riding a horse?
Also, Saratoga Shakespeare performs in the park many evenings and some matinee shows.
Finally, there are acceptable public restrooms in an administration building in the corner of the park closest to Broadway and 9P/Spring Street.
Mansion row on North Broadway:
If gazing at magnificent real estate is your thing, take that walk, jog, or run through the neighborhood off Broadway near Skidmore College instead.  The homes are magnificently maintained and provide great examples of 19th century and early 20th century architecture.
SPAC (Saratoga Performing Arts Center):
Be sure to review the concert schedule weekly as shows are added through out the summer.  We have enjoyed listening to the Philadelphia Orchestra in early August and Elvis Costello and the Police later in the season.  On both occasions, lawn seats (a good durable blanket) were just fine and the most economical – just get there early to save a good place.  As it is located only 30 minutes north of Albany, try to pick parking lots that will allow you to avoid all the traffic trying to head south on Interstate 87 once the show is over. Parking in the adjacent state park may be the best option.
Art at the Holiday Inn and Gideon Putnam:
Holiday Inn at 23 Broadway and Gideon Putnam Spa Resort Hotel, 24 Gideon Putnam Road:
If equine art work is your thing, be sure to view the  art work and bronze sculptures at both locations. Everything is usually for sale unless already purchased and marked accordingly.
Old Friends Farm at Cabin Creek, Bobby Frankel Division:
483 Sand Hill Rd, Greenfield Center, NY 12833
http://www.oldfriendsatcabincreek.com/
If you go for a tour, be sure to stop and buy a bag of peppermints at a local grocery or drug store. In the alternative, a bag of mini-carrots will work well too.  If you have those treats with you, you will literally have great horses from the racetrack eating out of your hands.  (After wiping the slobber off your hand on your shirt, shorts or pants, you will have hoped that you remembered my advice to bring a handkerchief or sani-wipes with you too.) The tours are free, but donations at the conclusion are requested.  Also, our dog was welcome to tag along provided he was leashed and we kept good command of him for everyone's safety.  Seeing these equine retirees will make your time at the track all the more meanigful.
Saratoga Battlefield.
How can anyone claim to be a fan of history and not tour the battle field where patriot troops defeated the British and set the groundwork for Washington to develop a strategy to ultimately win our new nation's freedom?
What I didn't appreciate until I saw it was the size and scope of the area in which the battle was fought.  There are a few buildings to tour, but the audio program accessible through your IPhone or Android device provides a great self guided car tour.
Placards at each location also provide context to the events leading up to and during the battle.  Allow one-half day if you don't want to be rushed.
Lake George:
Depending on your budget there are various ways to enjoy the lake. The drive from Saratoga is about 45 minutes north on Route 87.   On the southern edge there are lots of water park style amusements, mini-golf and family oriented activities.  As you continue north you will find Lake Shore Drive lined with quaint boutiques selling Andirondack inspired housewares and clothing as well as marinas and fishing guide shops. Ultimately you may find yourself at The Sagamore, an upscale resort on the western edge of the lake.  Take time for a stroll and have lunch at their lake side cafe.   The lake is quite large and for the boating enthusiast offers a far larger area to explore than Lake Saratoga.
There are several things still on our to-do list such as Polo on Thursday evening. (It usually starts at 5:00 p.m. so a choice has to be made to forgo the last races at the track);  Evening Jazz at the Tang Museum (it's free! ); touring the Dance and Automobile museums, just to name a few.  Again there is so much to do, that you will likely find insufficient hours to get it all in. Our solution? Return year after year and add a new item to your completed list.
By Guest Author: Nancy Meyers
A special THANK YOU from Neal Benoit for providing this informative article!
---
---