Heading to Saratoga – Where to Stay?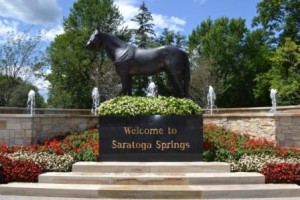 By Guest Author: Nancy Meyers
Let me begin by stating that  a lot of websites can better describe the history of Saratoga, the race track, parks and tourist options  than I can in this blog.  A quick Google search can probably provide excess information in that regard. But once you've decided to take the plunge and travel to Saratoga, one of the most critical decisions has to be selection of accommodations.
Saratoga Springs has multiple housing options from "Mom & Pop" motels, chain hotels, B&B's, one room efficiencies, condos, and house rentals.  If you stay on or near the main thoroughfare, Broadway, realize that a walk from downtown  Saratoga Springs to the track is a solid 20 minutes.  On a humid, salty day in August, the walk at midday or at the end of a day at the track can be a bit taxing and even result in a race through a thunderstorm – something we have experienced from time to time. Depending on the relative fitness of you and your guests and all that you want to take to the track, you may find yourself driving and parking near the track anyway.

On the other hand if you choose to reside close to the race track, then a leisurely walk to downtown is approximately 20-30 minutes and not recommended to be done in uncomfortable heels! Men take heed if suggesting a nice romantic dinner downtown.  You will probably need to drive and park downtown.  The point is be sure to try and develop a bit of a game plan as to what you and your family or guests want to do during your stay during the day and evening.  The number of cars and/or bicycles at your disposal may also affect your choices.  The ideal choice, and one my husband and I have been fortunate to experience, is to find a location equidistant from the track and downtown.  Nothing like having the best of both worlds.
For a few days, there's absolutely nothing wrong with several hotels in the area.  From the Holiday Inn, (which also hosts an art gallery featuring equine art during the racing season), to the historic hotels downtown, you can walk within a few minutes to the restaurants and bars on and off Broadway.  Most other hotels located on the outskirts of town will require you to drive and find parking downtown,which is not always an easy task on the busy weekends.  The obvious advantages of hotels are daily room service, laundry service, swimming pools and the ability to close the door and go. Some offer shuttle service to and from downtown and the track.  Be sure to check on availability and frequency of transport.
B&B's and some of the inns cater to the racing crowd and a chance to interact with other race fans especially if traveling alone.
If you are staying more than a few days, it is likely that the condo, apartment or house rental option can be more economical – especially if you are getting a larger group of family, friends or fans together.  There are luxury condos and apartment options downtown as well.  As with the hotels downtown, there is instant access to Broadway, on which you will find ample shopping, ice cream parlors, restaurants, bars, a movie theatre, Congress Park & the children's carousel.  If people watching is your thing, or if some adults aren't interested in the races, an easy walk to those things will be appreciated.  Also, in the evening if you can walk to the restaurants and bars, you can enjoy an adult beverage without endangering others or risking a DUI/DWI arrest by Saratoga's finest. The downtown area provides access to wine stores and food markets like Putnam Market which offer pre-prepared foods.  There is also an outpost of Price Chopper downtown for supermarket shopping.  However, the large supermarkets and big box stores are located outside of downtown on Route 9.
If you are reading Neal's web postings you are  probably planning in spending every day at the racetrack.  Once again questions need to be answered which may affect your accommodation choice.  Will you be sitting in the park areas outside the grandstand or near the paddock at a picnic table, using lawn chairs and bringing coolers filled with all your necessities including food and drink?  Its by far the most economical way to enjoy the track. Of course stocking all of your necessities will be more difficult at a hotel when compared to having a full kitchen at your disposal in a condo, apartment or house.  If you are going to spend the day in the Clubhouse, Grandstand or dining in one of the track restaurants, then a hotel or B&B works just fine for a couple or small family. Otherwise, a condo, apartment, or house rental makes a lot more sense.  The choices of homes and apartments runs the gamut in Saratoga.  There is likely a rental option for any taste.  Take your time to check out as many rental sites as possible as not all rentals are offered on a single website. We have used VRBO.com, Homeaway.com  and Racingcityrealty.com.
There are few things more peaceful than relaxing on your porch in the early morning with a cup of coffee reading the  newspaper account of the previous  day's race results and handicapping the day's upcoming races as the quiet "tisch, tisch, tisch"of an automatic lawn watering system is the only sound likely to disturb your solace. Just be sure to wave to the folks walking their dogs or jogging through the tree shaded streets.  A residence close to the track will allow the serious fans or those who just want to see beautiful equine athletes to get up early in the morning at dawn's first light to see the horses working out at either the Oklahoma training track or on the main track. As with any vacation excursion, a house rental allows savings on dining compared to eating out and space for spreading out and enjoying grilling, swimming in a pool or simply relaxing on a porch or patio.   Racetrackers can tote their coolers and chairs from their houses, freeing up a car for others to take a day trip to visit Old Friends Frankel Division Retired Thoroughbred Farm, the Saratoga Battlefield, a neighboring lake, museum or exploring Schuylerville, Ballston Spa or other nearby towns.  There are also a lot of houses that in and of themselves are part of the Saratoga experience because of their architecture, historical significance, Victorian charm or Saratoga/Equine decor.
If you want more solitude and access to outdoor activities, there are multiple housing options on nearby Saratoga Lake, or about 30- 40 minutes north on Lake George or many other neighboring lakes.  You will have to drive to the track and town, but for those who also enjoy paddle boarding, kayaking, boating or swimming, there is no substitute.
For those who golf, be sure to look at Gideon Putnam or Saratoga National.  Housing on or near the course permits golfing in the a.m. and the ability to win back at the track what you may have lost on the links in the morning.
As a dog owner,  I can tell you Saratoga is friendly to our four legged canine family members at parks,restaurants, shops, and lots of hotels and rentals.  Don't be afraid to bring them instead of kenneling them during your trip.
In the end, it's all a matter of individual taste but as with most choices, location, location, location can greatly dictate how you experience all Saratoga has to offer.
By Guest Author: Nancy Meyers
A special THANK YOU from Neal Benoit for providing this informative article!
---
---