State Breds vs. Open Company
Many states have programs that encourage the breeding and racing of Thoroughbred horses within their state.  For example; New York, California, Florida, New Jersey, and Pennsylvania all have well established programs.  The racing portion of these programs provide races that are restricted to only horses bred within a specific state.  The race conditions for these races will say something like:
For maidens, Two Years Old Foaled in New York State and Approved by The New York State-bred Registry.
In handicapping parlance, horses that run in these kind of races are referred to as State Breds or having run in State Bred Company.  As opposed to races that do not have any state restrictions, and are referred to as Open Company.  While the State Bred races might have purses that are on a par with Open Company races, they are generally considered inferior in terms of class and level of competition.  Many horses that qualify for these restricted races will run exclusively in them, and avoid Open Company.
The analogy I like to draw is with professional football.  Winning State Bred races is like winning games within your division.  There are only three other teams that you have to beat, comprising six of your total sixteen games.  Teams within the same division are very familiar with each other, and that can be very similar to State Bred races; where the same limited set of horses often compete against each other over and over again.
However, if a State Bred horse is good enough to win a Maiden race and then multiple Allowance levels of State Bred races, they might decide to try their luck against Open Company.  They are allowed to do this, because wins at the State Bred class level do not count against Open Company restrictions.  Below is an example of a New York bred horse named Frivolous Buck who demonstrates this situation.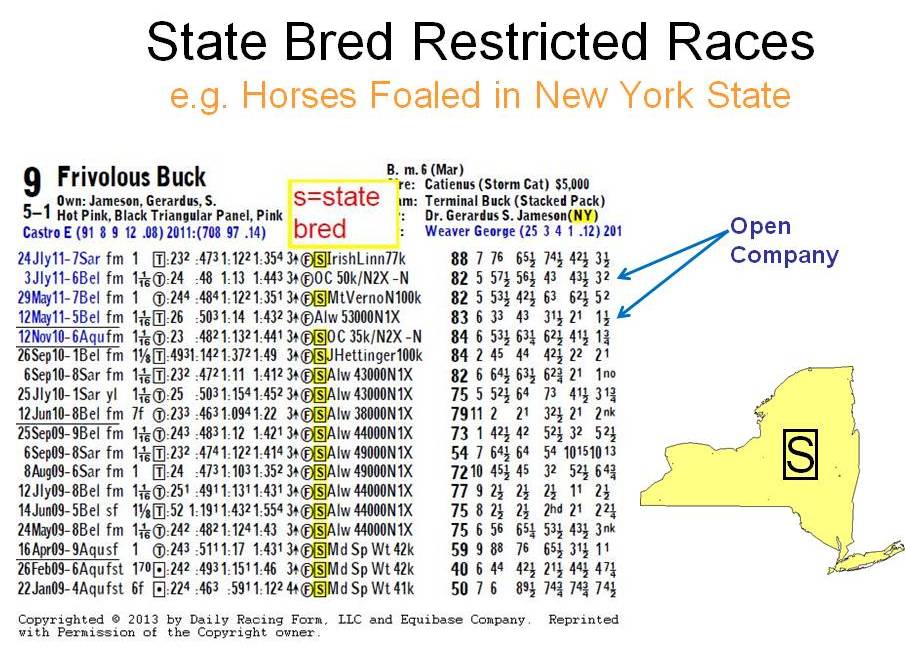 The first thing to notice is the symbol that identifies a race as being for State Breds only.  It appears to left of the class and is an 'S' with a square shape.  Frivolous Buck raced in State Bred races from her debut on Jan. 22, 2009 until Nov. 12, 2010.  It took her a long time to break through the N1X condition, but then she quickly improved and won the N2X condition after finishing 2nd in a Stakes race on Sep. 26,2010.  At this point the trainer had the option to wait for another State Bred Stakes race, or take a shot at open company.  He opted for the latter.
After a six month break from the races, he entered her in an Open Company N1X race on May 12, 2011. We know this is an Open Company race because there is no symbol for State Bred only preceding the "Alw 53000N1X" condition.  She is allowed to run in this race because her wins in the N1X and N2X races vs. State Breds do not count against her when facing Open Company.  If the horse is good enough, this can be a winning move for talented State Bred horses; especially if they catch a group of younger horses and have an edge in age and experience.  It worked for Frivolous Buck as she won that day.
On May 29, 2011 she finished 5th in another New York Stakes race.  So, next they tried her against Open Company in an N2X race.  She would have been eligible to run in this race, even if she had won the NY Stakes race on May 29.  Essentially, it's like these State Bred races never happened when entered in an Open Company race.
As you can imagine, a successful State Bred horse that is good enough to compete in Open Company is a fairly rare commodity, but greatly appreciated when they do come along. Every now and then, a State Bred horse is so successful (think Funny Cide) that they run in Open Company for the majority of their career.
Sometimes a horse to watch is one that has been running (marginally) against Open Company, but then returns to restricted State Bred company.  This can be a subtle class drop to detect, as the horses PPs will be missing the State Bred symbol.  The example below is very interesting, because it demonstrates this and more.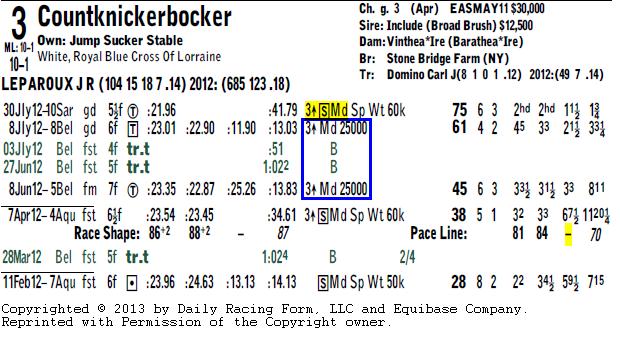 The races on June 8 and July 8 were against Open Company Maiden Claiming horses.  Then on July 30, he is entered in a NY Bred Maiden Special Weight race.  If you consider only the move from MCL to MSW, this might seem to be a move up the Class ladder.  However, the transition from Open Company to State Bred negates this.  Now, there are other factors to consider here; his improvement on the turf over the dirt and cutting back in distance.  But, the bottom line … Countknickerbocker won on July 30 at odds of 23-1 and paid $48 to win.  Nice payout for what might actually be a class drop in disguise.
---