2014 Plans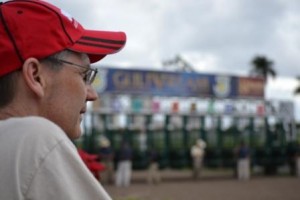 I started this website as a challenge to myself, to give something back to a sport that I have loved for my entire adult life.  And, to satisfy an internal drive I have to teach people about a sport that I feel is often misunderstood.
As I look into the future of 2014, the future of The Sport of Kings is very much in doubt.  For those of you who know only Saratoga or Keeneland, you might not be able to grasp that fact.  But, every serious study within the equine industry shows steady decline in attendance, handle, and fans.  As a whole, the racing industry in North America is struggling.
Why?  That is a complex question, and I don't proclaim to have all of the answers.  But, as a fan of more than 35 years, I feel compelled to do my part to figure it out.  And, if possible, help to remedy the situation.
In a study reported by Jockey Club two years ago, I found the following line of Yes/No questioning to consumers very revealing.  The questions pertained to consumer attitudes about Thoroughbred Horse Racing vs. other sports.
How easy is it to understand how the sport works?
Other Sports – 76%

Horse Racing – 28%
Are there many ways to learn about the sport?
Other Sports – 80%

Horse Racing – 22%
Is there easy access to the information you need to follow the sport?
Other Sports – 71%

Horse Racing – 2%
If you summarize this information, relative to other sports … Horse Racing is more difficult to understand, has less ways to learn about it, and it's nearly impossible to find access to the information you need to follow it.
So, what can one person do? Well, in starting this website, I'm trying to show that he/she can do a lot.  My focus for the first 100 Blog articles was very much on education.  And, while I will continue with that focus in the future, I plan to expand on my other offerings with more stories, travels, and meetings with interesting people involved in horse racing on a daily basis.
It is my hope, that in sharing all of this with you, you might find it easier to understand how this sport works.
I also intend to point out other ways to learn about the sport beyond this website.  This will include links to other resources, book reviews, interviews, tablet/phone Apps, Twitter feeds, etc.  Hopefully this will expand the number of ways you can learn about horse racing.
In addition to all of the above, I plan to create more offerings in the way of handicapping exercises, race day "thoughts" (not picks), commentary, and live seminars.
So, stay tuned for what I hope will be an exciting year in horse racing.  Maybe this is the year you will become a fan for life!
---