Sponsorship
Are you looking to reach people in the Thoroughbred racing world? In a recent survey, we found that 95% of our readers are either fans, owners, breeders, trainers, or employees in the racing industry. And based on the results of the survey, and the monthly traffic patterns that appear below, it seems our readers like what we're doing.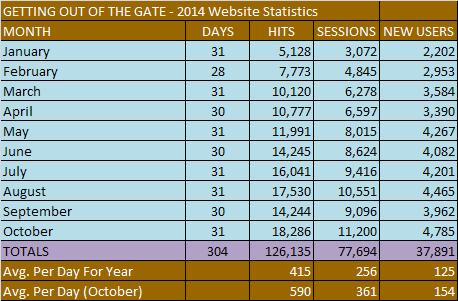 Testimonials:
Click here if you'd like to read some comments made by visitors to our website.
---
What's in it for you, Sponsors?
We realize that most of you aren't going to send us money just because we're doing something positive for the sport of horse racing.  But if you want to do that … we won't say no.
For the rest, you're probably interested in some specific details.  For the six months (May-October 2014), the average number of unique readers for each article we published was 1,011 with a low of 556 and a high of 1,976.  Below is a chart of our top ten articles published during this time period, with a link provided so you can read the article if you like.  To the far right is the number of unique visitors that read each article.
| Article Title | Link | Unique Visitors |
| --- | --- | --- |
| Meet Maggie Wolfendale – In The Saratoga Paddock | Link | 1,976 |
| Meet Christophe Clement – A Truly Happy Man | Link | 1,884 |
| TimeformUS – There Is A New Racing Form In Town | Link | 1,660 |
| Meet Taylor Rice – An Exuberant Young Jockey | Link | 1,564 |
| Understanding Beyer Speed Figures | Link | 1,498 |
| Part Wheel Strategy, And The Mathematics | Link | 1,488 |
| Preakness Trends – Running Style Holds Key To Picking Top 3 | Link | 1,443 |
| Navigating The Unique Santa Anita Turf Course | Link | 1,411 |
| Sandwich Play – A Trifecta Wagering Strategy | Link | 1,377 |
| Know Your Trainers – Todd Pletcher vs. Bill Mott | Link | 1,368 |
We feel this chart is interesting, because it shows the variety of topics that interest our readers.  Clearly our readers are fans of the sport, and 94% of them said in our survey that they follow the sport year round.  Are these the type of people you'd like to reach through our sponsorship program?
Bottom Line Sponsors
We are currently seeking sponsors at a rate of $200 per article.  Included in the sponsorship will be a Banner Ad placed in the article. Your Banner Ad is guaranteed to remain on the article for a period of one year from the date the article is published and to be the sole Banner Ad for that time period on that article.  Below is an example of a Banner Ad that appeared in an article published in August 2014.  Click here to see the complete article.
---
Modeled after European style turf courses, come visit the only one of its kind in North America. The author had a truly enjoyable visit to this unique race course in 2013. Click here to read more about that adventure.
Saturday, September 13 will have four Stakes Races, including the Grade 3 Kentucky Turf Cup worth $600,000.
---
Since many of our articles are educational in nature, they are often read by visitors long after they were originally published.  Also, many of these articles are featured on our "Get Started" tab, insuring they will be read by new visitors to the website.
Why are we promoting sponsorships now?
It's simple … we want to respond to the needs of our readers. In a recent survey, our readers asked for the following:
More articles about handicapping and wagering strategies.
More interviews with trainers and jockeys.
More information on tools of the trade (e.g. TimeformUS, Formulator, Ragozin Sheets, etc.).
More detailed information and statistics on head trainers.
More articles about specific tracks; including handicapping tips, track peculiarities, etc.
More coverage on major events, like the Triple Crown and Breeders' Cup.
More coverage of individual jockeys, including their strengths and weaknesses.
More articles about breeding and pedigrees.
More horseplayer stories and interviews with successful tournament players.
More daily race coverage and assistance with upcoming races.
In order for us to provide readers with this type of coverage, we need to generate some revenue that will help cover our operating costs – including travel, research, photos, and technical support.
Click here if you'd like to contact us about becoming one of our sponsors.