TimeformUS – Lookout, There Is A New Racing Form In Town

About four months ago, one of my handicapper friends told me, "You've got to check out this new software program, TimeformUS."  For 3 1/2 months I ignored his advice.  He kept pestering me.  He sent me messages, "They've got track bias information.  They have a cool Pace Projector.  They have Speed Figures that incorporate Pace into the calculation."  I continued to ignore him.  Not enough time.  Too much trouble to learn something new when I'm in the heat of battle.  Yada Yada Yada.  Then one day I get a text message that reads, "And it works on your iPad."  Whuuuppp.  Back up the tape.  Did he say that it will work on my iPad?
Those who know me, know that I am addicted to my iPad when it comes to horse racing.  And, one of my biggest complaints has been the lack of a good handicapping program on the iPad.  My iPad has been with me on every visit to racetracks from New York to Kentucky to Florida to Washington.  So, a couple of weeks ago I decided it's time to get acquainted with this TimeformUS.  At first I dabbled with a race or two, mostly the two races that TFUS offers free of charge on a daily basis.
But, on Sunday, July 27 I decided to cut loose.  I utilized TimeformUS exclusively to handicap races from four different racetracks, including Saratoga, Monmouth, Del Mar, and Emerald Downs.  And I am here to tell you … I am impressed.
TimeformUS promotes themselves as the "Modern PPs for the Modern Player."  It doesn't take long to understand why they make this claim.  They make excellent use of color and graphics.  The information is streamlined to include what is most important, with the capability to drill down to more details if you like.  As my friend said, there really is a cool pace projector graphic for every race.  And everything is designed to enable the horseplayer to make decisions quickly.  This last point might be the most important for the "Modern Player."
Normally, I'm the type of player to pick one track for a day and stick with that track.  I do this mostly due to time restrictions.  Just not enough time to make my way through all the PPs for multiple races at multiple tracks.  However, on July 27, I found myself bouncing between racetracks, with 15 minutes or less to prepare for the next race.  Instead of being overwhelmed, I found myself exhilarated by the experience.  To feel that I could actually make reasonable choices in that short span of time was an entirely new experience for me.  A fan of more than 35 years was learning something new.
So where to begin.  Let's start with their "really cool Pace Projector."  Below is a sample pace projector for a Turf race  and a 12-horse field.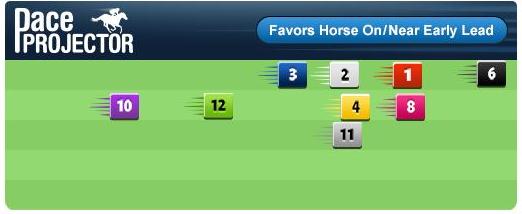 The Projector is suggesting that #6 will be the clear cut early leader, with #1 and #8 the closest pursuers, followed in mid-pack by #2, #4, #11, and #3.  The two trailers are expected to be #12 and #10.  You will notice the comment at the top, "Favors Horse On/Near Early Lead."  This comment will not appear on every Pace Projector.  It is included only when the program calculates that the leaders and closest pursuers might get away with an easy Pace and thereby have an advantage in the race.
In another situation, the comment at the top will read "Fast Pace" and appear in Red.  In this situation, the Projector is predicting there will be a fast (and contentious) early pace, that might compromise the chances of the horses projected to be on the lead.
Does this information guarantee the outcome will model the projector?  Nope, sorry.  But it does give you a hint of what's probable based upon "past" performances.  And it gives you a quick visual starting point to begin your handicapping process.
One further point in the above example.  You might be wondering where the chicklets are for the #5, #7, and #9 horses.  In this instance, these horses are "Main Track Only" horses, and will race only if the rain washes the race off the grass.  So, the pace projector assumes they will not be in the race.  This leads to another really cool thing about the pace projector – it recalculates after the scratches are announced.   If the above race were to come off the turf, then grass horses that are scratched will be removed and the main track only horses will be included. And back to the main point at the start of the article, this program works on the iPad. So, in the above instance, if this race were moved to the main track, your iPad will have the updated information. You don't have to do anything, but refresh your screen. Pretty cool, huh.
---
The intention of this article is not to teach you how to use TimeformUS, but to make you aware of it.  Given the fact they offer two free races every day, anyone can do as I did and test drive the program with no monetary commitment.  To further entice you to try this program out, I've compiled a list of the top TEN things that I liked about TimeformUS.  Here they are:
The Pace Projector.
Colored Track Bias Indicators (e.g. Red = Speed Favoring Surface).
Speed Figures that incorporate Pace into the calculation.
Scratches automatically removed from the printed PPs and the Pace Projector.
Expanded Trip Notes, without having to dig into the result charts.
Purse information on past races, without having to dig into the result charts.
Pace Figures for races on every type of surface, including Turf races.
Speed Figures on European races that are on the same scale as U.S. races.
Prior race ratings – based on the level of the competitors that actually ran in the race.  As opposed to a Par system.
Colored coded surface information in the past performances. Brown = Dirt, Green = Turf, Blue = Synthetic.  Below is an example of a horse who ran on all three surfaces in her three most recent races.
Oh … and did I mention, you can use it on your iPad!!!
There were many other things I could have included on this list, but these were the ones that stood out to me after using the program for only a short time.  In the coming weeks, I will elaborate on some of these features and provide examples where I utilized the information in real handicapping situations.  In the meantime, click here to visit the TimeformUS website.
---
Modeled after European style turf courses, come visit the only one of its kind in North America. The author had a truly enjoyable visit to this unique race course in 2013. Click here to read more about that adventure.
2014 Racing Dates are September 6, 10, 13, 17, and 24.
Saturday, September 13 will have four Stakes Races, including the Grade 3 Kentucky Turf Cup worth $600,000.
---