Racing 301
Further explanations of horse racing distance, class, form, and pace are presented here.  Click on the title to read the complete article.  Also, you can click on the images to view a larger and more readable version.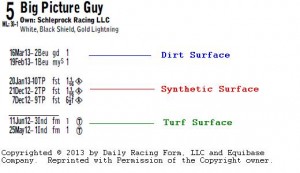 A wrap-up of different racing surfaces (dirt, turf, synthetic), including links to prior articles with more details about each type of surface.
Examples from the Daily Racing Form show how surface information is presented, including the symbols.  An example of off-turf races is presented and the confusion that can occur when you don't know the normal surface for a main track.

Using the Daily Racing Form software program Formulator, we provide details on the kind of statistics that are available on trainer tendencies and multiple examples of how this information can be used in your handicapping process.
The emphasis in these three examples is to focus on high percentage and high ROI trends that can strengthen selections made through normal handicapping.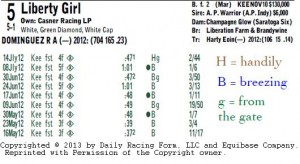 Workouts are like practices for other athletes, and here we explain in full detail how they are recorded.
This article explains the terminology used in workouts, gives examples of actual workouts, and shows how you can customize the appearance of workouts using the DRF Formulator software program.
Throwout races are a subtopic of Form, where we explain the concept of "putting a line through a race," and we provide a recent example of the Belmont Stakes winner Palace Malice.  This technique allows a handicapper to focus on the most pertinent races in a horses past performances.
Optional claiming races are a mixture of Claiming and Allowance races, both described in Racing 201. An example of how the racing conditions are written for these races is provided.
These are a special type of Claiming race where horses can be entered for a Claiming Price, only if they meet certain conditions.  The conditions can be the number of races they've won, their age, or wins tied to a specific surface and/or date of their last win.  Examples of each are provided.
Starter races are a unique class of race, where eligibility is limited to horses that have started at or under a specific Claiming price somewhere in their career. Examples of the two types of Starter races (allowance and handicap) are provided along with samples of past performances for horses having run in these type of races.
Some horses perform their best at specific race courses. We don't always know why, but we can look for recurring trends when handicapping. Three specific examples of horses that repeated their best efforts at Saratoga race course in 2013 are presented.
Utilizing Pace Figures, we provide an example of identifying a vulnerable heavy favorite (Kauai Katie) at Saratoga on July 27, 2013.
Some horses do their best (and sometimes only) running when they are happily cruising along at the front of the pack.  These same horses often struggle when that lead doesn't come so easy.  Identifying these type of horses and when they are vulnerable can create betting opportunities.  Two examples are provided.
The pace in turf races often develops much differently than in dirt races; faster late in races than at the beginning. Using past performances, we show the pace splits for a past Graded Stakes winner as an example, and include a video replay of a stunning stretch run by Winter Memories.
Seeking hidden form involves searching for subtle clues in a horse's past performances that indicate a horse a horse is improving in ability, but might get overlooked by the betting public. An example from the Saratoga 2013 meet is provided.
Racing into form involves a situation where a trainer sends a horse out more for conditioning than competing. A recent example is provided of a horse perfectly fitting this scenario.
Any number of things can keep a horse from running in a race. And, sometimes they experience recurring problems and setbacks that take awhile to overcome. This article shows an example of just such a horse and the opportunities presented when he finally puts two races "back-to-back" or "b2b … Finally!"