Racing 201
Building upon topics covered in Racing 101, we get into more details on key racing topics.  Click on the title to read the complete article.  Also, you can click on the images to view a larger and more readable version.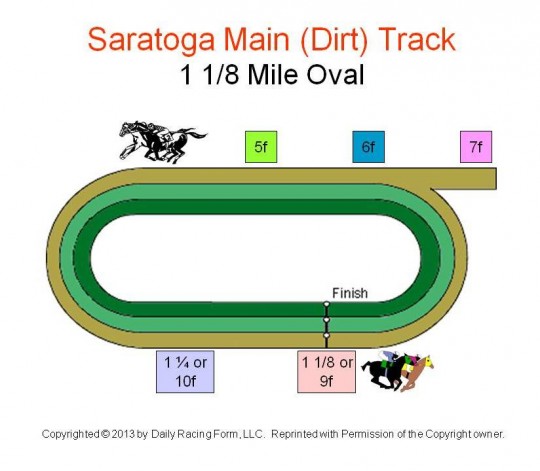 How do Furlongs translate into races on an actual race track?  Using two tracks in New York (Saratoga and Belmont) as examples, we show how racetracks vary in size, shape, and configuration.
Utilizing track diagrams, we show starting gate positions for the most common racing distances at both Saratoga and Belmont.  This article is the first in a series that helps fans learn and appreciate how different racetracks are from one another.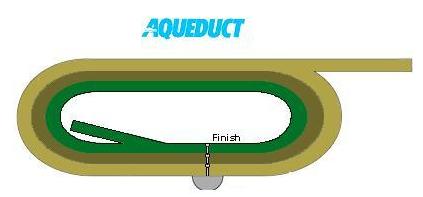 Building on the prior article, we provide the track diagrams for several other major racing venues in North America. From this article you will understand just how unique race tracks can be in terms of distance and track configuration.
Provided in this article is a useful chart showing the oval size and stretch run length (in feet) for many racetracks in North America.  You might want to bookmark this article, because it often comes in handy.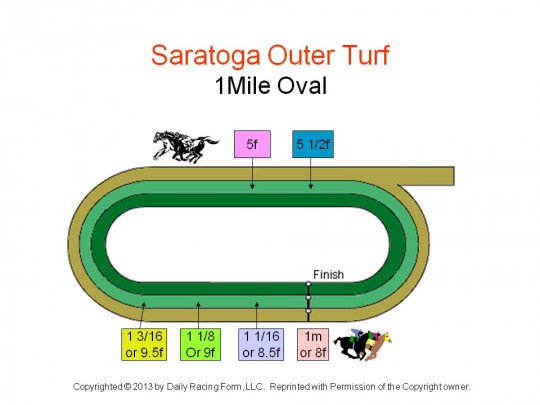 Saratoga has both an outer and inner turf course.  We use track diagrams to explain the layouts of each course, including starting gate positions for the most common distances.
We also provide examples from the Daily Racing Form showing the symbols used to differentiate races run over each course.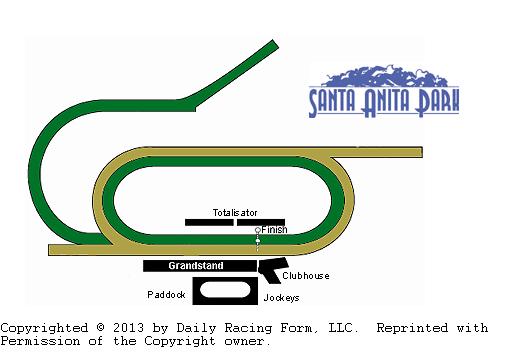 We provide track diagrams for some very interesting turf courses in North America, including Belmont, Monmouth, Santa Anita, and Kentucky Downs.
We also provide a video taken from an overhead perspective that provides a terrific visualization of the highly unusual 61/2 furlong downhill Santa Anita turf course.
In the prior articles on Main tracks we focused on dirt tracks. But, as this article explains, there are race tracks that utilize a Synthetic surface instead of dirt.
Although the track used in this article (Keeneland) no longer has a synthetic surface, the general points apply to any track with a synthetic surface.
The photo to the right is a close-up of what the synthetic materials look like.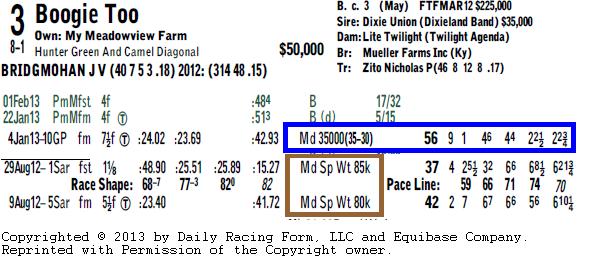 We begin our detail explanation of "Class" in horse racing with an explanation of maiden races.  We differentiate between the two main divisions of maiden races, Maiden Special Weight and Maiden Claiming.
Using past performances like the one to the right, we show how both type of races are displayed in the Daily Racing Form.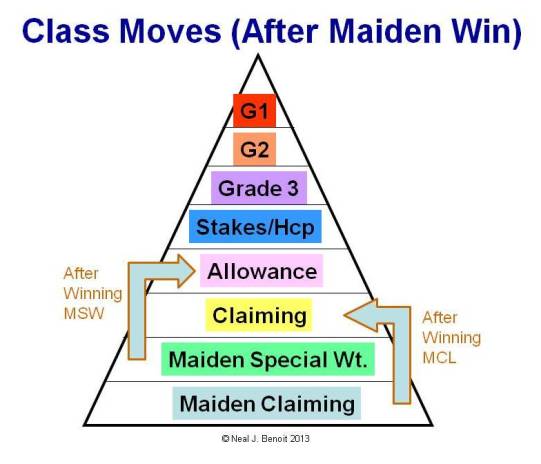 After a horse wins their first race, the most common next step is for them to race in what are called "Allowance" races.
In this article we explain the multiple levels of Allowance races and provide examples of how they are presented in The Daily Racing Form.
The class pyramid to the right shows the typical progression for horses exiting the two different type of maiden races.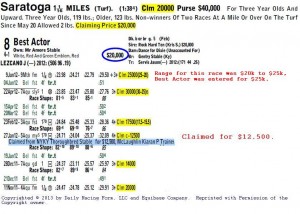 Claiming races are a special class of races, where horses are generally entered for specific dollar amounts (a claiming price) and can be purchased by other trainers, typically on behalf of an owner they represent.
We explain some of the terminology and concepts involved in claiming races, complete with an example of how the information is presented in a horse's past performances.  An update to this article explains how rule changes in New York and California have exempted some horses from being claimed under specific conditions.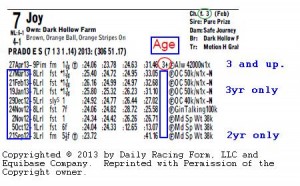 This article is a follow-up to the Racing 101 article on the "Age and Sex" of horses.  While that article explained that all races are restricted by age, this article explains how and why it's done.
Also, detailed examples are provided that show how age related information is presented in the past performances.  This is especially important because it's not always apparent in the current version of the Daily Racing Form.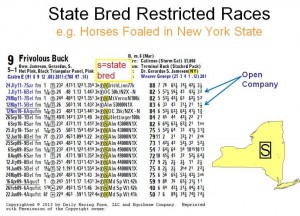 Many states have well established breeding programs that encourage the breeding and racing of horses within their borders. This results in races restricted to horses bred just in their state.
We provide examples of how this information is presented in the Daily Racing Form.  And we explain how the movement of horses between state-bred and open company races can complicate the issue of class.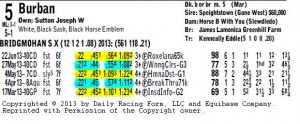 We introduce the topic of time, and in particular explain the concept of "elapsed time," which happens to be what is presented in printed copies of the Daily Racing Form and Racing Programs.
We provide examples of past performances that show the variations of time that are available to a handicapper in the DRF Formulator program.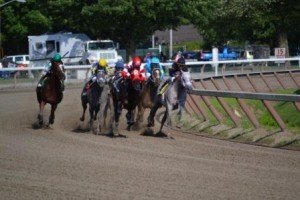 Trip handicapping is the art of watching video race replays and making notes when something good or bad happens to a horse in a race, especially when it differs from comments in the official race chart.
This article provides an example of trip notes made by the author in a horse's prior races, and shows a video race replay of one of those races to help explain.