Other Turf Courses
In the prior post we looked at the two turf courses at Saratoga.  Now we'll look at a few other interesting turf courses in North America.  Below is a diagram of the Widener (Outer) turf course at Belmont Park.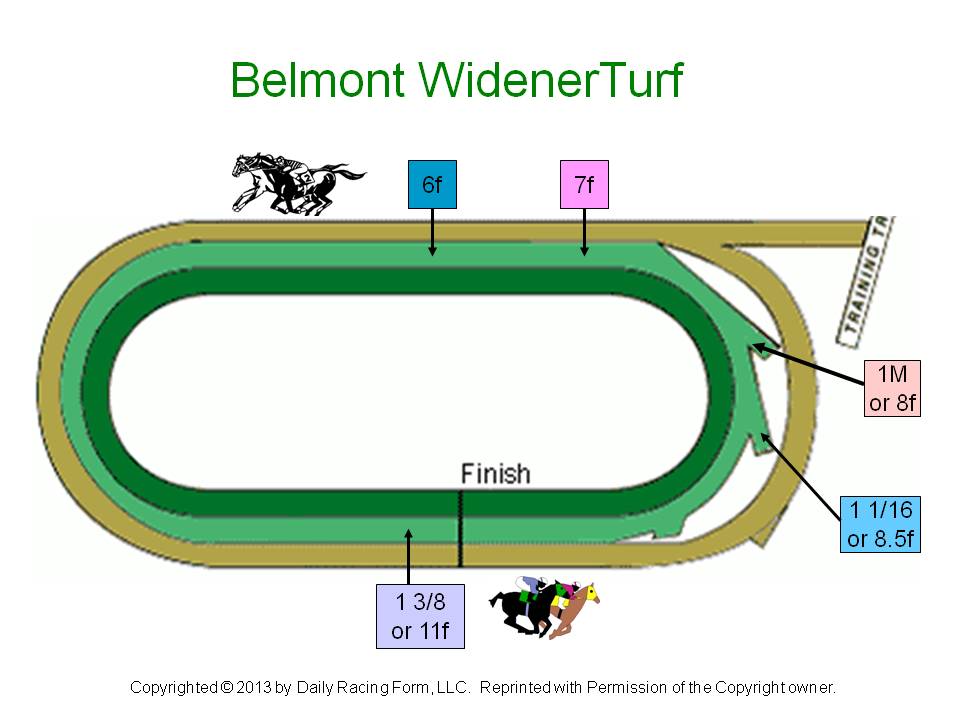 The Widener Turf course is the light green course inside of the Main (Dirt) track. I've added the location of the starting gate (in a box) for each distance from 6f up to 11f. Notice the chutes added to allow distances to be run between 8f and 8.5f despite being located on the first turn. This allows Belmont to run nearly every major turf distance (with the exception of 7.5f) on their turf courses.  Just an FYI, turf races at 9f and 10f are run on the Belmont Inner Turf course.
Check out the video below of The 2012 Hill Prince Stakes, run at 8f over the Widener Turf Course. It's a good example of how an above average horse can overcome obstacles and still emerge the winner. Keep an eye on #1, Summer Front.

---
Now for a few more interesting turf courses. Below is Santa Anita Park.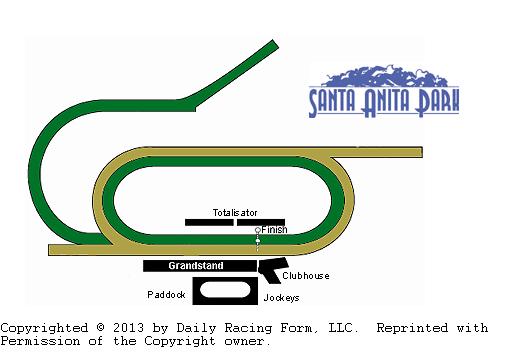 Notice the extension to their turf course on the far left. A start from the upper left position of that extension is where turf races of 6.5f are run at Santa Anita. After the horses break from the gate, they run down a hill, bank right, and then bank left, cross over the main dirt track, and then finish down the turf stretch. It's quite a sight to see. I've included a video clip below of the 2012 Breeders Cup turf sprint run over this course. It shows a great overhead view, that gives an interesting perspective on this unique turf course.

A couple more turf courses to look at are Monmouth Park and Kentucky Downs.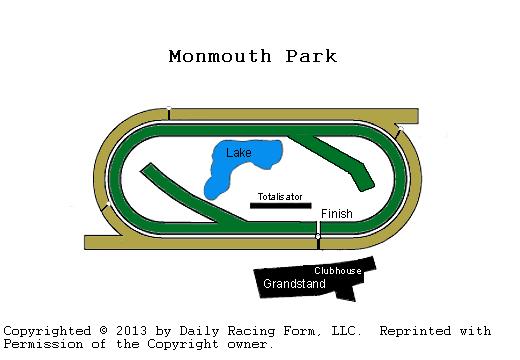 The chute on the left side of the turf course allows Monmouth to run sprints of 5f and 5.5f. And the chute on the right side is for route races of 8.5f and 9f.
The last turf course we'll look at is truly unique in North America. It is modeled after European Turf courses, which are not oval, and frequently are not "flat."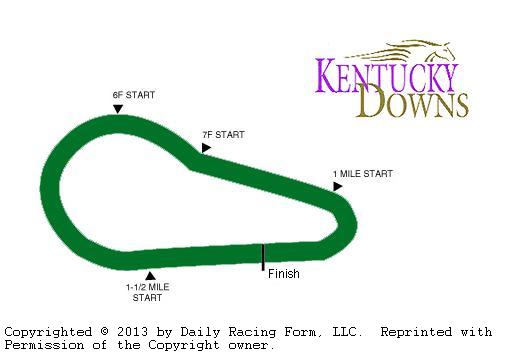 Just like like it's European counterparts, Kentucky Downs has undulations on the surface of the track, is quite long (1 5/16 miles), and has a sweeping turn into the stretch run.
Unfortunately, it also has a very short meet of only five racing days in September. I have not been there yet, but maybe this year!
---