Maiden Class Fundamentals
Horses that are Maidens have one thing in common.  They have NEVER won a race.  They might have tried 2 times, 22 times, or are making their first try today.  In the latter case, they are referred to as First-Time-Starters (FTS) – and they deserve special consideration because there are no running lines for past races in their Past Performances (PPs).  I have known many horseplayers over the years that prefer to take a pass on Maiden races and avoid Maiden races loaded with FTS like the plague.  My son Michael doesn't even print out the PPs for races with mostly FTS, thereby avoiding all temptation when he is at the racetrack.  For him, these races represent "Beer Break."  Since so many horseplayers decide to avoid these races, I consider them as an opportunity to find good betting situations.
Maiden Special Weight (MSW)
These are races for Maidens where the "Special Weight" simply means "Equal" weights for all entrants, with exceptions for age, sex, or apprentice jockey allowances.  Weight refers to the weight carried by each horse in the race, which includes the weight of the jockey.
MSW races have restrictions by Age.  For example, 2-Year only, 3-Year only, or 3-Year and Up.
MSW races for Male horses do allow Female horses to enter if their trainer wants to do that.  However, MSW races for Females are restricted to ONLY Females and no Male horses can be entered in these races.
Although the horses in a MSW race have never won a race, that does not mean they are lacking in talent.  Even if they have lost a couple of races, they might be slow to mature or have a trainer that is very patient with his/her young horses.  No decent trainer wants to lose races, but a good trainer doesn't expect a jockey to pressure a promising yet inexperienced young horse.  Often times, if a young horse isn't good enough to win on its own ability, it is permitted to lose.  With that said, there are trainers who definitely prepare their horses to win at first asking.  The trick for a horseplayer is to know the tendencies of the various trainers; who has their horses prepared to win at first asking … and who does not?
Maiden Claiming (MCL)
These type of Maiden races are similar to MSW races in that no horse has ever won a race.  However, there is one major difference.  Horses entered in MCL races are eligible to be "Claimed" by other trainers (on behalf of an owner) for a fixed price.  For example, in a $35,000 Maiden Claiming race – each horse can be purchased by another owner for $35k.  The means for another trainer to "Claim" a horse is to fill out a Claiming "Tag" prior to the start of the race and submit it to the Racing Secretary's office.  At the conclusion of the race, the new trainer takes the claimed horse back to his/her barn.  We will be covering all "Claiming" races in much greater detail in another article.
For now, suffice it to say that generally speaking an owner does not place a horse with promising talent into a Maiden Claiming race. However, it does happen that a horse runs well when debuting in an MCL race, and then does not return to a Claiming race again for a long time, if ever.
There are two main scenarios for a horse running in an MCL race.  They start out running in MCL races from the get-go, or they "drop" into MCL races after repeated failures in MSW races.  An example of the latter appears below: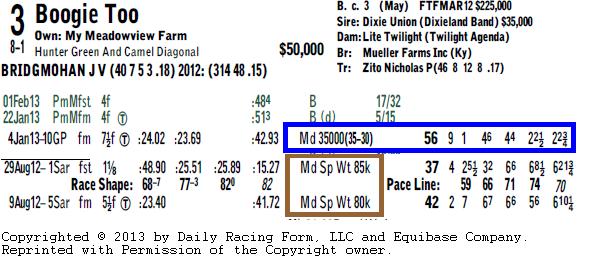 This Nick Zito trained horse had no success in his first two races against MSW horses.  After that, he was "dropped" into a MCL race with a $35,000 Claiming Price.  He finished 2nd.  This is a traditional class drop, and many horseplayers feel that it is a reliable angle to incorporate into their handicapping.  I find this is especially true when a review of the Trainer Statistics for this type of move by a trainer proves to be profitable over a period of time.
The other scenario I alluded to above is when a horse debuts in an MCL race.  Most of the time this truly indicates that the owner has no grand expectations for stardom, and places the horse here because he/she feels the horse most likely cannot win at the MSW level.  But, every now and then, a Trainer will start a horse in a MCL race and get away without him/her being claimed.  Below is one of my favorite examples of just such a move: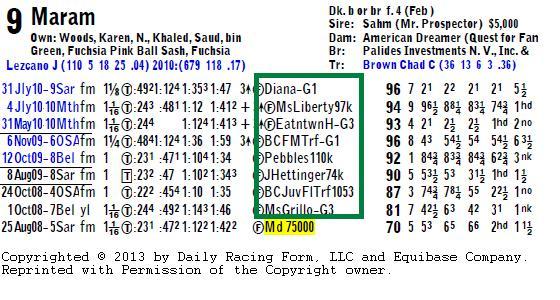 In August of 2008, Trainer Chad Brown entered Maram into a Maiden Claiming race with a Tag of $75,000. No one claimed her, and she subsequently went on to win multiple Stakes races including a Breeders Cup race in October of the same year. Now maybe her debut effort was truly a surprise, even to her Trainer and Owner. Either way, she never ran in Claiming race again.
Over the years, I have come to rely heavily on the Daily Racing Form software to uncover very interesting Trainer Statistics when it comes to their record with Maidens, and in particular First Time Starters. It's a great place to start, and should be combined with information such as workouts, breeding, etc.
---
To learn more about Allowance races (the next step for most horses after they win their first race), click here to view an article on "Allowance Races."  Also, you can view a complete list of articles on the topic of class by choosing the Class Category in the right hand panel.
---