Restricted Allowance Races (N1X, N2X, etc.)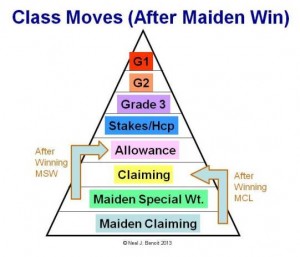 In a prior article we introduced the "Class Pyramid," showing the various levels of class in Thoroughbred Horse Racing.  Today we'll review the first Move "Up The Class Ladder" that a horse will encounter in his/her career.  It directly follows them "Breaking Their Maiden."
As we explained in the article on Maidens, there are two general classes of Maidens.  In this article we are going to focus on what generally happens after a horse wins a Maiden Special Weight race.  Winners of these races move up to Allowance races the majority of the time.  In a another article we'll explain what usually happens to winners of Maiden Claiming races following their first victory.

Before we go too far, let me qualify that the term "Allowance" race covers a broad spectrum of horse races.  But for this post, we'll be looking at races restricted to "Non-Winners of a # of races."  For example, a N1X race is restricted to only horses that have not won MORE than ONE other race, that race typically being a Maiden race.
The transition from a MSW race to an Allowance-N1X race is considered by many handicappers to be one of the biggest moves up the class ladder in horse racing.  Put in simple terms, a horse exits a race where not a single horse in the race has ever won a race, and subsequently enters a race where every horse in the race has won a race.  And, while this generally is a big challenge, it's all part of what I refer to as "raising the bar" and challenging a horse to compete in gradually more difficult races.
So, what happens if/when a horse wins a N1X race?  A normal progression would be to enter them in a N2X race.  This race is restricted to only horses that have not won MORE than TWO other races (generally a MSW and N1X race).  I say "normal" progression, because if the horse seems very talented and the owner has dreams of glory, they might attempt to enter a Stakes race at any point following a N1X win.  This is not uncommon, especially for 2-year olds, where there are a limited number of Allowance races available to run in.
For the sake of demonstration we'll look at a couple horses entered in the 4th race at Saratoga on August 22, 2012.  It's an Allowance race with N2X restrictions.  The first horse appears below: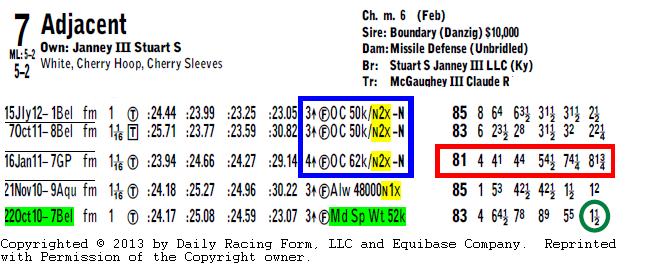 You can see that Adjacent followed the pattern described above.  She broke her maiden on Oct. 22, 2010 by winning an MSW race at Belmont (Highlighted in green).  Then she moved up into a N1X race on Nov. 21 at Aqueduct, winning that as well.  On Jan. 16, 2011 she was sent down to Gulfstream park, where she had a bit of a setback (8th) in a N2X race.  Following that, you can see that she repeated in N2X races two more times at Belmont, finishing 2nd both times.  She is eligible to continue running at the N2X level until she wins.
The next horse we'll look at entered in the same race on August 22 is Warm Hugs.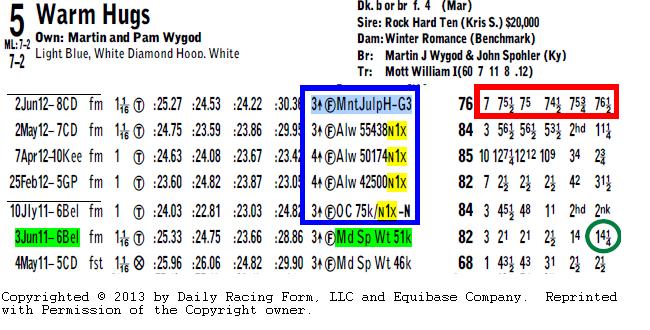 She has had a different journey on the way to this race.  After breaking her maiden on June 3, 2011 at Belmont she made four attempts to win at the NX1 level, and finally broke through that condition on May 2, 2012 at Churchill Downs.  Feeling confident from that effort, her Owner and Trainer tried her in a Grade-3 Stakes race on June 2.  She struggled with that move up the class ladder, finishing 7th.  Probably due to that poor showing, she has been returned to N2X conditions in the Saratoga race on Aug. 22.
These type of moves are typical for horses moving up (and sometimes down) the class ladder. Horses learn and mature differently, so you will see many variations. Sometimes it will take a horse several tries to win their first race, but then once improved they might reel off a string of wins at the Allowance level. Their trainer might have an opportunity to try them out in a Stakes race (e.g. Warm Hugs) and give it a go. If it doesn't work out, there is no harm in "dropping" them back down to Allowance class. It's like the Baseball player who gets sent back down to the minor leagues when things don't work out in the Majors.
As I said at the beginning, there are many different varieties of "Allowance" races. And, there are some races that are a hybrid between Allowance and Claiming races. We'll get into those after we've gone through an introduction to Claiming Races.
---