Pace Figures In Action
In a prior article we introduced the concept of Pace Figures and demonstrated an example with the Preakness winner Oxbow on how important they are in evaluating a race.  Click here for a review of that article.  On Saturday, July 27 I sent a text to my handicapper friend Vince saying "I think Kauai Katie is beatable today."  My thinking was based on the Pace Figures for the race, and my presumption that she is a "need to lead" type of horse.  By that I mean a horse that needs to set an uncontested early pace to do their best running.  Often, this type of horse gets discouraged if they are pressured early in the race.
First, in case you aren't familiar with the race outcome, let me set the stage.  Kauai Katie opened up at 1-9 odds, and remained that way for a long time.  At post time she went off at 2-5 odds.  A heavy favorite.
Below are the Past Performances (PPs) for Kauai Katie going into the race.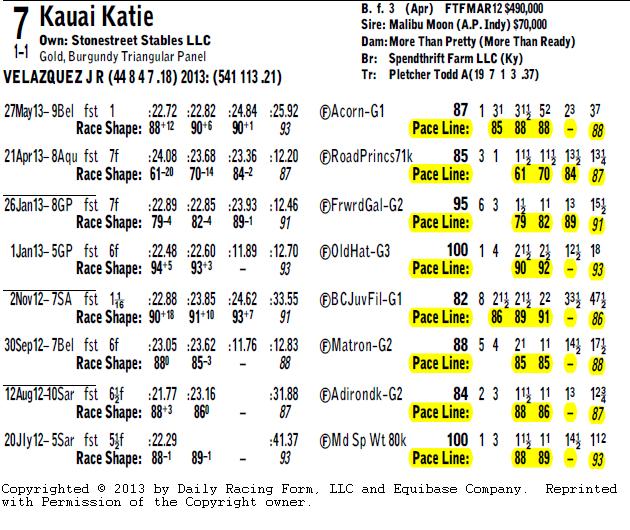 I've highlighted the Pace Figures for her in every race.  You can see that her Figs top out at 92, and many are lower than that.  You can also see that on May 27, 2013 and Nov. 2, 2012 (the two times she lost) she was unable to get a comfortable lead and subsequently fell back in the stretch.  Now you could argue that it was a matter of distance, noting those two races are her only route attempts.  I can't argue with that reasoning.  But, my opinion remained that she is a horse that wants to be on the front end, regardless of distance.
Below are the PPs for two of her main competitors in the present race.  They went off 2nd and 3rd in the betting odds with Wildcat Lily being 5-1 and So Many Ways being 7-2.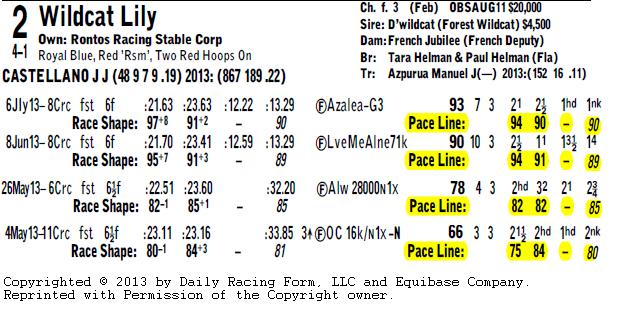 Again I've highlighted the Pace Figures for comparison. I've only shown the last four races because she had matured to this point and her prior races were not representative of her present abilities.  Wildcat Lily is exclusively a sprinter, and notice how she is always on the front end.  And, in particular notice that her Pace Figures have risen with her increased level of competition in Stakes races.  She strikes me as a horse that is not going to concede the lead to anyone.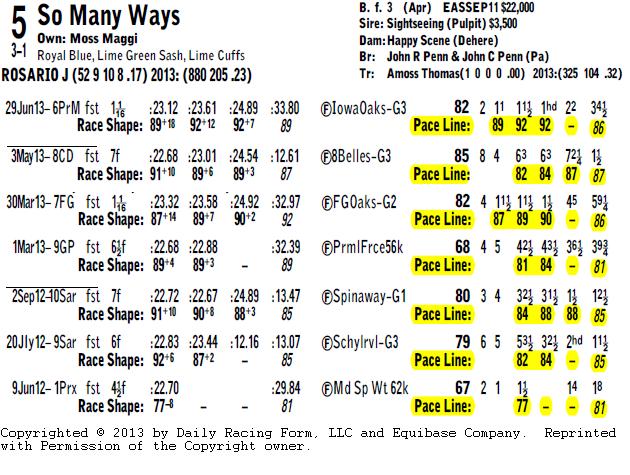 So Many Ways is an appropriate name for this horse.  As her running lines show, sometimes she is on the lead, other times she stalks the pace, and on May 3, 2013 she even closed from behind to win.  But, the important thing for me was the presence of some pace figures in the 88-92 range.  These are comparable to the favorite Kauai Katie.  These Pace Figures suggested there were two horses that could give the favorite a serious challenge in the early stages of the race.  And my reasoning was that if their trainers thought like I did about Kauai Katie being a "need to lead" horse, they were not going to concede anything to her.
Here is the video replay of the race on July 27:

Well, everything up to the final 100 yards went exactly as expected.  I had not seen Lighthouse Bay as a serious win threat.  Fortunately for me, her trainer George Weaver is one I follow closely, and I played her in a "Saver" Pick-3 bet that ended up cashing out nicely two races later.  I'll save that part of the story for a future article on "Saver" plays.
One footnote to this story, since the race had only 7 horses, a LOT of money was bet on Kauai Katie to Show, creating what is called a minus Show pool.  When she ran off the board, it created some big Show prices.  The three horses finishing in-the-money paid $27, $9.70, and $17.80 to Show.  There was an individual next to me at the track who must have had similar thoughts on Kauai Katie, as he bet $10 to Show on the other six horses in the race.  His $60 investment returned $273.  Just goes to show; there are "so many ways" to approach a race!
---
Modeled after European style turf courses, come visit the only one of its kind in North America. The author had a truly enjoyable visit to this unique race course last year. Click here to read more about that adventure.
Saturday, September 13, 2014 will have four Stakes Races, including the Grade 3 Kentucky Turf Cup worth $600,000.
---