Throwout Races – The Art Of Putting A Line Through A Race
In a prior article introducing the topic of Form, we mentioned two subtopics called "Throwout Races" and "Hidden Form."  The focus of this post will be to delve into both of these topics in much greater detail, and provide a high profile race as an example.  That race happens to be the 2013 Belmont Stakes, won by Palace Malice.
If you recall in our introduction on Form, we provided a quote from Tom Ainsle, that says for every bet lost due to errors in judgment on factors such as class, age, or distance … you will lose two due to misreading the condition (form) factor.  I can say that on the 2013 Belmont Stakes this was absolutely true for me.  Of course hindsight is 20/20, but  looking back at what I missed,  I can clearly see that I did a poor job assessing the hidden form in Palace Malice's past performances.  Specifically, by not putting a line through 2 out of his last 3 races and underestimating his good form in workouts and on-track performances at five different racetracks.
Let's look at the PPs for Palace Malice without any markings.  For a clearer view, you can click on the image below. A new tab will open with PPs shown in an expanded format.


At first glance, the recent Form for this horse is questionable.  He finished 12th in the Kentucky Derby, and three races back he was 7th in the Louisiana Derby.  From a Beyer Figure standpoint, these two races were the lowest in his career.  Without further inspection, giving him low marks on Form is reasonable.  But now let's dig a little deeper.  The PPs below were changed to merge workouts into the races, and I've added numbered (and colored) comments for further discussion.


Blinkers OFF indicates that a horse that wore blinkers in their last race has them now removed for this race.  Blinkers will frequently keep a horse more attentive in a race early, and in the Kentucky Derby that worked against Palace Malice as he tired after setting a very fast early pace.  Notice that this was the only race he ever wore blinkers.  The absence of a "b" in the other races tells us that.

Since his last race, he has had three solid workouts over the Belmont main track, including the May 19 workout over the training track.  If you recall from our last post, works over these are intended to build stamina.  From these works, it's reasonable to think his form is good and the Kentucky Derby was an aberration.

In the Lousiana Derby, there is a comment stating "Stymied 5/16 to 1/8".  A review of the full racing chart (

click hear to read an article on result charts and how you can access them

) describes the trip as "Made a strong middle move, moved closer while off the rail on the far turn, waited while blocked from the 5/16 pole to inside the furlong marker, had a bunch of rivals pass him in the process, moved to the outside and lost any chance."
Given this information, it's reasonable to assume that Palace Malice is in possession of "hidden form" and could very well perform better than recent races suggest.  Let's mark up the PPs one last time taking into account this information.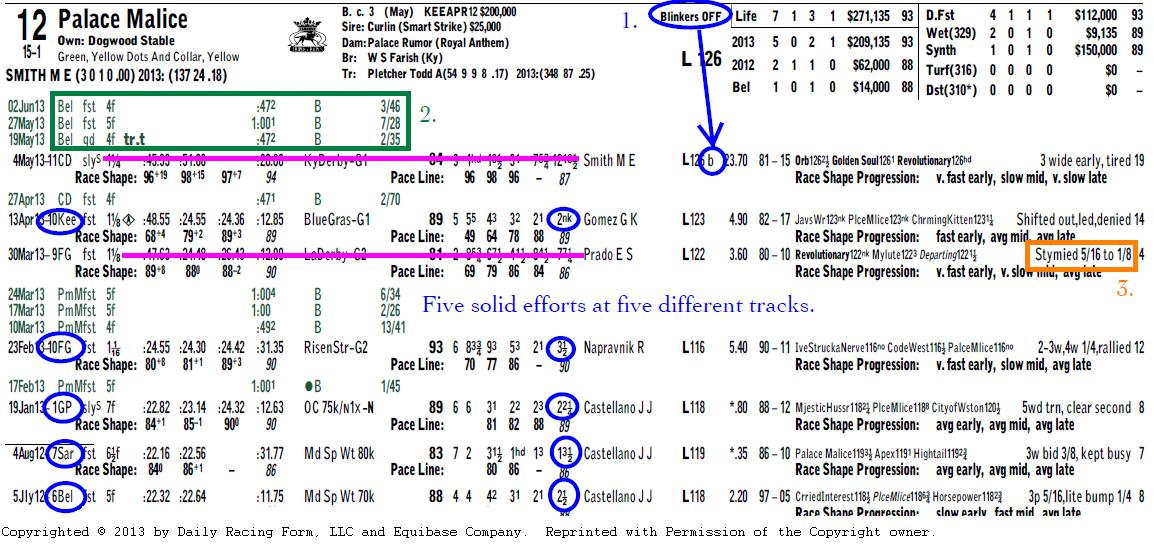 Now you will notice the addition of two Pink lines.  These lines indicate a "Throwout" races, meaning that due to circumstances uncovered above, I should forgive (and forget) a bad performance.  After making that addition, it now becomes more apparent that Palace Malice has really never had a "bad" race.  In fact, what's even more impressive is that he has had five good efforts at five completely different race tracks, with those results circled in blue.  The effect of putting a line through Throwout races is to uncover the Hidden Form exhibited by a horse.
In concluding this article, I want to make it clear that I did not pick Palace Malice in the 2013 Belmont Stakes.  But, upon reflection, I can see where I made my mistakes … and Mr. Ainsle was correct in his caution about Form evaluations.  Which is why, the decision to put a line through a race is an Art that can payoff handsomely in the end.
---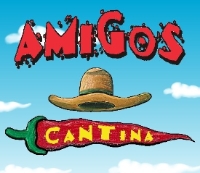 This article sponsored by Amigo's Cantina (one of the author's favorite restaurants in the Saratoga area)
TACO TUESDAY SPECIAL: Two Tacos Rice Beans, $8.99
Wednesday and Thursday Special (at the bar only): "The Bar Burrito" – A mini version of our massive burrito, served at the bar. $8.99 includes rice and beans. No coupons required, just mention this Ad.
Amigo's Address: 42 Ferry Street, Schuylerville, NY 12871
Telephone: 518.695-9595 (Reservations Recommended)
---