Meet Maggie Wolfendale – In The Saratoga Paddock
On a hot summer day, Maggie Wolfendale was generous enough to grant me an interview while she was at work in the paddock in Saratoga.  First, for those of you that don't know her, Maggie is the Paddock Analyst for NYRA.  Her job is to assess the physical attributes of each horse in a race, and then report to the betting public what she sees (both good and bad).
I suggested to Maggie that she has become a "rock star" to eager listeners in the crowd.  My wife and daughter are both fans, and will hush people around them when Maggie comes on the air.  I talk, and they roll their eyes.  Maggie talks, and they listen.
From my perspective, Maggie brings a unique dimension to racing that is unmatched by any other racing circuit.  Every track has public handicappers that read the Daily Racing Form and provide analysis and selections based upon the printed form, video race replays, etc.  But what they are looking at is based on the past.  Maggie sizes up the horses today … 15 minutes before they are going to run.
Another thing she does is compare how a horse looks today versus the last time she saw them in the flesh, and if there are any differences (again good or bad) she reports that to the crowd.
We had the following dialogue over the course of several races in the paddock at Saratoga.
Where does your knowledge of horse physicality come from?
Growing up in my dad's barn. (He's a trainer on the Maryland circuit). Before I could walk I was in the tack room.  My mom was his right hand man (woman).  She galloped with him the whole time and she ran the shed row with him.  The first horse I got on was when I was two, when I got my own pony.  I grew up doing the show stuff.  My dad's a great horseman.  It was a lot of watching and learning from him.  And my mom's great, she knows a lot too.  They're 2nd generation and I'm now 3rd generation, so horses are really deep rooted in my family.
How did you end up at NYRA (New York Racing Association)?
I got my assistant trainer's license, and then trainer's license.  Then I went to community college and I figured out I wanted to head towards public relations and broadcasting.  After community college I went to Towson University to focus on those two things.
After graduating I worked the Maryland Jockey Club.  I did the Pimlico meet.  I did two years at Colonial Downs in 2009 and 2010.  In '09 I made up a tape and resume and sent it out to every racetrack in the country to take a shot in the dark.
NYRA was the most interested.  It was Andy Serling's brainchild, that he wanted somebody doing what I do.  I have to give Andy complete credit for coming up with this idea … meaning the dynamics of me covering the physical stuff combined with them (Andy and Jason) doing the handicapping.  I think our TV presentation is the best in the country … in that we cover all the bases.
How much dialogue do you have with Andy and Jason (the public handicappers) before the races begin?
I tell them what races I'm doing.  After I'm done in the paddock, Andy/Jason might ask me what I think about a horse they like.  At first there was some coaching going on about my overall TV presentation with Andy and John Imbriale (our boss).  That was early on, and it was about what I needed to focus on when honing my TV skills.  But, there's no meeting (dialogue) beforehand.
Can you describe your typical day in Saratoga?
This is my primary job, but I also gallop horses in the morning.  That entails getting up at 4:30am and going to the barn.  I work for my fiancee Tom Morley (Click here to read more about the trainer Tom Morley).  When he started, he was insistent that I was a part of everything.  I love that aspect of being back at the barn.  I was offered an opportunity with TVG in California, but that would be in-studio, and I wouldn't be able to do my thing in the morning.  I really love it here … hands on with the horses and interacting with the horsemen.
Then I get done between 9 and 10, go home, get changed and ready, and go to the track.  About two hours before the races start, I'm going back and watching videos.  I like to watch videos, particularly of horses I've never seen before.  Either their last race, or a race with the same kind of conditions as they're in today.
So, for example, if they're on turf today and their last race was on dirt (e.g. off-turf race), I won't watch that.  I want to see how they got over the turf and they're running style over the turf.  TV doesn't give a horse justice physically, but at least you can watch their movement.  You can see if they were keen in the race, and think about things to look for today in the paddock.
What do you think of the "rock star" status?
You do have to earn a reputation.  You have to make good calls.
On that topic, how do you deal with the pressure of making such public comments?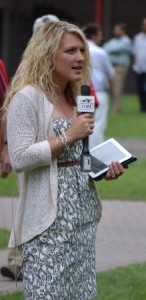 It's tough. I guess just being fairly confident in yourself and having that build over time. I didn't have a problem with being negative about a horse from the get-go. But I did have a lot of trainers coming after me.
And it wasn't necessarily something I thought of as being negative, maybe a horse was claimed from them, and I said it looks like the horse is doing better this time … and they went crazy.  Some sent me very threatening e-mails, and I was scared to death (saying "I'm going to get you fired" and all this).  I was really upset, and I went to Andy crying.  He sent the e-mails to our then VP on how to handle it.
The VP said, "This is why we hired you.  Your job is to provide the betting public with your opinion based upon your knowledge.  Not to kiss anybody's backside here."  He told me not to worry, I'll handle it.  Ever since that day, and it was very early on (2010), he reinforced that mindset that I'm here for the betting public … and it's been fine since.
What are some key terms and what do they mean (e.g. "tucked up")?
The hardest part of my job is finding different ways to say the same thing.  Tucked up means fit, staunch, etc.  You want to see a horse having muscle weight in all the right areas.  For example, their shoulders, you want to see a nice big shoulder with a lot of definition.  The same thing with their hindquarters.  In their barrel and their flank to be "tucked" up.
Contrast that to "gutted up" which is not good.  You don't want to see all ribs.  You don't want to see a lot of gap between their hip bones and their flank area.
In a sprint race, you referred to a horse as being "built downhill." What does that mean?
Downhill means that the point of their hip is higher than the point of their shoulder. The favorable body type for sprinters are horses that have a large, round hind quarter and are built downhill.  Also, they tend to be shorter coupled (i.e. stocky) in their back.
When you're trying to assess a horse that hasn't been on the turf (but is today), what are you looking for?
Big hoof, angle in the pastern where the foot and ankle connect.  A lot of horses that like the turf have a lot of angle, like a 90 degree angle.  Also, a lot of lighter framed horses prefer the turf.  I'm not talking about turf sprints (e.g. 5 1/2 furlongs) that's a completely different ball game.  Also, they might be a little more narrow framed.
Turf horses usually have a lot more animation and bounce to their movement.  When you're on a horse, turf horses are more fluid and "bounce" over the surface.  A lot of horsemen will say that too.
Also, I factor in the pedigree.
Do you have things prioritized when you go into the paddock?
There are usually one, or a handful in each race that I specifically go look at.  Let's say it's coming off a layoff, or trying the turf for the first time.
But, I will look at every horse, and I will go back to my notes to see if there are any changes.  Whether it's changes for the worse or changes for the better.
How do you keep your notes (from past observations) organized?
I type them into Formulator, and then they show up the next time a horse runs.
Do you travel to other racetracks much?
Not much, I'm on the NYRA circuit.  But, I do always go to the Preakness.  When I go home for holidays, I'll go wherever they (her parents) have horses running to watch them.  Two years ago I made it to Keeneland.  It was beautiful.  Also, this past spring I went to Cheltenham in England.  That was an amazing experience and made me appreciate steeplechase racing a lot more.
Do you have any suggestions for people that are new to the sport?
Come out in the morning and watch the horses train.  You get to appreciate all of the work that goes into getting these horses to the races.  It will also teach you a little bit about what I do.
Do you make any wagers?
Not while I'm working.  Only if I visit the track on my own personal time.
—————————————
In a recent seminar, when I was asked for suggestions (aka tips) for people when they start going to the track.  I said, "If you're in New York, take a moment to listen to Maggie in the paddock.  She speaks in a language that is understandable, even to the novice.  And, you will likely find a few live bets in her analysis."
I want to thank Maggie for spending time with me, and answering my questions.  I thoroughly enjoyed my time in the paddock with her.  As a handicapper she has opened my eyes to the importance of evaluating a horse's physical presence and demeanor before the race.  And that has made me a better horseplayer.
---