Meet Christophe Clement – A Truly Happy Man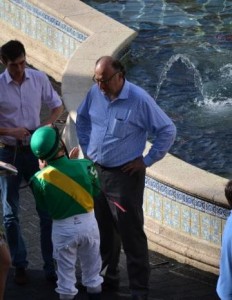 On Saturday, June 7, Christophe Clement will start a horse named Tonalist in the Belmont Stakes.  A horse with only four starts, but considered by many to be the main threat to upset California Chrome's pursuit of the Triple Crown.  Back in January, over the course of two days, I spent several hours with Christophe and his stable of horses at Payson Park, including Tonalist, who would break his maiden in convincing style at Gulfstream Park less than two weeks after my visit. The following is the original interview, in it's entirety.
Every now and then you meet someone who is truly happy … truly.  And, when that happens, I find it inspiring.  For one, it inspires me to pursue those things in life that make me truly happy.  Secondly, to realize that happiness might not be as elusive as others would have you believe.  It's out there.  It's possible.  And if you listen closely, Christophe Clement is telling us how to find it.
After greeting us at his office, he offered my wife and me a tour of the grounds.  He explained that the best advice he ever got in the business was to bring his horses to Payson Park twenty years ago, and he's been doing it ever since.
"It's great here, because every morning I can train all of my horses. In the afternoon I can feed all of my horses.  I really enjoy that.  And, there is no schedule. You don't have to be off the track at 10:00 because they have racing that day.  Here, the track is closed when the last horse comes in."
He showed us the one mile dirt track, explaining that it has a very good cushion, resulting in less training injuries. Also, it is a very wide track, which makes it safer as well.  He explained that it is a slower surface, where a 49 second workout for a half mile is a nice work.  There is a six-horse starting gate allowing for practice out of the gate.  And there is an attractive stand for owners to watch their horses when they come to visit.
In addition to the dirt track, there is a turf course, and over five miles of galloping trails.  Mr. Clement explained that he has a horse right now that is very anxious and difficult to train, so he takes him out on the trails to help him relax.  He says, "It's yet another tool in my training here."
I asked him to tell us more about his stable of horses.
"I've got three barns here, with 66 horses.  That's it; I don't have a 2nd string.  All of my horses are here in the winter.  When we go back to New York in the spring, I can't have them all at Belmont, so I keep 36 at Belmont, and 30 at Saratoga.  Then when we go to Saratoga, I reverse them.  Some people like to have more horses, but sixty to seventy is a great number for me."
During the course of our tour, Mr. Clement emphasized the serenity of Payson Park; pointing out the beautiful grounds, unique flora, flocks of cranes, and even a baby alligator tucked down in a little pond.  He said, "This is like the Discovery Channel."
"I love New York.  I adore Belmont Park.  It's great to be in New York, with the intensity of the racing and the life there. But, then I come here for the winter, where it's a quieter type of life.  It works well for me.  I'm a very lucky guy."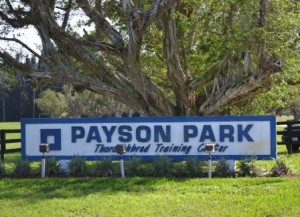 I lost count of the number of times that Mr. Clement described himself as a "very lucky guy."  In another exchange he said, "I train for the most amazing owners, which is wonderful. And, my staff has been with me forever.  I can't succeed without the owners and the staff.  I'm a very lucky guy."
As we wrapped up our tour of Payson Park, Mr. Clement said "There are just more options here. I can train on dirt or turf, race them at Gulfstream Park, or turn my horses out on the trails.  And, it's really quiet here – which is another reason I like it.  Nobody bothers me.  My wife and children take care of the communications (Website, Facebook, Twitter, etc.).  I can just train horses and wake up thinking about what I can do to win a race."
After our tour, we were invited into Mr. Clement's office to discuss more about his particular approach to training horses and his outlook on the fan and owner experience at the races.  It all started with the following comment:
"Nothing keeps you as humble as horses."
---
So, how do you prepare for the ups and downs of this business?
I'm a bit different than most people.  Of course I want to win races.  But you have to be realistic.  As long as a horse tries hard and comes back in good order then that satisfies me.  Winning is the icing on the cake.  I tell my owners there is the social side of things.  It should be fun.  Even if you finish 2nd or 3rd, it's ok if the horse is competitive.  You can't win all of the time.
Unfortunately, there are too many people who want to win and nothing else.  But that's not realistic in racing.  I don't want to sell a lie.  If you're winning at 20-25% of the time you're doing well.  But it should be more than just winning.  You can take a group of friends to the races, finish 3rd in a race and have a good time.  It should be fun.  You have to enjoy that side of things.  And, we're doing it less and less, which is a mistake I think.
Is that more unique to North America as compared to Europe?
A little bit.  In general it's more to do with the youngest owners.  It's great to win, but you have to be realistic.  75% of the time you get beat, but you can still have an enjoyable experience.
As a trainer with 20+ years of experience, what piece of advice would you give to a young trainer just starting out in the business?
Don't worry about the big horse to start with.  Just try to get as many winners as you can.  I'm not sure I'd go to Belmont Park to start training.  I'd probably go to a lesser track.   Belmont is tough.  You have to compete against Bill Mott, Shug McGaughey, Todd Pletcher.  You don't have an easy race in New York.  I'm lucky because I have horses that can compete there.  But, if you're a younger trainer it's probably best to train at a lesser track where it's easier to win.
Do you ship horses to Kentucky?
Yes, in the Spring and Fall.
What do you think about racing on the Synthetic at Keeneland?
I'm fine with it.  There's not one magical recipe.  Everything is good.  It's sad when you think about it.  A place like Belmont Park should have all three.  The dirt, turf, and Poly (Synthetic) track.  Whenever a race comes off the turf, they can race on the Poly.  The amount of money that we lose in the Fall and Spring from races off the turf … it's a lot.  When you've seen what they've done in Europe with much smaller tracks than Belmont Park.  If they can get it right, why can't Belmont?
Polytrack is a very safe track.  It's a question of maintenance.  It has to be maintained every year to keep it in top shape.  But, the Polytrack is not the answer to all of the problems.
As a fan, when I go to Kentucky in the Fall and Spring, I appreciate the Synthetic surface at Keeneland.  If they have a bad spell of weather, at least the horses still run on the Synthetic and there aren't a bunch of 5-horse fields due to scratches off the turf.
Exactly.  People have a very short memory.  Keeneland used to have a dirt race track.  And it was a very tough track when it was wet.  It was very hard on horses.  I know, I trained at Keeneland.  And, with the meet being in the Spring and Fall … it was usually a wet season.  It makes a lot of sense to be a Polytrack.
In California it was wrong to have tried making everything Poly.  They could have had the main track dirt and the training track Poly.  Give the trainer a choice.  You should always have a choice.
I read that when you came over here, at first you worked for Shug (McGaughey). What was that like?
I worked for a year with Shug when I first came over from France.  After that I went over to England for 4 years as an assistant.  I worked with Shug when I was very young.  I'm very grateful to his assistant Buzzy Tenney.  It was wonderful, because he was patient enough to teach me.  He is a great guy.  I was a bit wilder when I was that age!
After studying your statistics last night, I found you are quite consistent from year-to-year over the past five years. You have a 20% win and 55% In-The-Money record every single year.  But, what I found remarkable is that it's the same in nearly every category: Turf, Dirt, Synthetic, Sprints, Routes, First-Time-Starters, and Stakes races.
You need to tell that to my owners.  Because I've been labeled as a turf trainer, and they tend to send me more turf meant horses.  But, with a good dirt horse you've got a wider choice of races.  Billy Mott told me a long time ago, when I complained of being labeled as a turf trainer, he said "It's better to be labeled as something rather than nothing."  So, I don't complain much now.
I'm very comfortable training from 5 furlongs up to a mile and half on dirt or turf.  But, obviously I can only train what my owners send me to train.  And most of the horses have been meant for the turf.  You must be very consistent in your approach to all types of horses and situations.  That's the way it should be. You apply the same amount of attention to all types of horses.
What is your approach to First Time Starters?
I used to be part of the old school, where you think horses need a race for a better performance.  But, in today's world, I actually think you have to reach a certain level of fitness before you run.  If you are not fit enough, instead of the race moving you up, sometimes the race can bring you down.  So, you have to be careful.  Without a doubt, I'm more aggressive today than I was years ago.
Is it exciting when you get a new horse?
Yes. You've got the dream.  After a week or ten days, we always have a gut feeling about things.  Always.  Most of the time, most trainers are right about their gut feeling.
How quickly are you able to size up, sprinter, router, turf, dirt?
You don't know that until you work them, you have to breeze them a few times before you get that idea.  With the time, a few breezes, and the pedigree you have a pretty good idea.
You have not claimed a horse in 5 years.  Why?
I haven't claimed a horse in 22 years.  I don't really have to with the type of owners I have.  I probably get along with more trainers because of that, because they don't have to worry about me.  Being a claiming trainer you have to take time to study other horses and look at other horses.  And, that takes time away from training the horses you have.  If you want to do it right, it's very time consuming.
My website places special emphasis on fans that are new to the sport. Do you have anything to say to them?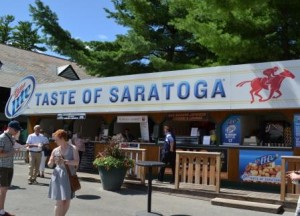 First of all, NYRA has improved dramatically the fan experience from what it was ten years ago, especially Saratoga.  More things are done for the fans.  The food is better for example.  With that said, I was devastated when I heard NYRA is going to raise the admission fee at the track.   Maybe you can raise it at Saratoga, but make it free at Belmont Park and Aqueduct.
When you come to Gulfstream in the winter you see that Mr. Stronach and his group got it right.  It is very fan friendly.  All tracks have to be fan friendly.
As a fan myself, I have to say it can be depressing to go to a nice track like Belmont Park, and have so few people in attendance.  Any thoughts on why that is?
That's annoying, because it's the most beautiful race track.  It has great racing, great owners, great trainers.  You should have a great time when you go there.  There are 15 million people who live less than an hour away.  It's amazing we can't get more people at the track.  When you look at racing and other sports in the 1960s compared to today, all the other sports took off, but not racing.  We have so many geniuses on all of these boards, they need to come up with something.  Why can't we get some of these young kids to come to the racetrack?  We need to make it fun for them.  I'm just a horse trainer, I'm not smart enough to know the answers, but I know we can do better.  We have to be unified in what we do.  We need to get it right. The future of horse racing depends on it.
As a trainer, I try to maximize my owner's experience.  But the racetrack could help more.
Also, why don't we think more about partnerships?  In Australia they are way ahead of us in partnerships with very small shares.  You get into a cab in Melbourne, and the cab driver is liable to tell you about the horse he's got running in a race today.  We need to be more creative in getting people involved and having fun as a fan and owners.
In a country where you've got the most amazing casinos and entertainment facilities like Disneyworld, why don't we send our managers to Disney and learn how to be more fan friendly?  We need to invest money like other companies to do this.  And, in the facilities.  Instead of just trying to keep it the same every year, we should be trying to improve it.  You don't look at a baseball or football game the same way you did 40 years ago.  Same camera angles, same TVs.  If you want to attract people twenty years old, then you have to make it more vibrant.
There are a lot of great things in the States.  Great horses, great owners, great trainers.  But, it could be so much better.  Everybody needs to work together, to try to move up, to make it better.  Maximize the fan experience, maximize the owner experience.
---
Christophe Clement is a man who is truly happy doing what he does for a living.  And, he feels like a lucky guy.  But, sometimes you have to make your luck too.  And after spending some time with him, it was obvious to me that he has done exactly that in his career.  Hard work, attention to detail, fairness, consistency, a positive attitude … all of these things attract good owners, keep staff loyal, and make a trainer successful.
For more information about Christophe Clement and his racing stable; including Bios, a Photo Gallery, and Monthly Newsletter, visit his website at www.clementracingstable.com.
---