Kentucky Derby Memories – 1991 Go Best Pal. Go!
It was 1991, but I remember everything like it was yesterday. My first visit to a mecca of horse racing, Churchill Downs … and the Kentucky Derby.  My wife Deb was 5 months pregnant with our son, Michael. But, that didn't slow her down one bit. Up every morning at the crack of dawn, and we were off … Off to the breeding farms, off to the race track, off to creating some of the fondest horse racing memories of my life.
Every day was filled with sunshine and temperatures in the 70's. I don't recall one drop of rain falling during the entire week. Our first stop was Three Chimneys Farm, where we were allowed to have our picture taken with two stallions. My choice was simple, Triple Crown winner Seattle Slew and Slew O' Gold (one of my personal favorites).
Our arrival at Three Chimneys Farm happened to coincide with a mating session between the sire Rahy and an unknown mare. This was an unexpected "bonus" and just a bit uncomfortable for Deb at the start.  But, she made it through, and in the process we learned about the horse with the worst possible job on the farm.  Maybe the worst possible job anywhere.  He's referred to as The Teaser.
The Teaser is a stallion given the job of "preparing" the mare for mating. He's a good natured sort, who can be trusted to make the mare feel comfortable, so to speak. This is all done to protect the high-priced stallions, and I guess not to waste their valuable time. Well, after the Teaser has made the mare feel warm and cozy, he is given the hook … and Mr. Stallion comes in to finish the task at hand. The Teaser is then led back to his stall, and awaits his next courtship. Tough job.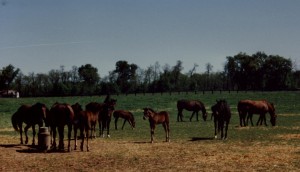 During our travels to and from the breeding farms, we were able to see some great views of Momma horses and their foals in the fields.
The foals tend to stick pretty close to their mothers, but I was really taken by this one foal to the right who seemed destined to be in the winner's circle some day. If you click on the image you'll see that some of the other horses were also looking at him like he's something special.
We also visited the Kentucky Derby Museum, which has the best horse racing video presentation I've ever seen.  It was presented on a full-room circular screen, and is filled with glorious sights and sounds of Derbies past. I went back to the museum this year, and saw an updated version of the film.  It remains a first-class film, with so many stunning sights of not only past Derbies, but everything that leads up to the race; colorful crowds, aerial shots, and fans flocking into the racetrack.
The video is loaded with the voices of legendary horsemen, owners, and jockeys.  The comments from Laffit Pincay were so moving they brought tears to my eyes.
You hear about the Kentucky Derby. You hear that it's the greatest race in the world. It's a fantasy. If you ask anybody who hasn't won the Derby … what would you like to do best? I guarantee you they will say to win the Kentucky Derby. Oh yes.

I usually pray before I go to the track, and I ask God to keep me safe. But I remember then, I said "God, I never ask you to help me win any race before. But, if you can give me today, I really push … I really appreciate it."

– Laffit Pincay
Witnessing the Kentucky Derby Museum video is a must-do for any horse racing fan.
As far as my on-track experiences went, it was more successful than I could ever have imagined. I managed to turn a profit each day we went to Churchill Downs, and overall for the week I earned enough money to pay for the expenses of our trip.
But the highlight of the trip was definitely the experience of witnessing the Kentucky Derby live. I managed to get several pictures of contenders in the paddock, including the eventual winner, Strike The Gold (with Chris Antley up).
My personal selection in the Derby was a California horse named Best Pal, ridden by Gary Stevens. My main play was going to be a solid Win-Place bet on him, and then a few exotic bets keying him with some other horses. About 5 minutes before post time, a fellow I'd been conversing with during the day said to me, "Hey, check out the Show pool on your horse. I think he'll pay nearly as much to Show as Place." So at the last minute, I made a Show bet equal to my Win-Place wagers.
I've included a link to the video replay of the 1991 Kentucky Derby below:
From where I was sitting, I could see that Best Pal was caught in behind some horses entering the stretch. I kept waiting for him to get an opening. When he finally came through on the rail, my heart was pounding harder than it ever has in my life. I was screaming "Go Best Pal. Go!" But, Strike The Gold had clear sailing down the center of the track and beat him home. I've never been so excited about anything in my life as I was during the stretch run of that race. I still get tears in my eyes recalling the moment.
And to finish the story, Best Pal paid $6.40 to Place and $5.40 to Show. The next morning I returned to Churchill Downs, just so I could feel it all one more time … and shout "Go Best Pal. Go!"
---