Follow A Firster – Storming Rome (Debuting Oct. 2 for Michelle Nihei)
The third horse in our "Follow A Firster" series is a 2-year horse named Storming Rome who is trained by Michelle Nihei. We first met Michelle in January 2014, and later published an extended interview with her. In fact, it was Michelle who provided the genesis for doing this series when she said, "Racing is about horses and the stories behind the faces of the horses are really cool." Click here to read our interview with Michelle.
Back in July, Michelle singled out Storming Rome as a horse we might want to write an article about. At the time, she introduced me to the managers (Steve Komp and Matt Pappis) of the partnership that owns Storming Rome. Turns out that Storming Rome will be the first horse to run for their partnership, Whodoyoulike Stables. Both Steve and Matt had been involved in ownership with different partnerships in the past and recently decided it was time to start their own.
Storming Rome was bred by Dan and Kathy Barraclough at Saratoga Glen Farm. Dan, Kathy, Steve, and Matt had previously been involved in a pinhooking partnership and Steve had developed a high regard for Dan's eye for horses. After learning that Dan was willing to sell the horse in a private sale, Steve decided to make Storming Rome his first purchase for the new stable. Steve explained his reasoning:
"His sire is Corinthian and the dam is Procellous, who is one of the few dams by Smarty Jones. I looked at him, loved what I saw, and I loved the breeding. A lot of people were cold on Corinthian, I wasn't. I just thought his offspring were the type that if you pushed too early, you're going to have problems."
Steve continued, "I had some people I knew that were in previous partnerships and wanted to buy in when I found something. We stressed patience, and said we're not going to push him as a 2-year old. It only took about two weeks to raise the money."
Steve went on to explain that after the purchase, Storming Rome was sent to Pick View Farm in Ocala, Florida to be broken and during this time he kept receiving good reports from the farm manager Joe Pickerrell. While the optimism was encouraging, Steve said, "We knew there was still a long way to go."
On June 1st, Storming Rome was sent to Saratoga where Michelle Nihei took over the reins. As planned, everyone was very patient with the new charge. Unfortunately, just as things were moving forward, they had to take a step back when Michelle noticed that the horse's shins were a bit warm.  Steve described the condition, "They weren't bucked shins, but they were getting warm. Michelle suggested getting a periosteal scraping of the bone. So, we did that, and following the procedure the proper care is walking for ten days, jogging for ten days, and then ten days of galloping to get him back to the place he was before the warm shins."
After his return to training, Storming Rome had three official workouts, and his official workout tab appears below: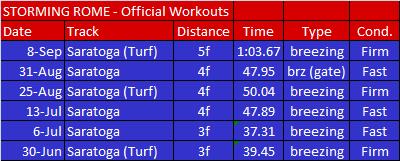 For his turf workout on September 8th, I was present to capture a few photos and discuss the plans for Storming Rome to make his debut at the Belmont Fall meet. The workout was held on the Oklahoma turf course with dogs (cones) set extremely wide, about 30 feet out. Michelle explained, "It's always hard to know how to pace things when the dogs are that far out and you have to find your way around good ground. The circumference of the turn changes everything when the cones are out so wide."
Apparently the turf around the final turn was quite "cut up" and exercise rider Kathy Barraclough (yes the breeder) commented, "It was horrible around that turn. I was asking him to keep accelerating until I came to the turn and then I just steadied to find good ground. I was just trying to get square and go on top of it."
So despite the workout being in less than ideal circumstances, the decision was made to go forward with the debut race on the turf.  Michelle explained, "He's had the schooling that he needs to have, but of course race situations are a whole new ball game. It looks like he's fit enough to do it and he's got all of the prerequisites handled."
I asked Steve if he had any additional comments about Storming Rome. He offered the following, "We feel confident he can handle both dirt and turf, but he's definitely a router, so we needed distance with him. At this point of the year, all the 2-year old races on dirt are going short and since he needs the longer ground, we're starting out on the turf. Michelle says the horse is where he needs to be mentally, and physically he's outstanding. At every point he has been a true professional. Not much bothers this horse."
Looking beyond this race, I asked Steve what he sees in the future for Storming Rome. He replied, "During his two and 3-year old campaign, we'll let him tell us where we are, and I think his best years are going to be at four. If we can get him to that point I think we'll be in good shape."
So, on Thursday, October 2, Storming Rome will make his debut in the 6th race at Belmont Park, going 11/16 mile (8.5 furlongs) on the turf in a New York Bred Maiden race. I asked Steve if he could describe what it will feel like moments before the race. He replied, "I used to play high school and collegiate track and field, and I liken it to that experience. You start to get the butterflies in your stomach, you're getting jazzed up, and you're ready and excited. I get that same exact feeling when one of my horses runs."
Good luck to Michelle Nihei, the partners of Whodoyoulike Stables, and most of all … Storming Rome
Footnote:  Storming Rome had a final workout on the dirt on 9/24, going 4 furlongs in 50.1 seconds.  Steve Komp described it as, "A nice maintenance work and he was well within himself."
---
---