Pace Lessons from Aqueduct – Uncontested Leads Are Hard To Overcome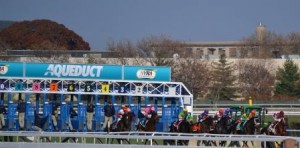 I went down to Aqueduct on April 5,2014 with a couple of racing buddies to witness the Wood Memorial and a couple of other quality stakes races.  Among those were the 9-Furlong Gazelle Stakes for 3-year old fillies and the 7-Furlong Carter Handicap for 3-year olds and up.  Both race outcomes were a reminder of a fundamental tenet in horse racing – uncontested leads are hard to overcome – regardless of the distance.
In the Gazelle Stakes, My Miss Sophia was the 4-5 betting favorite.  Prior to this race, she had only two career races, both maiden races; one at 5.5 furlongs and the last at 8 furlongs.  So, today she's going an extra furlong and she's facing much more experienced horses, including three that have run and placed in multiple Graded Stakes races.  But she has something that none of her rivals have shown in their prior races … the ability to break sharply and position herself on the lead. This capability can result in what handicappers often refer to as an "uncontested lead." Below is the video replay of the race, it won't take more than a second to see which number is My Miss Sophia, as she bursts from the gate and goes right to the lead.
During the race call, Tom Durkin commented how My Miss Sophia ran the "first quarter in a reasonable 24 1/5 second" and at the halfway point he added that she "is sailing along here."  In the stretch he says, "She's got another gear, plenty left for the final furlong here."  So, despite making her first start at a longer distance she prevailed comfortably.  Also of interest, in the prior eight races on April 5, only one other horse had led from gate to wire for the win.  Overall, the track seemed to be playing very fair to all running styles. This will come into play in our next example, The Carter Handicap.
---
After the Gazelle Stakes, the Wood Memorial was run as the 10th race.  Like the majority of preceding races, it was won by a horse coming from off-the-pace.  So, up to this point, the only race that had been won gate-to-wire was the Gazelle Stakes.
Looking at the Past Performances for horses in the Carter Handicap, there were only two horses with solid speed out of the gate, and one Dads Caps had tired late to finish second at 6-furlongs in his last three races.  The Carter Handicap is a 7-furlong race.   So, on the surface, it was easy to understand why he was being dismissed by the public at odds of 10-1.  If he couldn't last at 6-furlongs, how would he last going longer?  Before watching the replay of the race, let's consider the fractional times for Dads Caps in his last four races, all at Aqueduct.
| Date | 2-Furlongs | 4-Furlongs |
| --- | --- | --- |
| March 1, 2014 | :22.56 | :45.23 |
| February 1, 2014 | :22.97 | :45.50 |
| December 13, 2013 | :22.99 | :46.38 |
| November 16, 2013 | :22.36 | :44.83 |
All first quarter times were less than 23 seconds, and only one half mile time exceeded 46 seconds. Now lets watch the race and listen closely to Tom Durkin's call. Also, as your're watching the race, note the fractional times displayed at the top of the video. Dads Caps is #4.
Tom Durkin clues us in early that Dads Cap is getting away with an easy lead when he says, "Not a particularly fast pace has been established."  Then he adds, "Well within the capability of these Grade 1 horses a :232 opening quarter mile."  And, at the conclusion of the race he sums everything up by saying, "That soft quarter mile perhaps played a strong hand in the outcome here."
So, how did Luis Contreras get away with such a slow pace?  There were probably multiple factors at play here.
Despite being a field loaded with talented runners, only Strapping Groom (#5) had shown a tendency to press an early pace. The other contenders were usually content to lay back and make their runs late.
Strapping Groom was positioned outside of Dads Caps, and his jockey Irad Ortiz likely figured he'd sit off the speed horse (Dads Caps) and when he started to tire, he'd be in a perfect position to pounce.  So, no need to press the pace too early or too fast.
The track had been playing fair, meaning there was very little speed bias. The other jockeys probably figured that the top two would eventually back up to their horses in the stretch. You can see in the replay that no jockey pushed his horse early. Remember, only one race in ten preceding races had been won gate-to-wire.
But, in the end, Luis Contreras and Dads Caps fooled them all.  Once again, demonstrating that a horse that gets away with a slow pace, on an uncontested lead, can be very hard to overcome … even when they are going further distances than their previous races.
---
Click here to read a prior article that explains the fundamentals of Pace Handicapping, including examples from the Daily Racing Form utilizing Moss Pace Figures.
---