Why Horse Racing?
Every now and then I find myself trying to answer the question, "Why am I such an avid fan of horse racing?"
It's not about the gambling.  There are dozens of ways to gamble.  Casino games, poker, bingo, professional sports, lottery tickets, etc.  And other than the occasional home poker game, I currently partake in none of these.
It's not that I'm a sports fanatic.  I used to follow professional baseball, basketball, and football.  Baseball I left behind about 25 years ago.  Basketball was cut out 15 years ago.  And, after 17 years of subscribing to NFL Sunday Ticket, I cancelled it this past year.  Horse racing is now the only sport that I follow on a regular basis.
What turned me off to other professional sports are two things; money and attitude.  The athletes earn far too much money, at far too young an age.  The windfall earnings result in player attitudes that are self-indulgent and increasingly difficult to watch.  Football players make a simple tackle and then proceed to dance, prance, and strut around the field while thumping their chest.  I often wonder what Vince Lombardi would say had he lived to witness today's professional football player.
Contrast this attitude to actions and comments of participants in horse racing.  Following a winning effort, jockeys will almost always cite the horse, trainer, and owner as the main reasons why a horse won the race.  Listen to trainers; they will credit the jockey for a superlative ride.  And the owners nine times out of ten will point out what a incredible job the trainer did getting the horse ready for his winning effort.
Of course, what I'm describing isn't what happens all the time, in every situation.  But, watch enough horse racing and you will find it to be far more the rule than the exception.  So, I ask myself again, "Why?"
Sir Winston Churchill said, "Success is going from failure to failure without loss of enthusiasm."  Of course failure is omnipresent in all major sports.  But, a failure in horse racing can result in the loss of life for both human and equine athlete.  Maybe that fact alone keeps winning in perspective.  But, I do think there's more to it than that.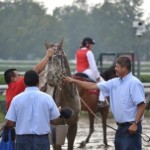 For every major winning trainer, there are a dozen toiling away every day … trying to figure out how they're going to make their next payroll.  For every brilliantly successful jockey, there are at least a dozen hoping and praying to get a live mount in the next day's races.  For every smiling owner leading his charge into the winners circle a record number of times, there are hundreds who write off losses year after year in hopes of landing the big horse someday.
Clearly obscene wealth is not the primary motivation for many people involved in the horse racing business.  So, what's left?  Passion for their work, love of the animals, the thrill of the race, and dreams of getting a picture in the winner's circle.  In professional sports, horse racing might offer the last vestige of these qualities in its participants.
On a personal level, a major difference between horse racing and other major sports is that a fan attending a day of racing is more than a spectator.  A horseplayer not only watches a race, but also analyzes, predicts, and wagers on the event.  A horseplayer has some skin in the game, and a vested interest on the outcome.  If they solve the puzzle of the race, they are personally rewarded.  This is akin to an investor studying the background and habits of a publicly held company and being rewarded when their predictions turn out to be correct.
I suppose my final answer to the question of "Why?" is quite simply, look at the view.  There are very few things more majestic than a horse fully extended in an effort to win a race.  Win or lose, I find myself humbled by their determination and effort.
---