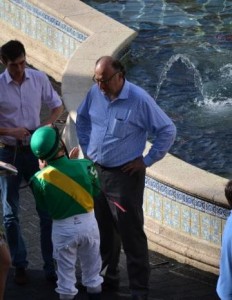 On Saturday, June 7, Christophe Clement will start a horse named Tonalist in the Belmont Stakes.  A horse with only four starts, but considered by many to be the main threat to upset California Chrome's pursuit of the Triple Crown.  Back in January, over the course of two days, I spent several hours with Christophe and his stable of horses at Payson Park, including Tonalist, who would break his maiden in convincing style at Gulfstream Park less than two weeks after my visit. The following is the original interview, in it's entirety.
Every now and then you meet someone who is truly happy … truly.  And, when that happens, I find it inspiring.  For one, it inspires me to pursue those things in life that make me truly happy.  Secondly, to realize that happiness might not be as elusive as others would have you believe.  It's out there.  It's possible.  And if you listen closely, Christophe Clement is telling us how to find it.
After greeting us at his office, he offered my wife and me a tour of the grounds.  He explained that the best advice he ever got in the business was to bring his horses to Payson Park twenty years ago, and he's been doing it ever since.