Meet Ian Wilkes – You Make Your Own Luck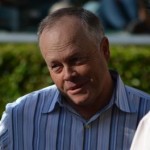 I recently sat down with Ian Wilkes, the trainer of 2012 Breeders' Cup Classic winner Fort Larned. Ian told me that "Fort Larned took me to places I'd dreamed of going." But to get to those places, Ian Wilkes had to learn from some mistakes first. And during the course of our conversation, I discovered that Ian is very willing to share his mistakes and the lessons he learned along the way. He explained, "You're never too proud to say that you screwed up. Successful people always make mistakes in life and learn from them. Just don't keep making the same ones over again."

Ian grew up in Australia and at an early age he left school to become a strapper, which is like a horse groom in America, but with more responsibility. Ian explained, "My first day on the job I was leading two horses across a 6-lane highway down to the racetrack. In Australia you do everything. It's not like in the States where you have exercise riders, grooms, hotwalkers, etc. I think you get more horsemanship when you have to clean the stall, wash the horse, ride the horse … you learn a lot from taking care of the horse."
There was only one problem at this point for Ian – he only knew how to ride a horse to a trot. So, when he found out that a job working for Colin Hayes in South Australia required riding skills, Ian said, "Sure, I can ride." He was quickly put to the test. "So they put me on a horse called Canterbury Ridge … and they put me in company. He took a bit of a hold, but I held on … I galloped him. And I thought, see I can ride, I'm fine." Ian explained one of his fundamental tenets in life, "I always believe if you really want to do something, then you can do it. You make your own luck."
While working for Colin, Ian met a person that worked for Carl Nafzger in America. Through them he contacted Carl in November of 1988 and asked him for a job. Ian had to wait 6 months for a Visa and during that time he met his future wife Tracey. He told her he was going to America and asked her to come along. She agreed and in April 1989 they departed for America together.
At this same time, a 3-year old horse named Unbridled was in Carl Nafzger's barn. Ian says, "I'd only been riding about 12 months, I come here, and I'm exercising Unbridled in the mornings. He's going to the Kentucky Derby and I'm riding him." So Unbridled wins the Kentucky Derby and Ian's future is bright. Ian continued to gallop Unbridled right up to the Breeders' Cup Classic that year, and the day after he won that race … Ian, Tracey, and their first child (Shelby) were on a plane heading back to Australia. Their Visas had run out.
But not to worry, Ian had conquered America … surely he would do the same back in Australia. Well, not exactly. He says, "When I went back home, I thought I knew everything. I'd been around lots of stakes winning horses … so I'd go back and train horses, get them to run the same way. It's a piece of cake. I broke in 50 horses in a year, most of them slower than … I could have got off and run faster than them. What I didn't realize is that fast horses make a trainer look good. Slow horses make you look bad. And I didn't know anything about running a business. I mismanaged my business, and we were broke. We moved to Western Australia to live with Tracey's parents. We cooked in the fish and chips shop and I dug potatoes and mowed lawns to make a living. That's when I learned that you're never too proud to say you screwed up. It was a good learning experience and I wouldn't be here today without having done that."
After two years in Australia, Ian contacted Carl about returning to America and working for him again. He credits Tracey with this choice, saying "If Tracey didn't want to go back then I wouldn't have come. It was a big step, because we had two kids at the time. We had no family over here. It was just the two of us and our kids. But Tracey said, 'Let's go.'"
Ian and his family returned to America and he worked for Carl for the next 14 years. Ian said that Carl and his wife, Wanda were like parents to them. In 2006, Carl turned over the vast majority of his horses to Ian. Ian explained, "Carl decided to take a step back, and he gave me the recognition for training the horses. I was very fortunate. One thing that makes me proud and it tells what a great operation Carl runs … when I took over in 2006, we didn't lose an owner and we didn't miss a beat."
When asked about his approach in dealing with the ups and downs of being a head trainer, Ian said the following. "In my first job in Sydney, when I was only 16, I was working for Paul Sutherland. He told me, 'Son, let me give you some advice. In this business there is more unhappiness than happiness. So when you have a little happiness … make the most of it.' I thought he was crazy, but how true that was, and I've never forgot it. I've learned in this business, you want to have some fun. We all want to win, we're all competitive, but I like to enjoy the people working for me."
Ian went on to explain that he has a core of good riders working for him. Among those is Julian Leparoux, who Ian considers a friend as well as a "very good rider." Ian said, "The jockey is part of the team. You can't just go and get any jockey. I don't care where a rider is in the standings. It's more important that they work with you and help you develop horses. And I want them to enjoy riding for me. I don't want them to come into the paddock all nervous … because if they're uptight, thinking they have to satisfy me, they're going to try too hard. Everyone needs to be relaxed and working with you."
In the paddock, Ian tells jockeys about any strengths or weaknesses a horse might have, or he reminds them about their habits. He's confident his riders are well prepared, have looked at replays, worked or ridden the horse in the past, etc. And he does not overwhelm them with riding instructions in the paddock, saying "If I've got to tie them down with instructions … do this, do that … then maybe I don't have the right guy." In addition to Julian, his other main riders are Brian Hernandez and Chris Landeros.
Continuing with the discussion about the roller coaster nature of the business, we discussed how Ian handles bad news, and he said, "Phone calls to tell an owner that their horse chipped an ankle or knee, or needs surgery and can't make a race … those calls are no fun at all. Fortunately, I've got great owners and they handle it well. But when a horse gets hurt badly … well, if you ever get used to that, then you need to quit. Listen, even the slowest horse in this barn … he tries hard. He's keeping me in business, the exercise riders in business, everyone in business. All of these horses are equal to me. They're all keeping a roof over our heads. If we don't take care of them, or we don't feel bad for them, then you need a different occupation."
Now onto the "big horse" that took Ian to places he'd dreamed of going. Ian described Fort Larned as, "An amazing horse, a fast horse, high cruising speed, and then he'd accelerate at the 5/8 pole and take everyone out of the game. When he was right, he was unbeatable."
As a 2-year old, Fort Larned had talent, but when he broke the track record in the Skip Away Stakes at Gulfstream Park, Ian knew he had a nice horse, who just happened to be getting better. In his next race he ran a "bang up second" to Successful Dan who set a track record in the Alysheba Stakes. But then, more learning experiences for Ian, who said, "When he ran next in the Stephen Foster … well, I didn't have him ready and he ran last. I didn't train him right up to that race. It was a good learning curve there."
After rebounding from his disappointing effort, Fort Larned won his next two races, including the Whitney Stakes at Saratoga. Now it was decision time for Ian. He explains, "Do we point to the Jockey Gold Cup and forget the Breeders' Cup, or make a plan for the Breeders' Cup?" Ian and the owners decided on the latter plan, making a tough choice. "I couldn't keep hammering on him or he'd be on the downhill slide when we got to the Breeders' Cup. So I decided to back off him a bit. I hated to do it, because it's such a prestigious race, but we used the Jockey Gold Cup as a prep race for the Breeders' Cup. He ran a good 3rd and got a lot out of the race, so we were ready then. And the rest is history. You know, he had to run the race of his life to win the Breeders' Cup Classic. And he did."
Ian Wilkes has witnessed firsthand the highs and lows of this business. He's pressed his luck and made his luck. And his wife Tracey has been with him every step of the way. She still rides horses for Ian in the mornings … at least in the summers. She takes the winters off from riding. Ian says, "She's earned it."
Ian summed up his experiences this way. "Here's what I love: Horses still learning and getting better and better every race. Training horses is fascinating and I love to get new people involved in the game. Especially when you bring them to the backside, because they don't realize what goes on behind that fence. These horses are better taken care of than a lot of people. All of the publicity we get is the bad ones. If we spent the money and time on the positive stories and to educate the public about what's going on, we'd be a lot further ahead. Our perception would be different. The public thinks we're a bunch of cheats, drugging our horses … because that's what's laid out to them. But if they really saw how things are done, they'd have a different outlook."
Thank you Ian Wilkes – for your candor, sincerity, and sharing your story with us. We hope it helps people obtain a truer outlook on trainers involved in the sport of horse racing.
Click here to see a list of other jockeys, trainers, and racetrack personnel we've written about in past "Meet The People" articles.
---
---