What's a Furlong?
The standard unit of measure for distance in horse racing is a furlong.
One furlong equals 1/8 of a mile.
Or, put another way, there are 8 furlongs in a mile.  Races under one mile are expressed in terms of the number of furlongs.  For example, a race that measures 3/4 of a mile, is listed as being 6 furlongs in the racing program.  The following diagram demonstrates the translation from furlongs to fraction of a mile.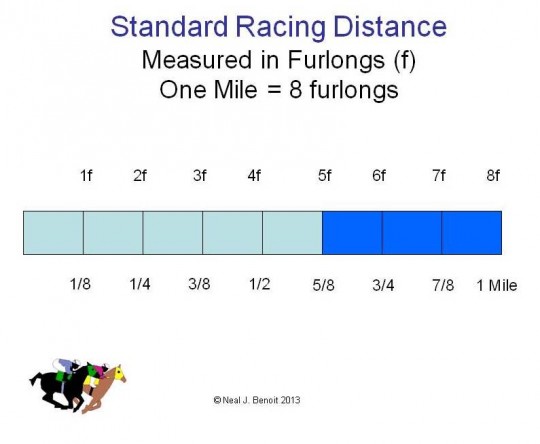 Racing distances under 5 furlongs are shaded in light blue to signify they are very rare. Occasionally 2-year old horses will race at 4f or 4 1/2 furlongs, but that is only very early in their 2-year old season. Races from 5 to 8 furlongs are very common for all age of horses.
All races UNDER one mile (8 furlongs) are referred to as SPRINTS.
All races one mile (8 furlongs) and OVER are referred to as ROUTES.
Races one mile or over are presented in the racing program as one mile plus the fraction of a mile. For example, 1 ¼  mile. However, I prefer to think in terms of furlongs, and I always do the mental conversion from fractional values to furlongs both in my head and on paper. This makes it simpler for me to grasp the changes in distance a horse has made in their career. The following table shows the conversions I make:
| Racing Program | Converted to Furlongs |
| --- | --- |
| 1 mile | 8f |
| 1 1/16 | 8.5f |
| 1 1/8 | 9f |
| 1 3/16 | 9.5f |
| 1 1/4 | 10f |
| 1 5/16 | 10.5f |
| 1 3/8 | 11f |
| 1 7/16 | 11.5f |
| 1 1/2 | 12f |
While some horses do specialize in running certain distances, for example only Sprints, or only Routes.  Often a horse will begin their career running sprints as a 2-year old, but then progress to route distances.  Sometimes their attempt at running longer distances doesn't work out so well, and the trainer will return the horse back to running Sprint distances.  Check out the horse Clearly Now below.  I have highlighted his Sprint races in blue and Route races in Yellow.  After winning a Sprint race on November 3, 2012 the trainer tried him in two successive 8.5 furlong route races without much success.  Following that he returned to 7f sprint races and ran much better.  In fact, he has never finished better than 3rd in four career Route races.  Clearly Now clearly prefers sprinting!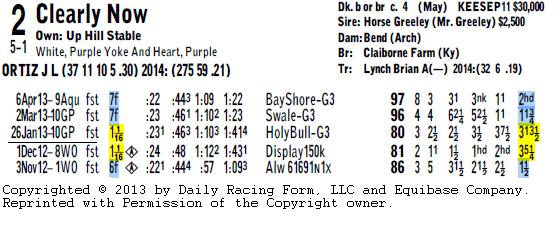 You might be wondering why the rush to get a horse to run longer distances?  The answer is simple: Follow the money. The most prestigious races (e.g. Kentucky Derby, Belmont Stakes, Travers Stakes) are run at route distances. So if the owner of a horse has dreams of his horse being draped in roses someday, they will need to prove themselves at longer distances.  Below is an excerpt from the Past Performances (PPs) of the 2012 winner of The Kentucky Derby.
The first thing of interest on his PPs is the progression of distances he ran. Starting with a 5.5f sprint on July 3, and ending up with him winning the 10f Kentucky Derby and 9.5f Preakness Stakes.
Also, notice his earnings in 2012, $2,629,600 from four Route races.  So not only are the longer races more prestigious, they are move valuable. $$$
---
To learn more about how furlongs translate into races on an actual track, click here to view an article on "Main Tracks."  Also, you can view a complete list of articles on the topic of distance by choosing the Distance Category in the right hand panel.
---